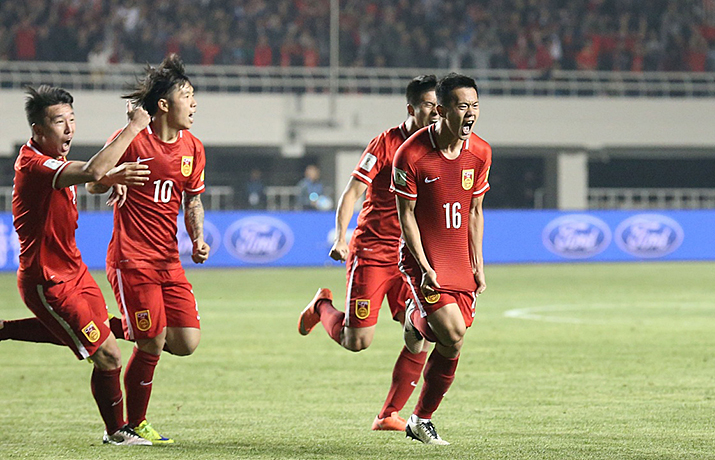 Huang Bowen celebrates after scoring against Qatar during the Group C Round 2 match of 2018 FIFA World Cup Russia and AFC Asian Cup UAE 2019 Preliminary Joint Qualification in Xi'an, Shaanxi Province, on March 29 (XINHUA)
China climbed out of the early hole in the Asian Zone preliminary qualifier and made the final round of Asia's 2018 World Cup qualifiers after a comfortable 2-0 victory over Qatar in "blessed place" Xi'an on Tuesday.
The last time for China to move into the final round of World Cup qualifiers was in 2001 when former coach Bora Milutinovic steered the team to the last 10 and finally booked a berth of 2002 World Cup.
According to the rule of the qualifiers, group winners and top four second-placed teams advance to the next phase. The first stage of the qualifiers was thought to be an easy job for China when they were drawn with Qatar, Maldives, Bhutan and Hong Kong, China.
However, two stunning ties against Hong Kong, China put China into a tough situation. Only a victory over Qatar in the last round could leave China the hope to make the final round of Asia's 2018 World Cup qualifiers. Thanks to Australia, the Philippines and Iran who beat Jordan, DPR Korea and Oman respectively, China eked into the last 12 with 17 points in Group C.
Huang Bowen, who opened the scoring said that: "I am lucky. My goal was a result of our teamwork and the guidance of (head coach) Mr. Gao. He told us maybe 2018 was the last edition for the players of age group from 1985 to 1989 and encouraged us not to give up even if there was only one percent of hope."
Saudi Arabia, Australia, Qatar, Iran, Japan, Thailand, South Korea, Uzbekistan, Syria, United Arab Emirates and Iraq made it through to the next stage, along with China.
The draw of the last 12 will be held on April 12. The 12 teams will be divided into 2 groups with top two of each group marching into Russia directly.
The two third-placed teams will have a playoff to earn a chance to compete with candidates from other continents for a berth in Russia.
(Xinhua News Agency March 29, 2016)