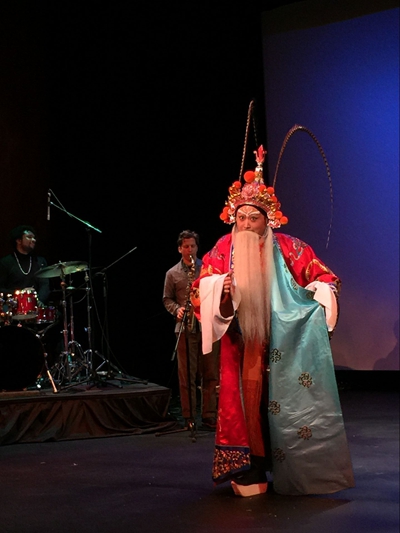 The Peking Opera performs traditional art accompanied by Western rock and blues music on January 13 in New York City (DING YING)
On January 13, a young group of artists from Shanghai arrived in New York to work together with local musicians to create a cultural connection between the East and West. They combined live performance with movie screenings, as well as traditional Chinese opera with American blues. They claimed that art is the simplest way to shorten the gap between the East and West.
The performance marked a second year of collaboration between the China Shanghai International Arts Festival (CSIAF), Performance Space 122, and the Asia Society. The partnership aimed to present a multidisciplinary performance and introduced new Chinese artists. It contained a screening of the silent film Sever , a reinterpretation of a classic Chinese folktale, with a live accompaniment by Xi Ban, followed by a performance by the Pi Huang Club. Xi Ban and Pi Huang Club are crossover bands exploring the combination of Chinese music with western rock and southern blues.
This was the first time that artists had performed a mixture of traditional Chinese culture and western style music, said Zhu Ma, a composer, songwriter and player of sanxian (a three-string plucked instrument) and danbura (a traditional Kazakh plucked instrument). He is the founder of Xi Ban and Pi Huang Club, combining traditional Chinese opera with other musical elements to create a crossover music style.
"Music is the simplest way to help Chinese and Westerners understand better of each other," said Zhu. "We know somebody might do better than us in the future. But we were the first to try it."
Wrapped in a hyperbolic narrative, Sever revisits an ancient Chinese folktale about Guan Yu's beheading of Diao Chan. In this film adaptation of the story, Guan Yu, a proverbial hero of the Three Kingdoms period (220-280), finds himself disillusioned with a modern urban society. Meanwhile, Diao Chan, one of the so-called Great Beauties as well as a singing girl, primps and preens for her performance, unaware of her impending tragic demise. This innovative retelling of the story suggests new ways to reflect on its tradition. Mixing classical instrumentation with westernized styles, Xi Ban creates an intriguing interplay between traditional idioms and pop culture references.
Sever is "a film and musical experience and is the fruit of a collaboration between a Peking Opera performer aware of the position of traditional art forms in modern society, and a musician whose compositions have been reimagined and rearranged for a live ensemble. Its success is also due to the filmmaker, who was keen to explore the rich and stylized worlds of this traditional Chinese art form and devoted cast and crew," said David A. Harris. Currently living in Shanghai, Harris is a producer and director as well as a musician and songwriter for the guitar and saxophone, and was part of the live performance.
Established in 1999, the annual CSIAF has grown into a significant platform for cultural exchange and one of the leading arts festivals in the world. The 18th China Shanghai International Arts Festival is to be held in October this year. The arts festival this year will follow the tenet of "A Festival of Arts, a Gala for All" and highlight the features as being international, classic, artistic, innovative and appreciative.
All the programs are invited to participate in the annual mid-winter festival of Performance Space 122, named COIL--a not-for-profit arts organization and one of the longest standing venues dedicated to contemporary performance art in New York City. COIL takes place during the annual Association of Performing Arts Presenters Conference (APAP) each January. It attracts over 10,000 audience members each year and 800 industry professionals from national and international arts organizations.
(Reporting from New York City )
Copyedited by Bryan Michael Galvan
Comments to dingying@bjreview.com