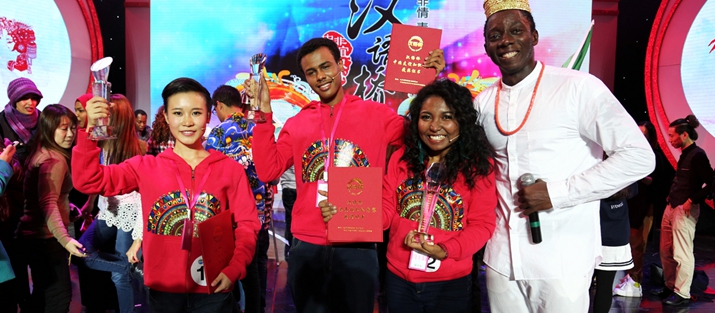 Wu Xiaorui (left) with her teammates Mohamed Hamed Mohamed Hussain (second left) and Ratsizakaina Isaia Herimialy (second right) (COURTESY OF HANBAN)
Ratsizakaina Isaia Herimialy has traveled thousands of miles from her home in Madagascar, an island country off the southeastern coast of the African continent, to China with one goal: to learn the Chinese language and know more about Chinese culture.
"Chinese is difficult but beautiful," the 20-year-old said with a smile.
Two years after her arrival, Isaia is close to her dream, having recently won a prestigious-but tough-Chinese language contest.
On November 22, the curtain rang down on another successful edition of the Chinese Bridge-Sino-African Friendship Knowledge Competition at the Beijing Language and Culture University. Sponsored by the Secretariat of the Chinese Follow-up Committee of the Forum on China-Africa Cooperation (FOCAC) and the Confucius Institute Headquarters (Hanban), the contest was a prelude to the FOCAC Johannesburg Summit in early December, which mapped out new plans for China-Africa cooperation in the years to come.
Over 100 youths from 37 African countries and 30 Chinese universities took part in the final in Beijing after passing preliminaries, which started in September. Isaia's team, Scaling New Heights, was declared the winner following three individual rounds-a written test, a public speech contest and a talent show-and a team round. All competitions were conducted in Chinese.
The three-member team also included Mohamed Hamed Mohamed Hussain from Sudan, who has a Chinese name as well-Hei Long, meaning a black dragon, and Wu Xiaorui, a student of Shandong Normal University. During the final, lots were drawn to form the teams and the three were clubbed together. They became teammates and friends from strangers, "fighting" side by side. And the hard work paid off with their outstanding performance in the team round of the final, which won the audience over and fetched them the championship trophy.
Friendship envoys
Though a random lottery apparently brought the three together, fate could have a hand in it as well. From the very beginning they have had a common dream: to be cultural ambassadors between China and Africa.
In 2003, Isaia won a Hanban scholarship to study at the Beijing Language and Culture University. She still remembers what her mother told her before her plane took off: "It is our family's pride that you are going abroad. You are the hope of our country. Bring back what you've learned in China to our country."
Isaia said she has constantly been thinking what she can do for Madagascar from that day on. After two years of studying and living in China, now she has a clear goal: to improve Africans' consciousness of protecting and respecting their culture, and promote China-Africa cultural exchanges.
"I want more Chinese people to know about Africa, and I also want more Africans to fall in love with China," she said. "Chinese really respect their traditional culture. They have a strong sense of identity with their time-honored history and civilization, which is very important for sustaining traditional culture."
In her view, recognizing one's own national culture is the first step to promoting cultural progress, especially for youths. "All Africans should have the consciousness of cherishing their own cultural treasures," she added.
Mohamed feels the cultural traditions of China and Sudan have many similarities. "My country also advocates respecting the old and cherishing the young, courtesy and honesty, and the virtues of understanding and mercy. It's the same in Chinese culture," he observed. His dream is to help spread African culture in China and see a strong Africa with its own brilliant culture.
Wu, the only Chinese member of the team, is majoring in international Chinese education. Her performance in the contest has won her an opportunity to study in Africa.
"Chinese students are more eager to study in the United States and European countries under the influence of Western culture," Wu said. She feels the cultural gap between China and Africa could block positive exchanges between the two. Wu's ambition is to be a Chinese teacher for foreign students. She wants to familiarize the rest of the world with the Chinese culture and at the same time learn about other cultures.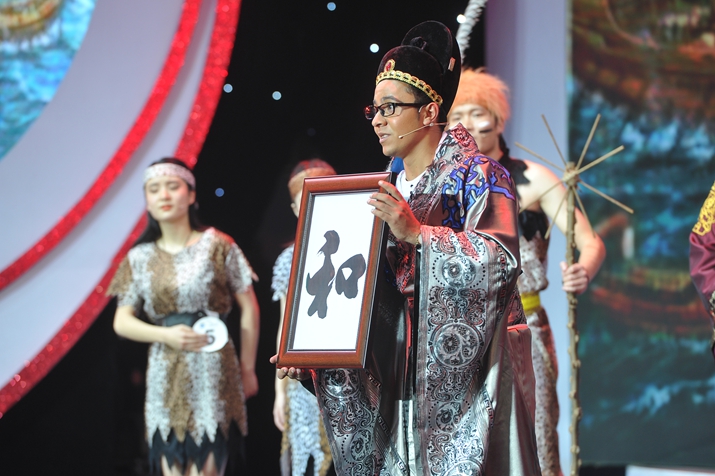 An African contestant shares his understanding of the Chinese concept "harmony" during the final of the Sino-African Friendship Knowledge Competition in Beijing on November 22 (COURTESY OF THE BEIJING LANGUAGE AND CULTURE UNIVERSITY)
Nations, united
Cultural exchanges are a crucial bond for friendship to enhance understanding and cooperation. The late Chinese Premier Zhou Enlai had a memorable saying that demonstrates the importance of cultural cooperation and exchanges in a state's overall diplomacy: If diplomacy, economy and culture constitute a plane, then diplomacy is its body while economy and culture are its two wings.
The Chinese Government has always been active in strengthening cultural ties with Africa. Luo Shugang, China's Minister of Culture, said that since the inception of FOCAC in 2000, Sino-African cultural exchanges have exhibited a number of hallmarks including the involvement of diverse participants, various forms of cooperation, and public popularity with the joint efforts of China and African countries.
Exchanges among academic organizations and higher educational institutions are a pillar of China-Africa cultural relations. The Chinese Bridge, a Hanban program under which a series of Chinese proficiency contests are held, could promote Chinese language and culture, support Chinese teaching internationally, and facilitate cultural exchanges.
Hanban Deputy Director General Xia Jianhui said more than 500,000 students have participated in the Chinese Bridge up to now, making it an important intercultural communication platform for youths from all over the world. "The Sino-African Friendship Knowledge Competition is a new addition, aiming to promote China-Africa youth exchanges and friendship," he said.
Hanban, a public institution affiliated with the Chinese Ministry of Education, is committed to providing Chinese language and cultural teaching resources and services worldwide by setting up Confucius Institutes.
"We should focus on boosting youth exchanges, and thereby deepen China-Africa comprehensive cooperation and promote common development," Lin Songtian, Director General of the Department of African Affairs at the Ministry of Foreign Affairs, told Beijing Review.
Young people like Isaia, Mohamed and Wu will be the best ambassadors to tackle linguistic and cultural challenges and promote barrier-free direct communication.
Copyedited by Sudeshna Sarkar
Comments to yanwei@bjreview.com