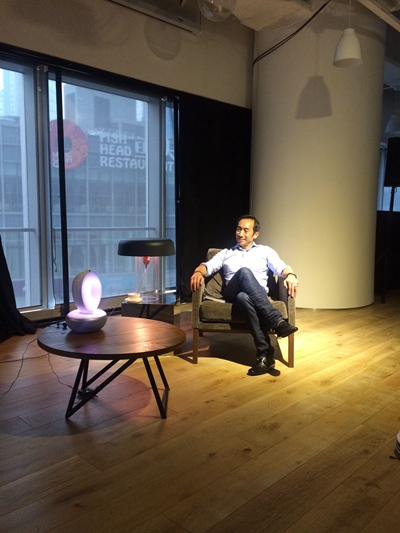 Dan Wong, Co-founder and CEO of Rokid Corp. Ltd. is talking with their robot at a product show in Beijing in October (YU SHUJUN)
A longing for companionship, someone to talk to and interact with were the sparks that led to the invention of a robot. Dan Wong, who has worked in the cellphone and Internet field for over 20 years, had just those qualities in mind when he and his team created Rokid -- a family robot. "I hope she (Rokid ) can leave a message for my wife and children, play music and help me finish something interesting," he mused.
Rokid is a compound of robot and kid, implying that the machine has a good appetite for learning just like children. Resembling a large drop of water, its front face is spherical, which displays images produced by a digital light processing projector and light-emitting diode arrays. Inside its fluorescent shell is a microphone, an ambient light sensor and a temperature transducer, with a 12-million-pixel camera at the top of the machine and a voice box at its base.
Its soft circular body is a digital light processing projector which often produces white, purple and pink lights and displays a circular blue shape. The circle will vibrate as Rokid 's "emotional feelings" change. When one greets her by saying "Hi, Rokid," she will immediately awaken and start voice interaction with the user.
"It can keep learning and growing, and provide personalized services for customers," said Wong, noting that it will keep in mind the habits and preferences of every family member as they communicate more and more with "her."
Founded in July 2014, Rokid Corp. Ltd. is headquartered in Hangzhou, capital of east China's Zhejiang Province and also has branches in Beijing and Silicon Valley. The company's founder Misa Zhu, the former head of Alibaba Group's technical division M-Team, leads Rokid's research and development (R&D) team that works on deep learning, visual technology and natural language processing. Wong, former Vice President of Samsung Electronics China, is cofounder and CEO of the company. Cofounder and CFO Eric Wang is the former CFO of software developer Kingsoft. About one third of the company's staff have Ph.D.'s and the company also has a technological advisory committee.
"We believe advanced technology can substantially enhance user experience, and customers don't have to spend much energy and time learning how to use it. The product should not be a lifeless machine, but a living companion," said Wong.
A competent household robot should be able to fit in with the family and satisfy its users' emotional needs, said Wong.
Some people may take Rokid as another Siri, the iPhone application, but Rokid's advanced recognition technology frees up hands and allows family members to use it anywhere. In addition, its deep learning model can do more than what conventional programming can achieve.
From industrial molding designs, hardware construction, software systems and artificial intelligence, all the technologies were independently developed by the company.
Recognition technologies used by Rokid can recognize voiceprint, face, gestures, actions, distant voices and voice directions. That's to say, Rokid not only can accurately take orders, but also recognize every family member by identifying their voices, faces and gestures. It can therefore provide customized services for each user and keep improving the quality of its service by processing and retaining layers of information. Rokid also boasts the Acoustic Echo Cancellation technology, which can still recognize a user's voice while playing music.
"To realize normal dialogues with Rokid, our R&D team resort to natural language processing technology. In other words, Rokid needs to be infused with plenty of language materials," said Wong, who hopes that all potential users would teach the "small girl" how to speak more words.
Besides talking with its users, Rokid can also play music, give weather forecasts, control smart home appliances, hail a taxi, recommend a restaurant and book hotels. Theoretically, as long as software development kits are made for third-party applications, any services can be made available with Rokid.
"Our goal is to create a high-quality robot that can be used in every home. Every one of us is dedicated to bringing every family the convenience and joy of technology, to provide hands free services and make life simple," Wong told Beijing Review.
However, creating a robot that can seamlessly attach itself into the daily lives of humans is still a monumental challenge, admitted Wong. "We hope Rokid is seen as an animated product, rather than a cold device. However, it's extremely difficult to make a product impeccable. We have to solve one problem after another, until we're satisfied with every detail of our product."
Copyedited by Bryan Michael Galvan
Comments to dengyaqing@bjreview.com