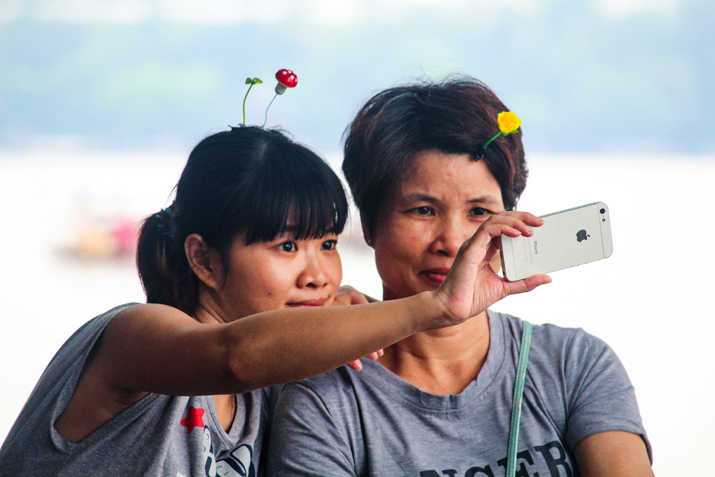 Tourists wearing sprout hairclips take a selfie by the West Lake in Hangzhou, east China's Zhejiang Province, on September 18 (IC)
Gulou in Beijing is a unique experience in and of itself--the area is one of the more foreign-dominated areas of the city, but the area doesn't carry the same air of Westernization that Sanlitun or Wudaokou do, or the same flashy tourism aesthetic present in central neighborhoods like Wangfujing. Sure, there are expat-friendly hutong bars, and people can buy their share of tourist paraphernalia, but Gulou appears not to have pigeon-holed itself into any genre. Perhaps that's part of its charm and what made it the perfect stage for the introduction to the new fashion trend sweeping China and the Internet.
The trend is deceptively simple--a small hairclip on which is glued a plastic or silk plant sprout that sticks straight up into the air. The "bean sprout hair clip," as it has been dubbed by the American news and humor website Buzzfeed, has turned many a head in Beijing--turning the city into a veritable burgeoning garden--and led those unfamiliar with the trend in China and on the Internet to ask, "Why?"
Clipbait
The sprouts in Gulou and other surrounding areas in Beijing are conveniently sold on the street along with other accessories and electronics. The small size of the clips lends themselves well to makeshift displays, often clipped to the sides of cardboard boxes. Prices start at 5 yuan (less than $1) for a single sprout clip and may vary if one haggles. Those who want a little more color can buy a barrette decked out in flowers or with famous cartoon likenesses like Hello Kitty.
What makes the fashion trend so unique is that it took root not in China's more modernized cities like Shanghai or Beijing but rather in Chengdu in southwest China's Sichuan Province. Stranger still is that the world was talking about it before Beijing. Buzzfeed's article, aptly given the clickbait-friendly title "People in China are Obsessed With These Adorable Bean Sprout Hair Clips," written by Gyan Yankovich, an Australia-based writer, was published on September 8, around the time that the trend was taking root in Beijing.
Sophie Xu, a self-described "feminine" fashionista who has made large eye-catching hair accessories of all descriptions part of her personal style, had heard that the fashion was regional but hadn't realized that it had caught on in Beijing until she saw her friend--a foreigner, of all people--sporting the trinket.
"I first heard about [the sprout clips] from Weibo, the Chinese version of Twitter," Xu said. "It started in the tourism area in Sichuan Province."
Xu found herself a little bewildered by the craze but observed that it was catching on. "I think it's fun [and] cute, but also I think the trend will stay as a trend, meaning it will be in for a while and out before we realize it."
Xu observed that the trend would be most practical for children with its cartoon-character and nature themes, which makes sense--except the fad's appeal is not limited to children. A simple walk around Beijing in Gulou and the subway reveals numerous people wearing variations of the sprout clip in their hair and on the straps of their purses--women and men alike. The clip bears a resemblance to the butterfly clip trend of the 1990s and the current American flower crown trend. The latter has popped up in recent years as a staple of what Vogue calls the "neo-hippie festival crowd," followers of a quasi-intellectual romantic-seeming millennial subculture who like to get down with their natural selves at weekend outdoor music festivals like Coachella.
Flower crowns are exactly what they sound like--real or fake (usually fake) flowers tied, clipped or bound together in a circle, meant to be worn on the head as a fashion statement that is both regal and natural. The simplicity and timelessness of the fashion, which has been seen across history--Vogue points out that it was encountered as far back as Venceslao's 14th-15th century painting The Month of May in the Cycle of the Months fresco collection in Italy--have emerged and reemerged again and again. Chinese film icon Fan Bingbing recently sported the flowers as part of a flower-inspired spring ensemble at the Cannes Film Festival in May 2015.
Could the bean sprout hair clip be an offshoot of the flower crown hair trend, perhaps even the next step in the trend's evolution? Perhaps, but the accessory's country of origin appears to be of little consequence to Chinese people who are proudly turning their hair into makeshift greenhouses or Western audiences, who are divided on the accessory.
Beijing businessman Jose Herrera belongs to the negative faction, and having heard that I was conducting interviews on the trend (while, incidentally, also wearing a few of my own clips in my hair), he eagerly hunted me down.
"They look ridiculous," Herrera said. "The first time I saw someone [wearing them] I wanted to help them get the junk out of their hair." He also observed that the trend is unabashedly Chinese-centric.
"They don't have clips to match any other hair color other than black, so if you are not Asian, it doesn't work well with your hair color," he said.
High fashion foliage
The bean sprout hair clip is the latest object of curiosity in the Western world--most predominantly American clickbait media--derived from East Asian fashion, which has for a long time been dominated by Japanese--and, more recently, South Korean--fashion trends. Several kilometers of ocean have not stopped people all over the world from trying to emulate each other's fashion subcultures.
Chinese fashion itself is quite the overseas fash-ination, not just on the Internet or among the festival-going crowd but on a more high-brow stage, as evidenced by the Met Gala choosing China: Through the Looking Glass as its theme for its prestigious world-class fashion gala and exhibition. Held at the New York Metropolitan Museum of Art, the event is famous for pushing the boundaries of fashion and challenging couture designers to bring out some of their most flamboyant works. Past themes have included From Queen to Empress: Victorian Dress 1837-77 and Jacqueline Kennedy: the White House Years . Worldwide designers in 2015 prepared their creations with an "East meets West" mentality in mind, though--unsurprisingly, so--the dress of the night belonged to a Chinese designer, Beijing-based Guo Pei, who made a dress for singer Rihanna, sparking discussion and critique all over the Internet--as only true couture can do.
This year was not the first time that the Met Gala had chosen China as its fashion inspiration--the 1980-81 gala featured the theme The Manchu Dragon: Costumes of China, the Chi'ng Dynasty , while the 1994-95 event saw Orientalism: Visions of the East in Western Dress as its theme. What makes the 2015 event notable is that while the other trends have focused on a specific era or dressed up East Asia in Western styles, skimming the surface of China, this event ran with a slightly more honest theme--China as seen through Western eyes.
The event certainly brought elegance to the table--according to The Guardian , it boasted the highest attendance of any exhibit in the museum's history--and fashion sites like Glamour and Vogue were clamoring for a word with designers like Guo Pei. As Julia Brucculieri at Huffpost Style put it the week of the Looking Glass exhibition opening, "Her name is Guo Pei, and she's probably one of the most talented designers many of us had never heard of (until this week, that is)." However, a fact perhaps a little too well-disguised by the vibrancy and grandeur of the event is what it declares, loud and clear--the West's ideas of Chinese fashion are defined by dated ideas.
It's a statement that neither takes away from the beautiful exhibition nor is remotely groundbreaking--China has grown so quickly in even the past generation that the West can't keep up. However, in an age where globalization and "keeping up with the times" are becoming more important than ever, it's as important to remember where one comes from as well as where one is going.
A budding craze
Though China's fascination with green growth may seem kitschy or insignificant, one has to note how it both fits into the cute and carefree facets of several East Asian fashion subcultures while maintaining an identity that is its own.
Thomas Lin, who lives in the southern United States, is an avid practitioner of the Japanese Lolita fashion subculture--geographic and cultural differences have not stopped him and his Lolita community from celebrating the fashion subculture with "tea parties" and conventions themed around the style. Because of his interest in East Asian fashion, Lin is interested in several types of East Asian fashion, including but not limited to morikei (forest style), shironuri (which translates to "painted in white") and mahout kei (magical style).
"I think the biggest [challenge to Chinese fashion making a more international presence] would be identifying what exactly would be considered Chinese fashion/subculture, aside from the obvious traditional or Oriental look," Lin said.
However, Lin believes that individuality is no problem for Chinese fashionistas, who have distinctive styles; it will just take a while for the world to take notice--though, through the sprout fashion, it appears perhaps it already has.
"[In my opinion, Chinese fashion is] a little similar to Korean street fashion, where it's more clean-cut and sleek. Japanese street fashion, I guess what could be considered more 'normal' street fashion, is similar but also has a kind of a strange quirk to it? I would love to have a more modern Chinese street flare to my everyday wardrobe."
Though Lin is American, his love of fashion has influenced him to look more into cultures across the Pacific. His fascination with fashion began when he was a young teenager watching the anime Rozen Maiden , in which the characters are dolls, and continued as he attended Mecha Con, an anime convention in New Orleans, LA, and it has given him a sense of style and boost of confidence that he has carried forward as he has grown.
"One of the biggest impacts, however, is that I've made so many good friends through it. I honestly love the local community here, and I've also made international friends who are also into the fashion," Lin said.
When asked about the clip trend in China specifically, Lin said he had indeed heard of it through the internet and thought it was "cute" and "a little strange," though not overwhelmingly so. When asked if he would wear them, though, he lit up.
"I absolutely love it!" he exclaimed, his tone suddenly becoming excitable. "It is so adorable, and I need like 12 of them on my head right this instant!"
Lin believes globalization extends to fashion as much as it does to business and scientific fields--internationalization does not hurt but rather supports street trends which are as authentic a part of local culture as traditional influences.
"Street fashion as it is now is already quite a big blend of influences from all around the world. I feel like parts of what is popular in street fashion in the West already can be easily connected to similar trends and looks that are popular in China," Lin said.
With Lin's advice in mind, it seems that China's tiny sprout fad may actually be part of a beanstalk that has been growing for years. As China pushes ahead in scientific and financial endeavors, its sense of style has emerged as another layer to its complex characterization. As the Internet community has shown in the last month, it's a country that the world wants to get to know, not just as a business outlet or a technology warehouse but as a distinct personality influenced by a rich history but also modernized with its own flairs and quirks. How fitting and poetic that the gateway to that discovery is a tiny bean sprout, poised to grow.