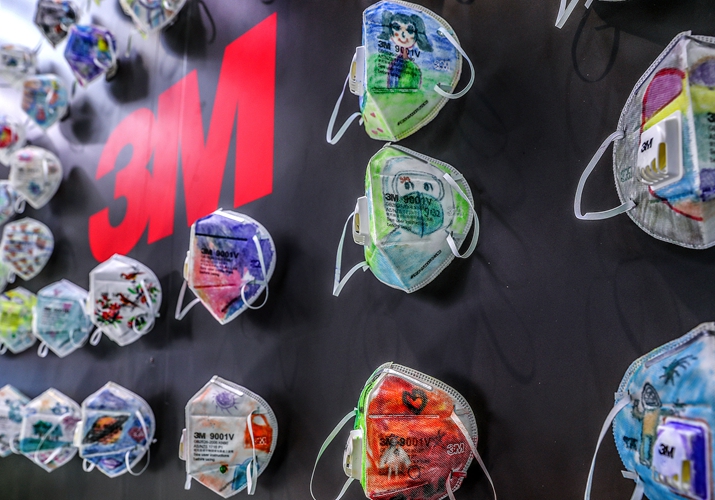 U.S.-headquartered company 3M displays hand-painted respirators at its booth at the Third China International Import Expo (CIIE) in Shanghai on November 6(XINHUA)
Four nucleic acid tests, 14 days of quarantine with daily reports on body temperature, and another 14 days of isolation in future. This is part of what Roy van den Hurk had to go through to attend the Third China International Import Expo (CIIE) in Shanghai this month.
Van den Hurk, Product General Manager of Milk New Zealand, one of the largest dairy farm groups in New Zealand, and an "old friend" of the CIIE, received an invitation on
October 12 to attend the expo. He took a nucleic acid test, intending to depart on October 18. But he couldn't get an air ticket and had to postpone the departure to October 21. Since the test result was valid for only one week, he had to take another test.
On landing in China on October 22, he went directly from the airport to the 14-day isolation in a designated hotel. Finally, on
November 5, after the quarantine was over, he went to a conference room at the CIIE to sign a cloud contract for 350 million yuan ($52.8 million). After he reached Shanghai and before he finally went to the expo, he took two more tests.
He videoed the whole process and posted it online. "All I went through for the CIIE is worthwhile," he told the media after signing the contract. "The market of dairy products has been struggling worldwide due to the pandemic but China's market has picked up for months. We have laid great importance on the Chinese market and the CIIE is a great platform for us. We can't miss it."
While many large international events have been postponed or scrapped following the gloomy novel coronavirus disease (COVID-19) situation and uncertainties worldwide, the CIIE was not only held as scheduled but had a larger exhibition area than last year. It demonstrated, as President Xi Jinping said in his keynote address delivered by video on November 4, China's commitment to sharing its market opportunities with the rest of the world and contributing to global economic recovery.
He also said, "China will stay committed to openness, cooperation and unity for win-win results. We will steadfastly expand all-round opening up and explore more efficient ways to connect domestic and foreign markets and share factors of production and resources. Our aim is to turn the China market into a market for the world, a market shared by all, and a market accessible to all. This way, we will be able to bring more positive energy to the global
community."
It was a heartening message for businesses. According to official data, China's GDP grew 4.9 percent in the third quarter of this year, when most other major economies were in recession. Viewing China's market pick up amid the sharply declining world economy, over 80 percent of the Fortune Global 500 companies and industry leaders that had participated in the previous CIIEs returned to Shanghai this year.
The deals made at this CIIE showed the global confidence in China. The value of intended deals signed reached $72.62 billion, an increase of 2.1 percent from 2019, as figures released by the CIIE Bureau on November 10, the last day of the six-day event, showed.
Sun Chenghai, Deputy Director of the CIIE Bureau, called the Third CIIE the largest exhibition China has held since the containment of COVID-19 in the country, with participants from the highest number of countries.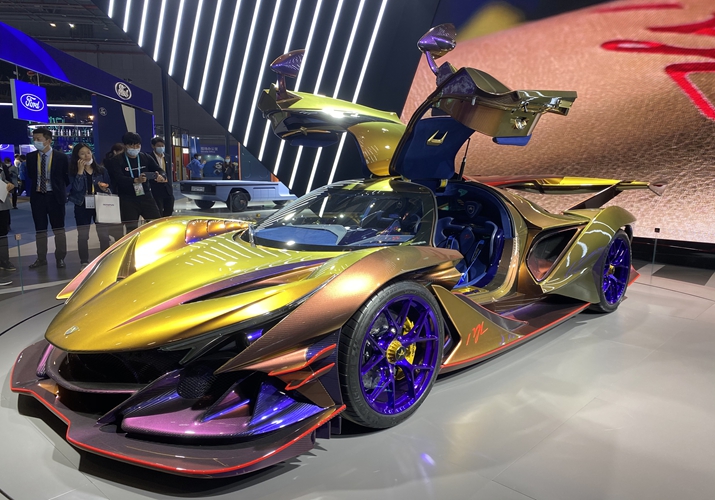 The world's first all-carbon fiber sports car, the Apollo Intensa Emozione, makes its global debut at the CIIE(YUAN YUAN)
To ensure the safety of all participants, Shanghai took every detail into consideration. Everybody at the event was required to wear masks. Exhibitors and visitors coming from abroad had to go through 14 days of quarantine after arriving in China, and two nucleic acid tests, one before and one after the quarantine.
The volunteers at the expo, mostly college students, underwent two tests, one 12 days before and the other five days prior to the expo's opening. Journalists and all domestic visitors were required to get one test within seven days before the event, and reporters had to record their body temperature each day for 14 days before coming to the event.
A team of 400 medical workers manned dozens of medical stations and temporary observation and treatment sites in the sprawling exhibition area as well as the exhibition hall and public areas, which were regularly disinfected. Hand sanitizers were placed everywhere, including in elevators.
Strict measures were also adopted for the raw food displayed at the expo. Yuan Xiaoxiao, who works for a cod-processing company in Qingdao, a coastal city in east China, said each package of cods, regardless of the size, had to be disinfected and tested one or two days before they were taken to the exhibition area even though they had been cleared by the customs and checked by local governments prior to that.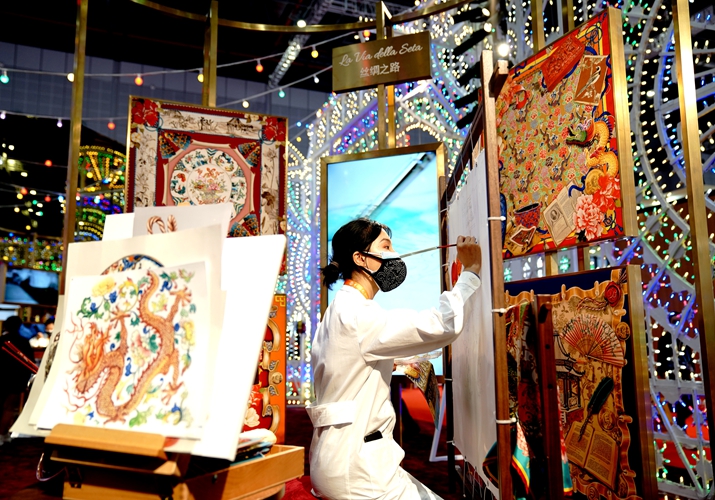 A painter draws on silk at the CIIE on November 7(XINHUA)
A new area
The exhibition area was full of creative and stunning items, like the world's first all-carbon fiber sports car, the Apollo Intensa Emozione, by German automaker Apollo Automobil, and the Korloff Noir, the 88-carat black diamond from Korloff Jewelers of France.
However, what really stood out was the new display area showcasing new technologies and products for pandemic prevention and treatment, located in the medical equipment and healthcare product hall.
The initial planned area for this section was 2,000 square meters. However, due to high exhibitor demand, it had to be expanded multiple times, before finally reaching 12,000 square meters.
Fosun Pharma, a Shanghai-based biotech company, released the update on its experimental COVID-19 vaccine, the mRNA vaccine that it has jointly developed with Germany's BioNTech. In July, the vaccine candidate was approved in China for phase-one clinical trial.
Japanese biopharmaceutical company Takeda said it has collaborated with leading plasma companies to set up the COVID-19 Plasma Alliance to accelerate the treatment of the disease. Now an experimental therapy is in phase-three clinical trial. If successful, it may become one of the earliest treatment solutions for hospitalized adult COVID-19 patients.
Roche Diagnostics from Switzerland brought a three-in-one reagent capable of simultaneously detecting influenza A, influenza B and COVID-19. Fujifilm from Japan exhibited a genetic test kit that can shorten the detection time for the virus to two hours from four to six hours.
Among the over 400 new products, technologies and services that debuted in the expo, 120 were displayed in the medical equipment and healthcare product exhibition area.
Pharma firms had a fruitful CIIE. Leading U.S. biopharmaceutical company Pfizer signed a collaboration agreement with Alibaba Health at the CIIE to build a complete and full-chain vaccination service online.
"Pfizer has great confidence in China's economy in the long-term. Our proactive participation in the CIIE reiterates our commitment to continuously developing in China, to fulfill our purpose of bringing breakthroughs that change patients' lives," Wu Kun, Chief Operating Officer of Pfizer Biopharma Group in China, told the media.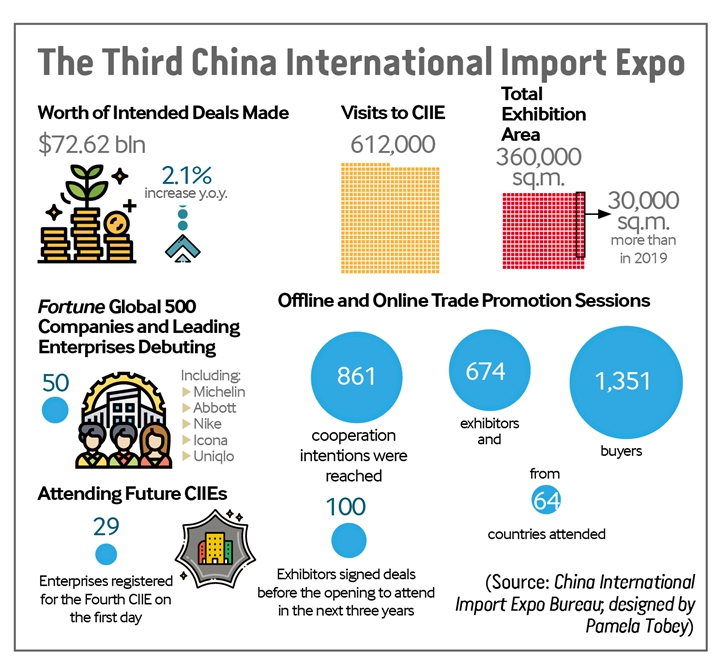 Players from the U.S.
Despite China-U.S. tensions, exhibitors from the U.S. took up the largest area.
U.S.-based commercial real estate services company CBRE joined the CIIE as an exhibitor for the first time this year. "Although it is the first time for us to be here as an exhibitor, we are not fresh here at all," Ben Duncan, CBRE President of North Asia and CEO of Greater China, told Beijing Review.
CBRE had visited the First CIIE and taken part in some activities in 2019. This year, it set up its own booth.
"Shanghai is the commercial heartbeat of China and the CIIE enables us to make connections and know more about our partners," Duncan said.
Despite the rising uncertainties in China-U.S.
relations, he said his company has never thought of moving out of China. "There are a lot more uncertainties today…but most of us continue to expand our business and investment in China," Duncan said.
A survey by the American Chamber of Commerce in Shanghai and Beijing and business consultancy firm PricewaterhouseCoopers said in April that 70 percent of the American companies surveyed said they have no short-term plan to relocate any part of their operations out of China. About 40 percent said they would not revise their long-term supply-chain plan in China.
Duncan said many companies say China will become increasingly important to their future business. Xi's remarks at the opening ceremony made him more confident about China's market.
"It is very encouraging to know the government will support openness and continue to open its markets," Duncan said. "With rising tensions around the world, China's decision to continue to open its market and encourage more international investment should be acknowledged and we should really appreciate this message coming out of China."
He also said it is no surprise to see China's market has seen a pickup, given the government's effective COVID-19 control measures. "Countries who control the spread of the virus are going to be the winners that come out of the situation," he said. "We expect China's real estate market to perform better than most of the markets around the world for the following 18 months."
Maria Sferruzza, Senior Vice President for
Asia Pacific at Baker Hughes, one of the world's largest energy technology companies headquartered in the United States, said China is one of the few countries in the world that can hold large events like the CIIE. "It is also a sign that China is further opening to international players including our company. This event has provided a great platform for us to socialize with our potential partners," she said.
Baker Hughes has over 2,000 employees and seven manufacturing sites in China. At the CIIE, the company showcased a wide range of innovative technologies across the oil and gas value chain.
Sferruzza expressed Baker Hughes' support for China's goal of carbon neutrality before 2060, as announced by Xi at the General Debate of the 75th Session of the UN General Assembly in September. She said the pandemic has accelerated the implementation of Baker Hughes' strategy in China to strengthen collaboration with oil companies from China and other countries.
For U.S. medical device and consumer goods maker Johnson & Johnson, it was their third consecutive year at the expo. "Johnson & Johnson is confident in the new chapter of our growth in China," Song Weiqun, the company's chairman in China and Global Senior Vice President, told the media. The company expanded their exhibition space this year as a mark of that confidence.
(Print Edition Title:

Shared by All,

Accessible to All

)
__________
Key Points in President

Xi Jinping's Speech
China will pursue creative ways to grow foreign trade through the CIIE and other platforms of opening up. It will encourage cross-border e-commerce and other new business forms and models to foster new drivers of foreign trade and shorten its catalog of technologies prohibited or restricted from import to create a favorable environment for the free flow of technologies across borders.
China will keep improving its business environment. In the wake of COVID-19, a range of pro-business relief policies have been adopted that apply equally to all companies registered in China. China will continue to make its foreign-related legal framework more open and transparent, strengthen intellectual property protection, better protect the lawful rights and interests of foreign investors and provide them with more high-quality services to further improve the business environment.
China will pursue deeper bilateral, multilateral and regional cooperation. It stands ready to conclude high-standard free trade agreements with more countries in the world. It will take an active part in World Trade Organization reform and in cooperation at the United Nations, the Group of 20, Asia-Pacific Economic Cooperation, BRICS and other fora. It will work with partner countries to promote high-quality Belt and Road cooperation and build a community with a shared future for humanity.
Copyedited by Sudeshna Sarkar
Comments to yuanyuan@bjreview.com