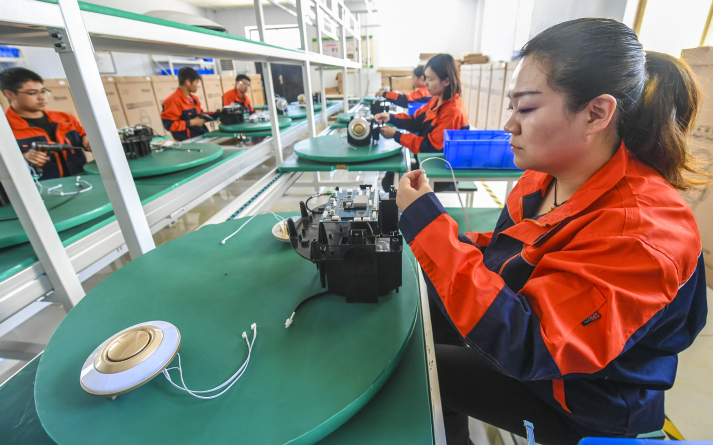 Workers assemble smart robots in a hi-tech industrial zone in Hengshui, Hebei Province in north China, on July 15 (XINHUA)
At a time when most economies are grappling with the specter of recession, the Chinese economy has bucked the trend.
China's GDP registered 3.2 percent growth year on year in the second quarter (Q2) of the year, climbing out of a record 6.8-percent contraction in the first quarter due to the global outbreak of the novel coronavirus disease (COVID-19) and surpassing all recovery expectations.
The GDP stands at 45.66 trillion yuan ($6.54 trillion) in the first half (H1) of the year, narrowing the year-on-year decline to 1.6 percent, according to the National Bureau of Statistics (NBS).
Why this is an achievement for an economy used to growing at a fast pace for decades was explained by Liu Aihua, NBS spokesperson, at a press conference on July 16.
"As a large developing country with 1.4 billion people, it was not easy for China to put the epidemic under control within a short time, make the national economy shift from slowing down to rising, and maintain stability in social and economic development," she said. "It speaks volumes for China's economic resilience and potential and the effectiveness of policy packages."
Now that the herculean task has been achieved, she said the recovery would serve as a solid foundation for continued growth in the second half of the year.
The International Monetary Fund had already assessed in June in its World Economic Outlook that China was expected to see 1-percent increase for the whole year, which would make it the only economy with positive growth in 2020 when the global growth is projected at minus 4.9 percent.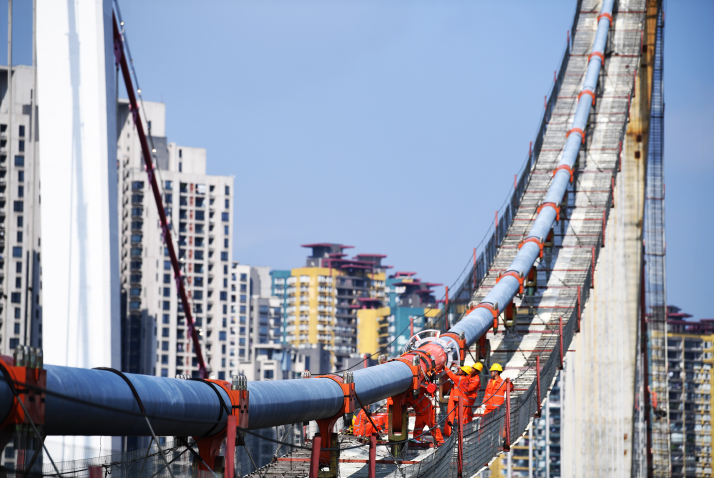 Workers on the construction site of a bridge specifically used for rail transit in Chongqing Municipality, southwest China, on July 15 (XINHUA)
V-shaped growth
With the advancement of epidemic prevention and control, China's social and economic development is well on track. Q2 has seen the troika of investment, export and consumption add more fuel to the economic recovery and the main indicators have also shown growth from a sharp decline in Q1, indicating V-shaped growth.
"Investment has a crucial role in the quick rebound in Q2," Xu Hongcai, Deputy Director of the Economic Policy Commission, China Association of Policy Science, told Beijing Review.
According to the NBS, fixed assets investment totaled 28.16 trillion yuan ($4.04 trillion) in H1. Though down 3.1 percent year on year, the decline narrowed by 13 percentage points from Q1. Infrastructure, property, manufacturing and hi-tech were the highlights, growing significantly in Q2.
Pan Xiangdong, chief economist of China Galaxy Securities, attributes the rebound to the completion of work and orders scheduled previously, increase in the capital scale and enhanced efficiency. Besides, the monetary easing policy also promoted investment in property development, Pan told The Economic Observer.
This year, the central government budget for investment together with the general debt budgets of local governments and the special bonds issued by them for infrastructure investment surpassed 5.35 trillion yuan ($765 billion), rising more than 1.67 trillion yuan ($239 billion) over last year. The increased funding for infrastructure will stimulate a 10-percent growth in the sector in H2, according to Zhu Baoliang, chief economist with the State Information Center, a policy think tank affiliated to the National Development and Reform Commission.
Imports and exports, despite a 3.2-percent decline year on year in H1, posted positive growth in June, exceeding expectations, given the sluggish global trade. Exports increased by 4.3 percent year on year, maintaining positive growth for three consecutive months since April, while imports grew by 6.2 percent.
"It's noteworthy that domestic demand outperformed overseas demand as accelerated industrial production has increased the need for imported goods," Xu said. He added that companies have been taking the initiative to find new orders, approach logistics suppliers, and engage in cross-border e-commerce. All this, combined with government policies to cut tax and fees, led to the positive outcomes.
According to him, the key features of foreign trade in H1 include robust growth in exports by private enterprises, with their total value reaching 4.14 trillion yuan ($592 billion), up 3.2 percent year on year and accounting for 53.7 percent of the total export. Besides, the export structure has been adjusted as China's foreign trade with ASEAN thrived, while the decline in trade with the U.S. and European countries also narrowed.
In terms of consumption, the total retail sales of consumer goods went down by 11.4 percent year on year in H1 but it narrowed 7.6 percentage points compared with the decline in Q1. But despite the restorative recovery, consumption is still restricted as group activities remain suspended or tightly controlled due to day-to-day epidemic control measures.
However, online retail sales of physical goods jumped by 14.3 percent in H1. Zhu Keli, Executive President of the China Institute of New Economy, told People's Daily that the digital economy and net economy are becoming the biggest new growth drivers, expected to push China's economy to a higher stage in H2.
In addition, results from the three sectors of agriculture, industrial production and services have shored up confidence in China's future recovery.
Liu outlined five characteristics in China's economic performance in H1: the main indicators rose again gradually; employment and prices remained stable; as livelihood was ensured and poverty alleviation achieved notable results, people's disposable income, social insurance, pension, social assistance grants and basic consumption of daily necessities all saw positive growth in H1; the growth drivers in emerging sectors were enhanced, reflected by the obvious growth in hi-tech manufacturing, e-commerce and new infrastructure; and finally, market expectation stayed positive, indicated by the manufacturing purchasing managers' index staying above the threshold for the fourth consecutive month.
In general, the country has overcome the negative impact of COVID-19. However, indicators such as the GDP, industrial production, service, consumption and investment remain negative, and the rebound in Q2 is more restorative recovery. The loss has not yet been fully made up. So more efforts are needed for the economy to return to normal standards, Liu Aihua cautioned.
Recovery underpinnings
Xu is pinning his faith on state policies to help economic recovery. "To normalize the domestic economy, the Central Government has implemented a positive fiscal policy and a prudent monetary policy with flexibility. A raft of policies have been rolled out to deepen reform, expand opening up and optimize the business environment, which have greatly reduced the cost of economic activities," he said.
Where fiscal policy is concerned, this year 2 trillion yuan ($286 billion) will be mobilized through national debts and fiscal deficit to support local development. Policies were issued to reduce the burden for micro and small companies by cutting taxes and fees. Besides, governments are committed to cooperating with social capitals to boost investment.
As for the monetary policy, besides cutting interest rates and the reserve requirement ratio for banks, care has been taken to make inclusive financial policies, re-lending and rediscount, and expand credit support for micro and small enterprises. All these measures helped to maintain market liquidity.
"The intensive issuance of social and economic policies has added certainty to economic recovery, serving as a stabilizer for market confidence and expectation," Liu Shangxi, head of the Chinese Academy of Fiscal Sciences, told People's Daily.
He said the six fronts and six areas mentioned in the government's work report this year will be the guideline to synergize policies and actions and offset the impact of COVID-19. The six fronts refer to employment, the financial sector, foreign trade, foreign investment, domestic investment, and expectations. The six areas refer to job security, basic living needs, operations of market entities, food and energy security, stable industrial and supply chains, and the normal functioning of primary-level governments.
Ray of hope
In recent years, China has contributed more than 30 percent of the world economic growth, surpassing the aggregate of the U.S., the eurozone and Japan, which has made it a major driver for global economic recovery and development. Therefore the positive growth in Q2 will serve as a shot in the arm for the gloomy world economy.
"China has demonstrated strong resilience against COVID-19, the world's common enemy, and achieved remarkable results in H1, which will stabilize global confidence and motivate recovery," Xu said. It will be heightened by the series of measures launched to promote globalization, strengthen international cooperation, and keep the commitment to open up wider still.
According to a report by The Wall Street Journal, in April, the trade volume between China and the U.S. reached $39.7 billion, up 43 percent month on month, exceeding U.S. trade with Mexico and Canada, making China the United States' biggest trading partner again. Trade with China has become a highlight of U.S. foreign trade in the stagnant global trade environment.
It said the expansion of China-U.S. trade can promote the recovery of the global industrial chain, bolster production resumption in related countries and buoy the world economy.
As a major market with fast growth, China's positive economic momentum has brought hope to German companies. Currently, around 30 percent of German machine manufacturers believe their sales target in China can be completed despite the pandemic, a representative of the Federation of German Industries (BDI) told Economic Daily.
He said in May, China's automobile sales registered double-digit growth, which was a boon to the German auto industry.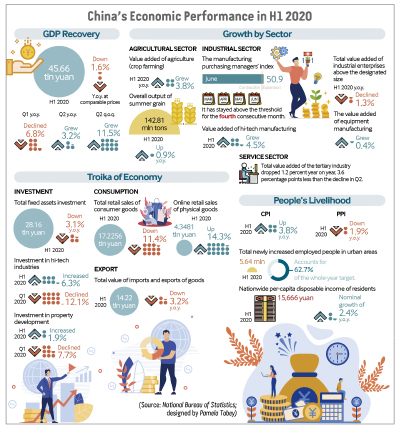 H2 outlook
Xu estimates the situation will improve quarter by quarter with the GDP likely to increase by 4 percent in Q3 and 5 percent in Q4. Over the year, he anticipates 1-3 percent growth.
Liu Aihua said since March, after the domestic situation improved, many indicators picked up, paving the way for further recovery in H2. New industries and new business models generated during the epidemic, such as telecommuting, online education, intelligent construction and unmanned delivery, will also invigorate the economy. Moreover, macro policies will produce more obvious effect in H2.
However, experts have widely acknowledged that uncertainties will remain. The impact of the expanding pandemic, escalated tensions with the U.S., mounting geopolitics pressures as well as natural disasters like floods will continue to make future economic recovery uncertain.
Chinese President Xi Jinping stressed the need to adopt more proactive and impactful fiscal policies and more prudent monetary policies, with flexibility to keep macro policies more targeted and timely at a symposium with entrepreneurs in Beijing on July 21. He urged for efforts to enhance policy-based support to stimulate the vitality of market entities so that they can not only survive but thrive.
Pan said in the second half, the biggest variable lies in exports. With the improvement in the domestic situation, domestic demand, represented by investment and consumption, can grow but the situation overseas is still full of uncertainties.
In addition, the renminbi depreciated since October 2019, and the current good performance of exports is related to the lagged effect of the depreciation. But this year, the renminbi has appreciated, which may affect exports in H2, Zhang Yongjun, deputy chief economist with the China Center for International Economic Exchanges, said at a forum on July 17.
Guo Tianyong, a professor at the Department of Finance, Central University of Finance and Economics, suggests China should enhance consumption. "Currently, the recovery capability of the supply side is stronger than the demand side, so in the future, more efforts should be laid on demand to consolidate domestic consumption confidence while opening up," he said.
With restrictions on trans-provincial group travel eased and cinemas opening, the potential of domestic consumption will be further unleashed.
Zhu also has some suggestions for the H2 blueprint. The government work report has proposed constructing new infrastructure, new type of urbanization and major transportation and water conservancy projects. They should be a focus in H2, he said. He also advises encouraging multiple ways of employment to ensure employment, including individual business, small business and the stay-at-home economy.
The next step, as Xu sees it, is to continue with reform to stimulate the vitality of market entities, promote a market-based allocation of the factors of production, and optimize the business environment for the private economy. Along with this, manufacturing should be upgraded and emerging industries developed to inject new momentum for growth.
(Printed Edition Title: Turning the Tide)
Copyedited by Sudeshna Sarkar
Comments to zhangshsh@bjreview.com