Doctors take an 81-year-old patient to get a CT scan at Huoshenshan Hospital in Wuhan on April 15 (XINHUA)
Chen Jingyu arrived at Hankou Railway Station in Wuhan, capital city of Hubei Province in central China, on the night of April 18. As one of China's top lung transplant surgeons and part of a team of national experts in the field, he came with a special mission.
The novel coronavirus disease (COVID-19) epidemic in Wuhan had largely been contained by then, with official figures showing there were only 109 confirmed cases in the city that day, including 22 cases displaying severe symptoms. So as medical teams from other provinces and regions were leaving Wuhan, this team was going in the opposite direction.
In People's Hospital of Wuhan University, a patient waited urgently for the team. Cui Zhiqiang, a 65-year-old local, was confirmed with COVID-19 on February 7, and had been on life support for about 60 days.
Cui's condition deteriorated quickly in the hospital. He had to be put on an invasive ventilator on February 17, and then on an extracorporeal membrane oxygenation (ECMO) artificial lung machine a day later.
During treatment, Cui's nucleic acid test was continuously negative, indicating he was already in the rehabilitation stage. However, both his lungs had been seriously damaged and as a result he had developed irreversible pulmonary fibrosis and respiratory failure due to the virus, which meant he was reliant on the ventilator and ECMO treatment to breathe.
The solution Chen suggested was double-lung transplant, a surgery he had performed successfully on two COVID-19 patients in Wuxi, Jiangsu Province in east China on February 29. It was the first such operation on a COVID-19 patient in the world.
Chen, Vice President of Wuxi People's Hospital and Director of the chest surgery department of China-Japan Friendship Hospital, is known for performing China's first lung transplant operation in 2002.
As a deputy to the National People's Congress, China's top legislature, Chen had submitted a proposal on March 2 to form a national medical team for lung transplantations after he successfully performed the first such surgery on a COVID-19 patient, and his suggestion was adopted by the National Health Commission (NHC).
"Lung transplant is by no means a conventional treatment for COVID-19, since it has strict prerequisites for the patients," Chen told ThePaper.cn, a news portal based in Shanghai. "But clinically it is the only effective way to cure advanced lung lesions."
On April 16, Chen was selected by the NHC as the head of the national lung transplanting team and was assigned to Wuhan. They were tasked with evaluating eight patients with similar conditions and perform lung transplant surgery on those who were deemed suitable candidates.
"Lung transplant surgery needs a combination of many medical resources," Chen told ThePaper.cn. "In the early stage of the epidemic in Wuhan, medical resources were in short supply and it was impossible to conduct such major surgeries. Even now, we still need strong national support to complete this mission."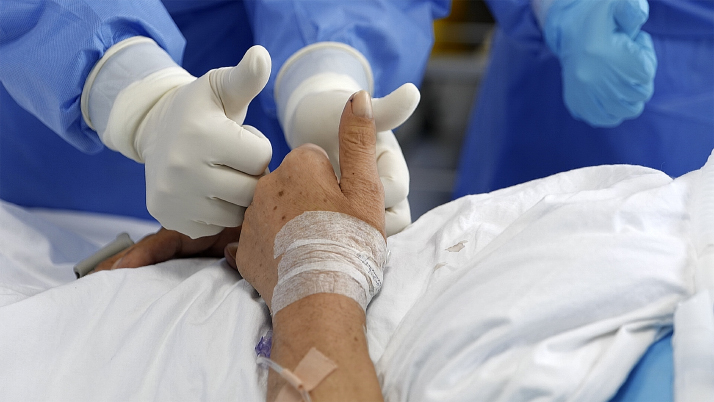 Liu Qiang gives the medical staff a thumbs-up at Wuhan Union Hospital on May 8 (XINHUA)
The journey
On April 19, the team concluded Cui's condition was suitable for a transplant surgery. On the same day, news came from Kunming in Yunnan Province in southwest China that there was a match for Cui, which set the clock ticking for the urgent operation.
Since lungs have to be transplanted within 12 hours after they are made available, the surgery was set for the next day. From Kunming to Wuhan it is about two hours by plane and the surgery takes over six hours, which meant they had only about four hours to transport the lungs.
It was a race against time. At 1:25 p.m., the lungs were removed from the donor's body in Kunming. At 3:09 p.m., the plane carrying them took off. At 4 p.m., Cui was prepped for the operation and at 4:48 p.m., the plane landed in Wuhan. At 5:43 p.m., the lungs were delivered to the operating room and around midnight, the surgery was completed successfully.
The surgeons had to wear protective suits and surgical headgear, which made communication very difficult, so they had to perform the surgery based on experience and tacit understanding. The doctors left the operating room soaked in sweat.
The successful surgery was just the first step.
Cui had to pass through several challenges after the surgery. The long period of bed rest had enervated his muscles and his muscle strength was at zero. A team of 35 doctors and nurses from three hospitals was formed to monitor Cui 24 hours a day to make sure his new lungs adapted to his body.
On April 22, after 44 hours of intensive care, the ECMO machine was successfully removed and the new lungs functioned on their own. A series of rehabilitation plans designed by the hospital helped Cui to make a video call to his family on May 6, two weeks after the surgery.
Before the surgery, Cui held the record of being the patient with the longest period under ECMO treatment in the world. But it was soon broken by a patient named Liu Qiang in Wuhan Union Hospital affiliated to Huazhong University of Science and Technology, who was on ECMO treatment for 73 days before he got a lung transplantation on April 24. Only 10 percent of his lungs were functioning and he had suffered damage to other organs as well.
"We are not sure whether he will survive the surgery, but if we don't do it, he will 100 percent die," Dong Nianguo, an expert at the hospital, said before the surgery. "We will spare no efforts to save lives, even if we only have 1 percent hope."
Liu's matching lungs were delivered by plane from Shandong Province in east China. Chen and Dong were among the surgeons in the operating room, and the surgery lasted five and a half hours.
Adapting to his new lungs was a bigger challenge for Liu, as he faced large fluctuations in blood pressure and heart rate, as well as shocks and blood clots. The medical team took turns keeping a close eye on Liu for three days. Finally, he was taken off the ECMO machine on May 6, two weeks after the surgery, and was able to breathe on his own. He gave the medical team a big thumbs-up from his bed.
In total, 141 medical workers were involved in saving Liu's life. "After the surgery, we needed to take a CT scan," Chen said. "But the CT scan area was in another building and the road to it was narrow and bumpy. The hospital spent the whole night paving the road with cement, which was very impressive."
On May 8, Chen and his team left Wuhan, but since the battle to control the epidemic in the country continues, the team is ready to go anywhere at any time to save patients needing lung transplantations. "The whole process of COVID-19 treatment is like a relay and we are reaching for the final baton to save every possible life," Chen said.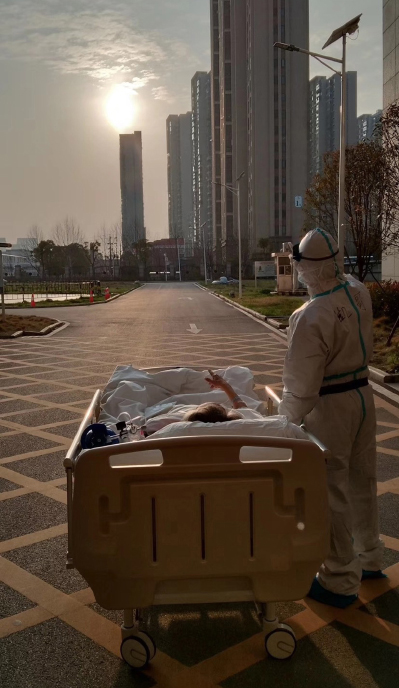 Wang Xin, an 87-year-old COVID-19 patient, and his doctor watch the sunset on their way back from a CT scan at Renmin Hospital of Wuhan University in Hubei Province on March 5 (XINHUA)
Most beautiful sunset
Since the outbreak, President Xi Jinping has stressed on many occasions that the top priority must be people's lives and health and that the people's interests must be put above all else.
In this vein, the Chinese Government announced that the cost of treating confirmed and suspected COVID-19 patients will be covered by the government. Based on the figures released by the National Healthcare Security Administration on April 11, the average cost for one patient is 21,500 yuan ($3,000). For a patient with severe symptoms, the cost can be up to 150,000 yuan ($21,000), while for a small group of severely symptomatic patients, the cost could surpass 1 million yuan ($141,000). By April 6, China had spent 1.49 billion yuan ($209.5 million) on COVID-19 treatment.
"China would rather bear the pressure of an economic downturn to save every life at any cost," said Zhong Nanshan, an academician at the Chinese Academy of Engineering.
On March 5, a photo of a doctor with a patient sitting on a hospital bed watching the setting sun went viral. The doctor, wearing a protective suit, stood by the bed as they both watched the sun in the open air.
The doctor had wheeled the patient's bed to the CT scan room in another building to get him tested. On their way back to the ward, they saw the beautiful sunset and he asked the patient, Wang Xin, if he would like to stop there for a few minutes and enjoy it. Wang smiled and said yes. The scene was captured by a volunteer behind them who posted the photo online. Many netizens labeled the photo "the most beautiful sunset."
Wang, 87, is a violinist in a local orchestra in Wuhan. He recalled his 58-day treatment at People's Hospital of Wuhan University as a battle with death.
He was sent to the hospital with fever on February 11. By then, he could only lie in bed. He had initially refused any treatment and wouldn't even talk to his family over the phone. For over 20 days, the medical staff cleaned him, fed him and talked to him. Gradually, he gained strength and on March 5, the day of the photo, he was out of danger.
Wang's condition continued to improve. He was able to stand up and walk short distances, then longer distances. When he was in a good mood, he played his violin, which was with him the entire time, for other patients in the ward.
On April 9, he was discharged. At the gate of the hospital, he gave the medical staff tearful hugs. His daughter said her father's recovery was a miracle. "For a patient of my father's age, any calamity can be fatal," she said to a local media in Wuhan. "It is a hard-won victory."
During the epidemic, Wuhan faced thousands of challenges. Figures from the NHC showed that in Wuhan, more than 3,600 people over 80 years recovered, translating to a recovery rate of over 70 percent.
"Many elderly patients had preexisting conditions such as diabetes, high blood pressure and other organ dysfunctions before they were infected with COVID-19," Zhang Jun, a doctor with Wuhan Hospital of Traditional Chinese Medicine (TCM), told China Central Television. "This added more difficulties to treating this group." Many treatment methods had to be adjusted. "That meant we had to spend more time taking care of them and keeping a close eye on them," Zhang added.
Xu Ming, a 95-year-old, arrived with severe symptoms on February 9. The hospital arranged specialized nurses to monitor Xu's conditions. Since he didn't react well to antiviral drugs, doctors decided to use TCM to boost his overall immune system and it proved to be very effective.
"Seniors are more inclined to be pessimistic of their condition," said Yu Liping, a nurse at the hospital. "We all have seniors in our family, so we talked to these patients as if they were our own grandparents, soothing them." Every day, when they had time, the nurses chatted with Xu.
After two weeks, Xu recovered and walked home by himself on February 23. On April 16, he returned to the hospital with other patients over 80 who had recovered at the hospital to thank the medical staff. "I am looking forward to living to 100!" he said.
Jiao Yahui, the official responsible for medical administration and supervision at the NHC, said, "Seniors' treatment plan must be tailored to their physical condition after a comprehensive evaluation." She added that so far, the oldest recovered patient is 108.
(Print Edition Title: Every Life Counts)
Copyedited by Rebeca Toledo
Comments yuanyuan@bjreview.com