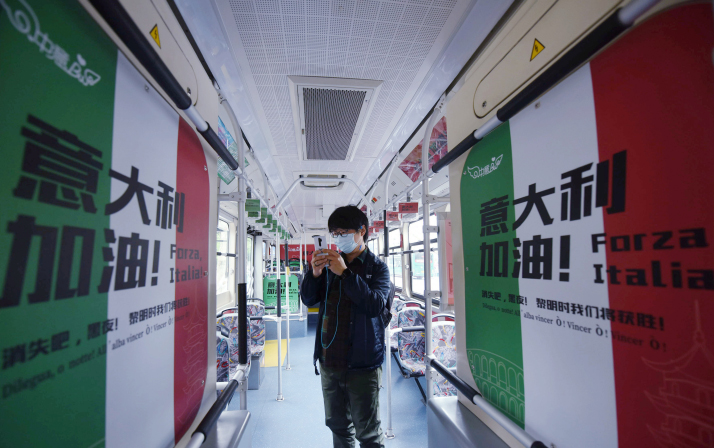 A passenger in Hangzhou takes a photo of newly painted images and slogans expressing support for Italy's fight against COVID-19 on March 24. Zhejiang's provincial capital Hangzhou is a sister city of Verona, Italy (XINHUA)
For Lu Dalei, a hairdresser in Beijing, the second day of the second lunar month is normally a busy day as it is a traditional time for the Chinese people to get their first haircut after the Lunar New Year. But not this year.
Due to the outbreak of the novel coronavirus disease (COVID-19), his shop was closed on that day, February 24.
As the domestic spread of the disease has been largely contained, Lu has reopened his shop. He said that he has noticed an obvious increase in the number of customers, some of whom postponed their first haircut of the new year by one month.
As the natural world revives with the arrival of spring, people's life is regaining vitality with the ebbing of the epidemic in China.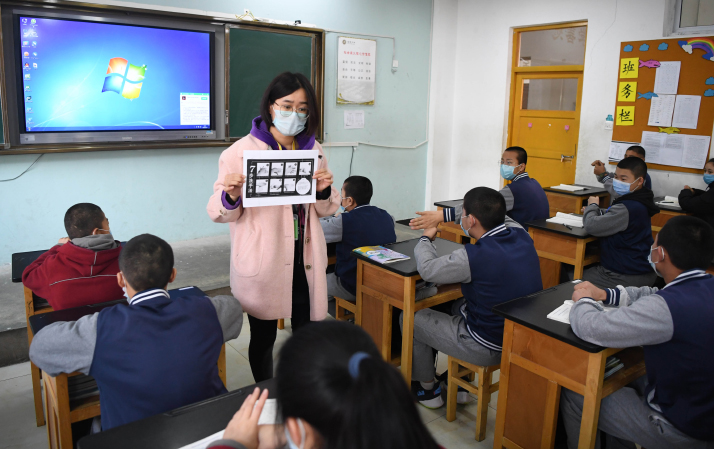 Students in a junior high school in Ili Kazak Autonomous Prefecture learn about prevention and control of the novel coronavirus disease during the first class of the new semester in Xinjiang Uygur Autonomous Region, northwest China, on March 23 (XINHUA)
Back to school and work
Many places have scaled down their emergency response level. On February 22, Liaoning Province in northeast China became the first province to downgrade the COVID-19 emergency response from level one, the highest level, to level three, which allowed the opening of entertainment venues including cinemas and karaoke clubs with certain epidemic prevention measures.
Many other provinces followed suit. By March 24, only two municipalities, Beijing and Tianjin, as well as two provinces, Hebei and Hubei, still had level-one emergency response in place.
Students in some regions, after being tied to home for about two months, are gradually getting back to school, shifting the classroom from online back to offline.
Jiangsu Province in east China, after zero new confirmed cases of coronavirus for 31 consecutive days, announced on March 23 that grade nine and grade 12 students should go back to school from March 30 to prepare for the university and senior high school entrance exams, bidding farewell to their winter vacation of about 70 days. Students in other grades will return to school after April 7, while colleges will open after April 13.
Jiangsu is not the first to take this step. Some high schools and secondary vocational schools had already resumed classes in Qinghai Province on March 9, making it the first area in China to do so. On March 16, students in their final year of senior and junior high schools in Xinjiang Uygur Autonomous Region and Guizhou Province all returned to school. In Shanxi Province, grade 12 students resumed classes on March 25.
As of March 25, 17 provinces and autonomous regions had announced the dates for students to get back to school.
The Ministry of Education has issued a series of guidelines on COVID-19 prevention and control in kindergartens, primary and middle schools and higher education institutions, covering the period before and after the reopening.
The schools have adopted all the possible measures to ensure the safety of the students, providing sufficient protective masks and disinfection products.
All the students and teachers are required to wear masks in the classroom and have their temperatures checked a few times every day. Students are divided into small classes to keep a distance of one meter from each other. This is also the distance they maintain in the canteen.
"I miss my school a lot," Luo Jialong, a senior student of Xingling Experimental School in Taiyuan, capital city of Shanxi Province, told China Youth Daily. "The college entrance exam is just about two months away. Even though we have been taking online classes at home during the winter break, the classroom offers a more conducive environment for study."
While the effect of the epidemic on students like Luo is just a delay in the start of the semester, for the 1.15 million art students who are about to take the college entrance exam this year, the changes are more profound. Normally, such students go to the colleges they apply to for on-site art exams in March and then prepare for the entrance exam in June.
This year, due to a ban on large gatherings, the Ministry of Education suggested off-site methods such as review of the work submitted by the students and online interviews. Schools and majors that must hold on-site art exams have been asked to organize them later.
Some major art colleges including Beijing Film Academy, the Central Academy of Drama and the Central Academy of Fine Arts announced that they will cancel art exams for certain majors and enroll students according to their entrance exam scores alone, and put off some exams after the entrance exam.
"This has largely altered our original plan," Xu Jingtao, an applicant to Beijing Film Academy, told ThePaper.cn. "We spent most of our time preparing for the art exam before. Now we have to change the plan." Some experts, though, saw this as a change in the enrollment system of art colleges that could be continued in the future.
Along with schools, factories and enterprises have also started to get back on track. At a press conference on March 25, Xie Shaofeng, a spokesman for the Ministry of Industry and Information Technology, said that China will take key measures to speed up new infrastructure construction to offset economic slowdown and foster high-quality development. New infrastructure construction will be a key step to support the economy in the future.
Even in Beijing which still has its emergency response at level one, companies are taking active steps to resume work. In the Beijing Haidian Overseas Students Pioneer Park, about 85 percent of over 220 enterprises had resumed work by March 25. The park reduced rent and property costs totaling 5 million yuan ($704,000) for all enterprises in February and will further cut the rent and property costs by half in March to relieve their financial stress.
In Shanghai, 89 percent of small and medium-sized enterprises (SMEs) had resumed operations with 79 percent of all their employees reporting to work by March 23, according to the figures from the local government.
Zhang Jianming, Deputy Director of the Shanghai Municipal Commission of Economy and Informatization, said at a press conference on March 24 that Shanghai had provided a 2-billion-yuan ($283 million) financing service for small and micro enterprises and a 500,000 yuan ($71,500) award to SMEs that plan to get listed.
Changsha, capital of Hunan Province in central China, has begun to normalize its economy and urban life. On March 14, the last novel coronavirus patient in the city was discharged from hospital and no new case has been reported since then.
However, the municipal government began to prepare for work resumption much earlier. Since early February, video conferences have been held every day to schedule the resumption of major projects. Changsha officials divided the city into six areas and sent six working groups to help accelerate the resumption.
A total of 310 workers were recruited from across Hunan to resume the construction of a tunnel in the city. Before the outbreak, most of the workers came from neighboring Hubei Province, but due to travel restrictions after the outbreak, they could not come back. With locally recruited workers, a major part of the project was completed on March 10.
As of March 23, 97.8 percent of major projects had been restarted in Changsha.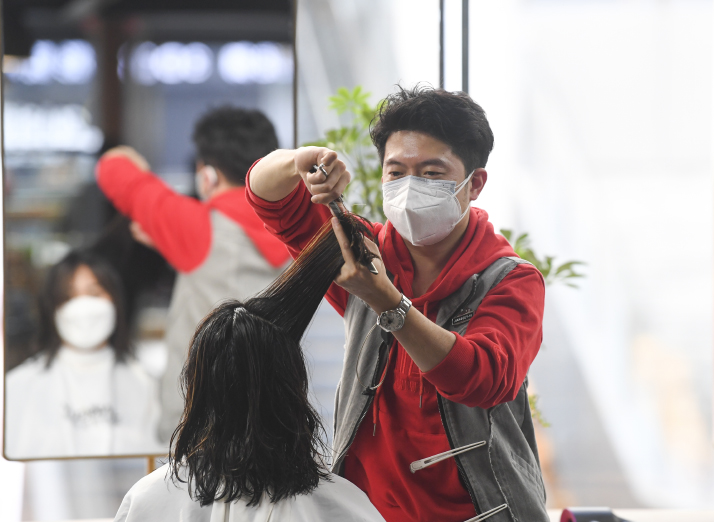 A woman gets a haircut in a salon in Yubei District, Chongqing in southwest China, on March 18 (XINHUA)
Out for fun
Parks, museums, movie theaters, libraries and tourism attractions are gradually opening in many places for people to have fun and enjoy the spring.
Many world-famous sites including the Great Wall in Beijing and the Chengdu Research Base of Giant Panda Breeding, located in Chengdu, capital city of Sichuan Province in southwest China, have reopened for visitors.
In Shanghai, most of the top tourist attractions and all libraries had reopened by March 25. The Shanghai Disney Resort has partially resumed operations.
Companies and individuals in the hard-hit culture and tourism industries have made full use of online and livestreaming platforms to survive. China's largest online travel agency, Ctrip.com, started a revival plan with investment of 1 billion yuan ($143 million) from partners at home and abroad.
The Shanghai Municipal Government has provided financial aid to revive culture and tourism industries. Ctrip.com also launched presales in March, including more than 1,000 travel routes and tickets to over 300 places of attraction.
Many provincial-level regions have introduced a health code monitoring system to ensure visitors' health and set limits on the number of daily visitors to scenic spots, while the latter have been offering discounts to attract visitors. In Xinjiang Uygur Autonomous Region, many ski resorts have waived or halved entrance fees. The Shennongjia National Park in Hubei promised free entry for all visitors before the May Day holiday on May 1. The entrance fee in normal times is 140 yuan ($20).
Discounts are also being provided by cinemas. But the number of people stepping into movie theaters is still low due to lack of new releases and concerns over the epidemic.
Recovery is the keyword
Wuhan, the hardest-hit city, has resumed the operation of 117 bus routes, 30 percent of its total, since March 25. The city declared unprecedented traffic restrictions from January 23.
Before boarding a bus, passengers are required to wear masks, register with their real names, scan a QR code with smartphones, and have their temperature checked. A supervisor is present on each bus to ensure that all passengers follow these steps. Those with no smartphones need to have a health certificate issued by the health authorities.
Delivery services have gradually resumed in the city as well. Since January 23, most courier companies except a few large ones had suspended their delivery services in the city.
On April 8, commercial flights—except for international flights and flights connecting Beijing—will be resumed in Wuhan.
Meanwhile, other areas in Hubei have been reopening railways, waterways and long-distance bus services as well as highways in an orderly manner since March 25.
Along with the closure of makeshift hospitals treating COVID-19 patients in Wuhan, the medical services in the city are going back to normal.
On March 20, the State Council issued a notice urging all provinces, autonomous regions and municipalities to speed up efforts to resume normal medical services to meet the public's needs.
On the same day, Beijing announced that all district-level medical institutions in the city would stop receiving newly confirmed novel coronavirus patients from March 21. Such patients will instead be admitted in municipal-level designated local hospitals.
However, while the domestic spread of the disease has been brought under control, imported cases have created new risks. On March 23, among the 78 new confirmed cases reported across the country, 74 were imported. The total number of imported cases reached 595 by March 26.
Beijing and Shanghai, the two major hubs in China for international flights, announced stricter prevention measures for inbound travelers beginning March 25.
Beijing requires all overseas arrivals to take a nucleic acid test before being quarantined in designated facilities for 14 days. Travelers need to cover the costs of the quarantine themselves.
Also starting March 25, all inbound flights previously scheduled to land at the Shanghai Hongqiao International Airport will be diverted to Shanghai Pudong International Airport so that quarantine measures can be better coordinated.
"China is facing a mounting threat from imported infections," Wu Zunyou, an epidemiologist at the Chinese Center for Disease Control and Prevention, said at a news conference in Beijing on March 24. "The pressure to screen travelers has been increasing, particularly in transportation hubs and major port cities."
By World Health Organization standards, a viral epidemic can be declared eliminated in a region only when two consecutive incubation periods pass with no new infection. In the case of COVID-19, the period is 28 days.
Copyedited by Madhusudan Chaubey
Comments to yuanyuan@bjreview.com