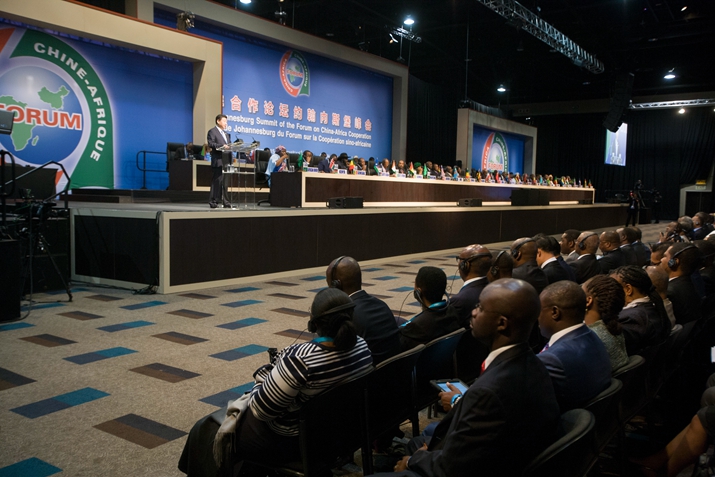 Chinese President Xi Jinping delivers a keynote speech at the opening ceremony of FOCAC Johannesburg Summit on December 4 (WANG XIANG)
Li Lan, Director of International Business at the Shanghai Construction Group, the flagship of China's building industry, is pleased with the outcome of her trip to South Africa. Li traveled to Johannesburg to attend the Forum on China-Africa Cooperation (FOCAC) Summit in early December, where together with Gabonese President Ali Bongo Ondimba, she witnessed the signing of an agreement between the Industrial and Commercial Bank of China and the Gabonese Government to finance the construction of the Oyem Stadium in north Gabon. The stadium being constructed by Li's company will be the main venue of the 2017 Africa Cup of Nations football tournament.
"This means we will have sufficient financial support in order to build the stadium, and the progress [of work] will be greatly accelerated," Li excitedly told ChinAfrica, a monthly publication of Beijing Review. The Shanghai Construction Group started building the stadium in early September to ensure it could be completed well in time for the football event.
The Shanghai-based company has been engaged in Africa for more than 60 years. It has built landmark projects including the International Conference Center in Mauritania, the Presidential Residence in Guinea, and the Kahama Water Supply and Sanitation System in Tanzania. According to Li, in the new century, the Shanghai Construction Group has shifted its focus from government-aid projects to mutually beneficial engineering contracting schemes.
"Africa is the base of our overseas market," Li said. "After the FOCAC Johannesburg Summit, I think our business will expand. I was so glad to hear President Xi Jinping announce the cooperation plans at the opening ceremony."
Li has reasons to be optimistic. As a platform for mutually beneficial cooperation and common development of China and African countries, FOCAC has yielded abundant fruits in the 15 years since its establishment in 2000.
At the Fifth FOCAC Ministerial Conference in Beijing in 2012, China vowed to support African development in five priority areas during the next three years: expanding cooperation in investment and financing; continuing to increase assistance to Africa; supporting the African integration process; helping Africa enhance its overall development capacity; and promoting peace and stability in Africa and creating a secure environment for Africa's development.
China has more than fulfilled its commitments. Data from the State Council Information Office show that in the past three years, China has provided major support for Africa's peace and development, including a $20-billion loan, and carried out nearly 900 assistance programs in Africa, including the training of over 30,000 professionals. In addition, a number of railways, such as the Mombasa-Nairobi Railway, have been built or are being built by China.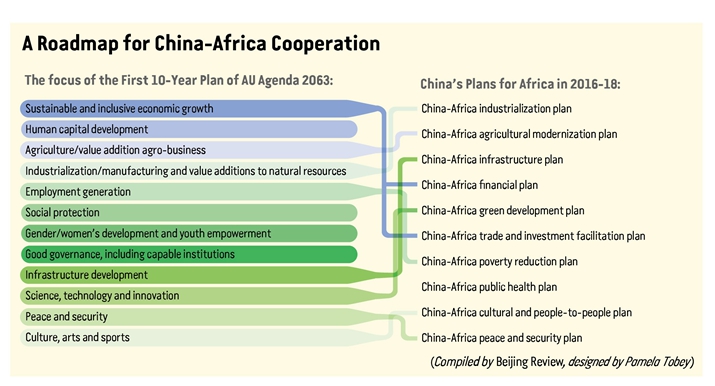 New development options
The year 2015 also marks the second FOCAC Summit, which was the first ever held on African soil. The first summit was held in Beijing in 2006.
At the Johannesburg Summit on December 4-5, following President Xi's proposal, it was unanimously decided to promote China-Africa relations to a comprehensive strategic cooperative partnership. Xi also announced a series of 10 cooperation plans to build the partnership.
"Under the comprehensive strategic cooperative partnership, we will have more opportunities of conducting mutually beneficial cooperation in African countries," Li said.
The Johannesburg Summit, themed Africa-China Progressing Together: Win-Win Cooperation for Common Development, endorsed the Declaration of the Johannesburg Summit and the Johannesburg Action Plan (2016-18) that will guide Sino-African cooperation in the next three years. According to President Xi, the two documents represent an all-around blueprint for the future development of China-Africa relations and pragmatic cooperation in various areas.
"Upgrading the China-Africa relationship into a comprehensive strategic partnership is one of the highlights of the summit," said Liu Guijin, Dean of China-Africa International Business School at Zhejiang Normal University. "It can solve the problems that China and Africa currently face."
Statistics from the Chinese Ministry of Commerce show that China has remained Africa's largest trading partner since 2009. In 2014, Sino-African trade surpassed $220 billion, a 22-fold growth since 2000; China's investment stock in Africa exceeded $30 billion, a 60-fold growth. However, being affected by the world economic recession, in the first half of 2015, China's direct investment in Africa was only $1.19 billion, down 40 percent compared with the same period of the previous year. In addition, bilateral trade between China and Africa in the first 10 months of 2015 was $147.62 billion, a decrease of 18.1 percent compared to the same period in 2014. Observers think that new measures should be taken to stimulate economic cooperation between China and Africa.
"This is the first time that Sino-African trade has decreased in decades," Liu said. "In the current international economic situation, both China and Africa are facing pressure."
Observers, therefore, believe that upgrading China-Africa relations into a comprehensive strategic partnership will help both find new economic growth points.
To build a China-Africa comprehensive strategic and cooperative partnership, President Xi announced that China will implement 10 cooperation plans with Africa by 2018. These include a China-Africa industrialization plan, agricultural modernization plan, infrastructure plan and financial plan. The plans will address the three bottlenecks holding back Africa's development--inadequate infrastructure, lack of professional and skilled personnel, and funding shortages. In addition, Xi pledged $60 billion worth of funding support.
"These plans will bring win-win results for both China and African countries," Liu said. According to him, African countries urgently need to change their economic growth mode from raw material exports to industrialization and modernization. At the same time, deeper economic cooperation with African countries that will stimulate China's economic growth.
"In the past, China had numerous government aid and contracting projects in Africa. But there wasn't sufficient synergy between them." Liu said. "Analyzing the 10 plans, we can see that China is linking its development as a partner with the African development depicted in the African Union (AU) Agenda 2063."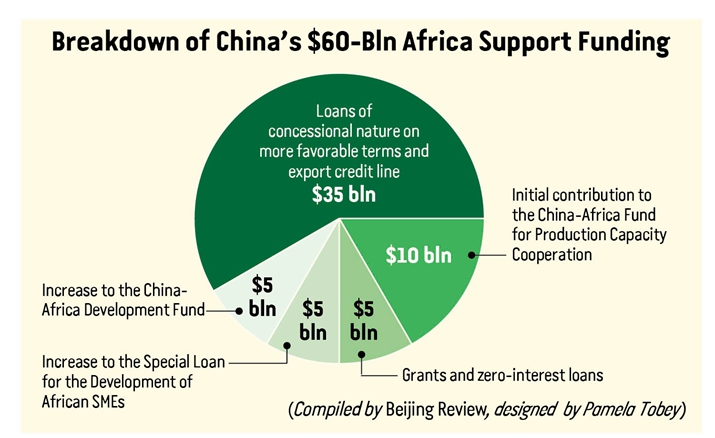 Teamwork for growth
Michael Osime, CEO of the Nigeria-based ICMG Securities Ltd., agrees with Liu.
"The 10 cooperation plans put forward by President Xi synergize with AU Agenda 2063," Osime told ChinAfrica. "Take the agricultural modernization plan for example. Africa has a large area of idle and fertile land and abundant human resources. China can provide technological and financial support in this area. This can ensure our win-win cooperation."
According to him, China-Africa cooperation should not be limited to Africa exporting raw materials; Africa should be a manufacturer and send manufactured products to China. While China is the second largest economy in the world, with a strong industrialization capacity, Africa also has many rapidly growing economies that are trying to promote industrialization. "China and Africa can cooperate in this area," he said. "FOCAC is a very important platform to promote China-Africa cooperation." The top two cooperation plans are industrialization and agricultural modernization. Coincidentally, in 2015, when the AU Summit approved Agenda 2063 and its First 10-Year Implementation Plan, industrialization and modernization were among its priorities.
"China is willing, and is capable, of being the most ideal cooperation partner for Africa in [the latter's] industrialization process," China's Foreign Minister Wang Yi said.
According to Wang, after decades of industrialization, China has accumulated high-quality industrial capacity, mature technologies and adequate financing capacity. "We [China and Africa] have started some industrialization cooperation pilot projects as China's industrial capacity and technologies can well meet the development demands of African countries," the minister added. "We are confident of our perspective of China-Africa industrialization cooperation and have unanimously agreed to put [the] industrialization plan on top of the cooperation plans."
"African countries are optimistic that China will fulfill its pledge to support industrial progress, environmental protection and skills development in Africa," said Edna Molewa, Minister of Environmental Affairs of South Africa.
FOCAC in a Nutshell
Established in 2000, FOCAC is a collective dialogue mechanism between China and African countries within the framework of South-South cooperation. The triennial FOCAC meetings are held in China and Africa alternately. In 2006 and 2015, the FOCAC ministerial conferences were upgraded to summits and held in Beijing and Johannesburg, respectively. FOCAC has 52 members, including the African Union Commission, China, and 50 African countries which have diplomatic relations with China. The Johannesburg Summit was attended by representatives from all 52 members, including 42 state and government leaders and the chairperson of the AU Commission.
(Compiled by Beijing Review)
Copyedited by Sudeshna Sarkar
Comments to liuyunyun@bjreview.com