For the Same Aim
The 21st APEC informal economic leaders' meeting, held from October 7 to 8 in Bali, Indonesia, attracts widespread attention. Themed Resilient Asia-Pacific, Global Engine of Growth, the regional economic event is viewed as a multilateral platform where leaders sketch out future economic development and cooperation for the Pacific rim
more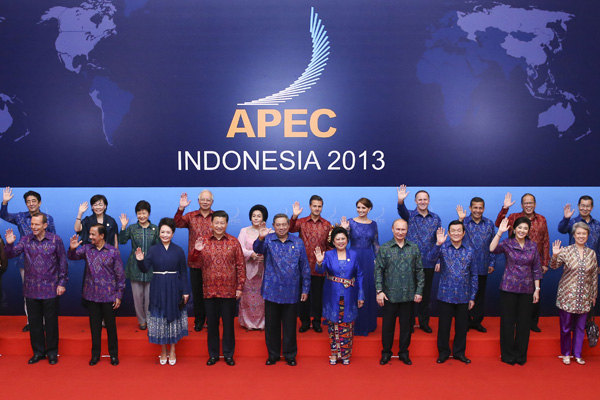 Ambitious APEC
Amid a slow global economic recovery in recent years, the Asia-Pacific region, consisting of the most dynamic and hopeful economies on the globe, has maintained vigorous economic growth.
As the biggest developing country and emerging economy in the world, China's economy and its development plans have been a subject of worldwide concern.
Full Story
About APEC
As a 21-member forum, APEC seeks to boost free trade and economic cooperation throughout the Asia-Pacific region.

APEC is an inter-governmental organization that works on the basis of non-binding commitments, open dialogue and equal respect for the views of all participants. It now accounts for approximately 55 percent of global GDP, 44 percent of global trade, and 40 percent of the world's population, according to data provided on its official website
more
Chinese President Calls for Regional Connectivity
Chinese President Xi Jinping called for building a framework of connectivity across the region at APEC economic leaders' informal meeting:

First, APEC economies should establish a connectivity network covering the whole Asia Pacific

Second, APEC economies should remove the bottlenecks barring connectivity, and establish investment and financing partnerships

Third, APEC members should promote connectivity and infrastructure construction
more
Boosting Regional Development
Chinese President Xi Jinping made a three-point proposal on regional development in his key-note speech:

First, APEC members should strengthen coordination on macroeconomic policies and jointly promote regional development.

Second, unremitting efforts should be made to maintain financial stability in the Asia-Pacific region.

Third, members should deepen economic restructuring to inject more vitality into sustainable development.
more