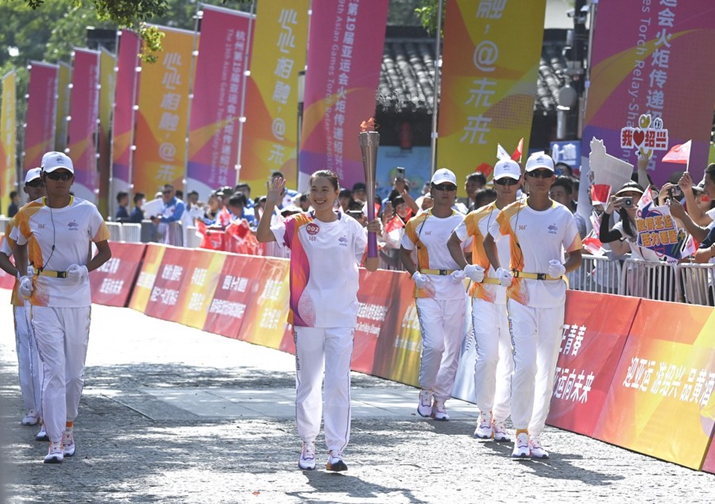 Torch bearer Lu Minjia runs the torch relay of the 19th Asian Games in Shaoxing, east China's Zhejiang Province, on September 11 (XINHHUA)
A 9.7-km torch relay featured historical attractions and modern landmarks of Shaoxing in East China's Zhejiang Province, marking the fourth leg of its campaign for the Hangzhou Asian Games on September 11.
A total of 170 torchbearers participated in the relay, which began in the morning at Lu Xun's native place and ended at the Shaoxing Olympic Sports Center, showcasing both the city's cultural heritage and modern vitality.
Among these torchbearers, the youngest was 15 years old, and the oldest was 79. Dong Sijiao, the 71st and oldest torchbearer, jogged tens of meters to complete his run.
To celebrate the Hangzhou Asian Games, Dong used to lead a rock band with an average age of over 70 and actively participated in welfare activities.
"I am old, but my dream is young. I'm embracing a new youth. I hope the torch can pass on my passion," Dong said.
Zou Tao, a girl from No. 3 Middle School in Ganzhou, Jiangxi Province, has played football for six years and cherishes a dream of representing her motherland in the future, just like her idol Wang Shuang.
"When she was a child, no matter what the weather was like, my daughter played football without any hesitation. Now she is more determined in football and has found her goal," Zou's mom said.
"I am proud to be a torchbearer for the Asian Games, just as Wang Shuang was. I hope more girls will love football and enjoy the beauty brought by sports," Zou said.
Tu Hongyan is the chairman of Wensli Group, which developed and produced the silk ribbons for the Games medals, embodying the charm of Oriental aesthetics and environmental protection.
"The torch relay will not only promote friendship and peace but also spread excellent Chinese culture. The world will learn more about China and Hangzhou," Tu said.
The torch relay will proceed to Ningbo City in the province on September 12.
The Hangzhou Asian Games is set to be the largest edition ever, with 12,500 athletes from 45 countries and regions competing in 40 sports, 61 disciplines and 481 events.