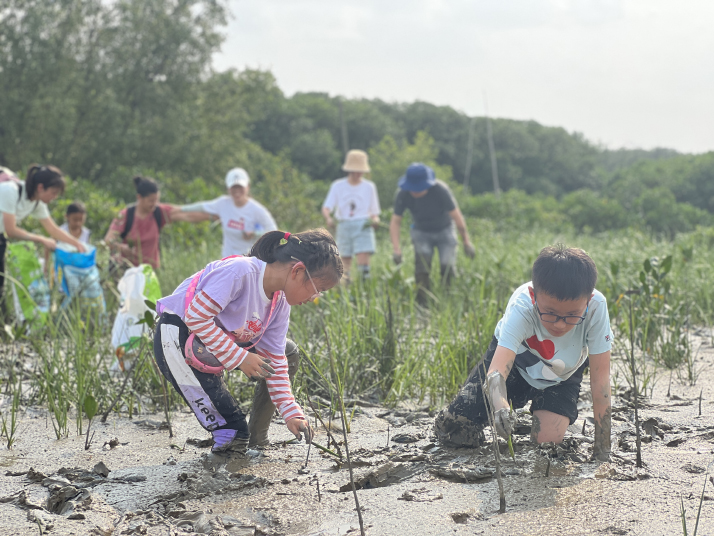 Children plant mangrove seedlings in the Fujian Jiulong Jiangkou Provincial Mangrove Nature Reserve on April 15 (COURTESY PHOTO)
Under the canopies of dense mangrove forests, swarms of creatures thrive. Some are rare and some unique. Many—ranging from mollusks and crustaceans to fish, waterfowl and even tigers—are featured in Mangrove Comics, a series created by China Mangrove Conservation Network (CMCN), an environmental organization based in Xiamen, Fujian Province. A mudskipper, an amazing fish that can jump, climb trees and dig burrows in mud, is the main character of one of the comics. Unlike most fish, mudskippers can live out of water for long periods in the intertidal zone. They move around with their leg-like fins, which can also form a sucker-like structure that allows them to stay on trees. Most mudskippers feed on small animals such as crustaceans, insects and worms, and some eat algae.
"The Mangrove Comics series has been published on our account on [the social media app] Weixin and in China Children's Daily for three years," Liu Yi, Executive Director of the CMCN, told Beijing Review, adding that it has now also been published as a book. The series introduces, in an amusing way, animals found in mangrove forests and coastal wetlands in addition to facts about mangroves, to raise public awareness of the richness of biodiversity in these ecosystems and the importance of their protection.
In addition to writing about the amazing creatures that inhabit mangroves, Liu and his colleagues also take groups of children to observe them in their natural habitat from time to time and organize mangrove-themed drawing competitions.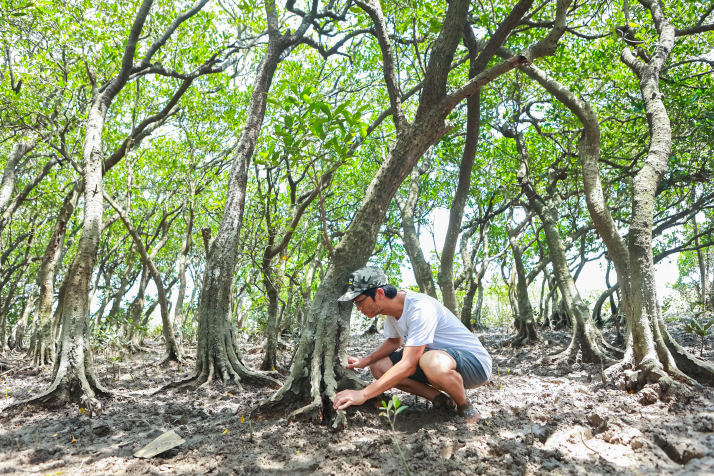 Liu Yi, Executive Director of China Mangrove Conservation Network, conducts field research in Fujian Jiulong Jiangkou Provincial Mangrove Nature Reserve in Longhai, Fujian Province, on July 17, 2022
(COURTESY PHOTO)
Passing on knowledge
Mudskippers, small crabs, footprints in the sand and waves lapping the shore are part of Liu's childhood memories, as he was born and grew up on the coast in Putian, Fujian. He has been a nature lover since childhood and received his university education at Xiamen University in Fujian, where he eventually earned a doctoral degree in environmental science. In 2001, when he was an undergraduate student, he became the leader of a newly founded student group aiming to protect mangroves. In 2009, this student group was officially registered as a nongovernmental environmental organization, which is now known as the CMCN, committed to protecting the biodiversity of coastal wetlands, especially mangrove ecosystems.
Mangroves usually grow in tropical and subtropical coastal intertidal zones, and they are partially or completely submerged by seawater during high tide. While adapting to their environment, mangroves have developed special features such as the ability to reject and secrete salt. The many species of mangroves share a number of features, such as being viviparous, which means that the embryos (the young plant within the seed) grow to break through the seed coat or even out of the fruit wall while still attached to the parent plant.
Two of the CMCN's objectives are educating the public about mangroves and engaging them in protecting the trees. Over the past year, Liu has been busy, accepting interviews from media, sharing experiences at events such as the 2022 National Coral Reef Forum, publishing articles including one in U.S.-based National Geographic Kids magazine, organizing intertidal biodiversity surveys in Hainan Province and coordinating seedling planting activities.
Recently, the CMCN launched its ninth Mangrove Seedling Adoption Program to mark Earth Day, which falls on April 22. "Approximately 3,500 primary and secondary school students and their families from regions including Fujian, Guangdong and Sichuan provinces and Chongqing Municipality have adopted nearly 5,000 seedlings," Liu said.
In addition to serving as vital spawning grounds, nurseries and habitats for many marine animal species, mangrove forests, have other important ecological values, according to Liu. "Research shows that mangrove ecosystems, which cover only 0.1 percent of the global land area, account for 5 percent of global carbon storage," he wrote in an article published in Knowledge Is Power, a Beijing-based magazine popularizing science to children and adolescents. The CMCN website also carries information showing that although the biomass of coastal plants is only 0.05 percent of that of terrestrial plants, their annual carbon sequestration is equivalent to that of all terrestrial plants.
Benefits of mangrove forests are not limited to greenhouse gas sequestration. "Scientists have observed that after passing through a large mangrove belt stretching 100 meters in width and 1 km in length, a category 10 typhoon will cause little damage to the shore," Liu's article read.
Reversing a decline
Despite the value of mangrove forests, they are being destroyed at an alarming rate all over the world. In the past 100 years, 67 percent of global mangrove forests have been lost, according to the UN Department of Economic and Social Affairs.
Due to stepped-up protection in recent years, China has halted and reversed the trend within its borders. The country was home to 50,000 hectares of mangrove forests in the 1950s, which dropped by more than 50 percent to 22,000 hectares in 2001 and then rose to 28,900 hectares in 2019, Wu Zhimin, then Director General of the Wetland Management Department of the National Forestry and Grassland Administration (NFGA), said at a press conference in 2020.
Mangroves had been cleared for timber, and to make way for aquaculture and coastal infrastructure construction, and they had also been lost to land reclamation, pollution and invasive species.
"Human interference has led to stunted growth, sparsity, and decreased biodiversity in mangrove forests," Wu said. "Research shows that of the 37 mangrove plant species in China, two have become the dominant species, while half are endangered to various degrees." He pointed out that a decrease in burrowing crabs reduces soil oxygen supply and hampers the growth of mangroves. "At present, mangroves in China are still facing major threats such as pollution, overfishing, and the invasion of alien species," he said.
In August 2020, China released the 2020-25 action plan on mangrove conservation and restoration, which calls for strong measures to conserve, restore and protect mangrove ecosystems.
The document puts mangrove forests not already within nature reserves and other areas suitable for the restoration of mangroves under strict protection. It states that new mangrove reserves will be built, and all aquaculture farms within nature reserves will be phased out.
It sets the goal of planting 9,050 hectares of mangroves and rehabilitating 9,750 hectares of existing mangroves by the end of 2025. Specifically, 5,500 hectares will be planted in Guangdong, 2,000 hectares in Hainan, 1,000 hectares in Guangxi Zhuang Autonomous Region, 350 hectares in Fujian, and 200 in Zhejiang Province.
In 2021, the NFGA and the Ministry of Natural Resources jointly issued a handbook for mangrove ecological restoration techniques, spelling out guidelines including those for seedling cultivation and plant variety selection.
On June 1, 2022, China's first law on protecting wetlands went into force, creating a legal imperative to protect mangrove forests.
Engaging the public
While the government leads mangrove restoration and rehabilitation efforts through issuing policies and guidelines, establishing nature reserves and financing major projects, nongovernmental organizations such as the CMCN have also made contributions.
The CMCN has collaborated with Fujian Jiulong Jiangkou Provincial Mangrove Nature Reserve for nearly 20 years, carrying out activities including ecological restoration and research, and engaging the general public in planting more than 1 million mangrove trees.
The Jiulong River is the second longest waterway in Fujian. According to the CMCN, in the late 20th and early 21st century, due to the operation of fast boats, illegal sand mining and other economic activities, a large area of mangrove forests around the river estuary was lost, causing the overall forest belt in some areas to retreat an average of 10 meters and posing a threat to the stability of the local ecology. Through joint efforts of government departments and community groups, the once degraded mudflats in the area have now become vibrant places in which mangroves grow and wildlife live.
As the mangrove belt becomes wider and wider, "the biodiversity of the river estuary has further improved. Rare and endangered species such as the black-faced spoonbill, yellow-billed egret, and Chinese white dolphin have become frequent visitors there," Liu said. "Moreover, public awareness of mangrove conservation has made a big leap from where it was 20 years ago."
Challenges and hopes
The restoration of mangrove areas faces more challenges than the restoration of vegetation on land, Liu said.
"It is necessary to take into consideration multiple factors such as substrate quality, elevation and the salinity of mudflats when assessing their suitability for afforestation," Liu said. "In addition to mangrove forests, mangrove wetland ecosystems also include bare flats, tidal channels, and shallow water areas. Our aim is not to plant mangroves to cover all the bare flat areas."
In addition to planting trees, he underlined the importance of science-based management and protection after restoration for the survival of the trees and the success of afforestation.
Liu also calls for eradicating invasive species such as salt-water cordgrass, Spartina alterniflora, before mangrove seedlings are planted. Introduced into China about four decades ago, the grass was once welcomed as it can thrive in barren salt marshes, grows to about two meters tall and is very dense, capable of protecting coastal facilities from waves. But later, its many potential risks came to light, including clogging shipping channels, triggering algal blooms, crowding out local species, and taking over the habitat of mudskippers, migratory birds and other creatures. Controlling the species is difficult and expensive.
"In recent years, the NFGA and local governments have carried out several programs to control the grass," Liu said. The action plan for mangrove protection and restoration states that salt-water cordgrass should be brought under control nationwide by 2025. In 2022, Fujian also issued its own roadmap to control the grass.
Another challenge for mangrove restoration is the high economic cost of returning aquaculture ponds to mangroves. Sustainable livelihood models such as mangrove beekeeping and mangrove ecotourism should be introduced in a timely manner, and providing small subsidies, skills training and other support to local communities will help to achieve win-win results and yield economic, social, and environmental benefits, according to Liu.
Bao Daming, an official with NFGA, once told the Guangdong-based Southern Metropolis Daily, ecological tourism and eco-friendly aquaculture could be allowed in mangrove forests outside the protected areas. However, he stressed that "protection should be prioritized, so that the ecological function of mangroves will not be damaged and the stability of mangrove ecosystems will not be affected."
In June 2021, the management bureau of Zhanjiang Mangrove National Nature Reserve in Guangdong, the Third Institute of Oceanography (TIO) under the Ministry of Natural Resources, and Beijing Entrepreneur Environmental Protection Foundation signed an agreement on the trading of carbon credits amounting to 5,880 tons of carbon emissions. According to the foundation, this is the first blue carbon project successfully traded in China. The foundation bought the carbon credits to neutralize the greenhouse gas emissions generated from its daily operations and its other environmental protection projects.
Blue carbon refers to carbon sequestered by coastal and marine ecosystems. The world's ocean is the largest carbon reservoir on Earth, storing and recycling more than 93 percent of the total carbon dioxide on the planet. The Zhanjiang Mangrove National Nature Reserve is the largest of its kind in China, protecting one third of the country's total mangrove area. While visiting the reserve on April 10, President Xi Jinping said its mangrove forests are a national treasure that must be protected "as well as we protect our own eyes."
"The successful development of this project demonstrates the huge progress China has made in mangrove restoration and research," Chen Guangcheng, a research fellow with the TIO, said.
Copyedited by G.P. Wilson
Comments to wanghairong@cicgamericas.com