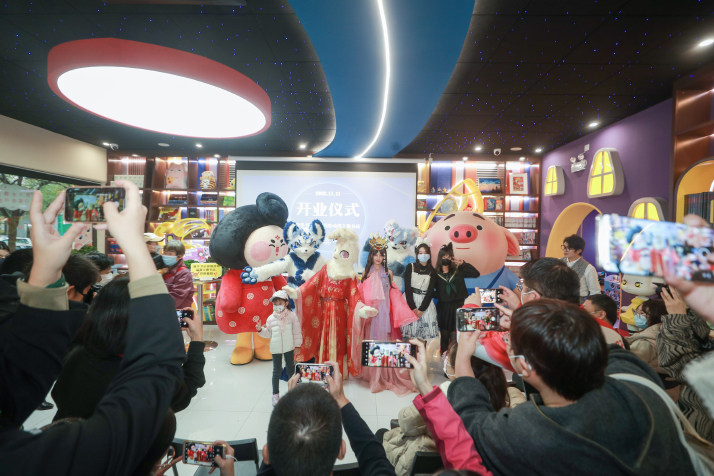 Animation aficionados at the opening of an animation-themed bookstore in Beijing on November 11 (VCG)
For three years, fans have been anticipating the release of the Three-Body Problem animated series, an adaptation of Liu Cixin's Hugo Award-winning sci-fi trilogy Remembrance of Earth's Past. The series will officially stream on Bilibili, a leading Chinese video-sharing platform mainly targeting young people, from December 3.
The debut date was announced on October 29 at an event called Anime Made by Bilibili 2022-2023, an annual event hosted by the platform since 2018 to showcase its new initiatives in the Chinese animation sector. As principal producer and financier of the animated series, Bilibili announced in 2019 it had secured the rights to adapt the novel into an animated series.
The series trailer has attracted 40 million views and 3 million followers over the past three years since the announcement was made, Li Ni, Vice President of Bilibili, revealed.
A bold decision
It is the highest-valued intellectual property movie Bilibili has ever produced since entering the animation industry in 2014. Animation studio YHKT Entertainment, which co-produced the series, said depicting scenes in the novel through animation was a "nightmare," but that they had spared no efforts in its production.
"It was an adventurous decision to get involved in the animation industry back in 2014," Li said. "In those days, China's animation industry was struggling with various difficulties, including a severe lack of investment and an outflow of talent due to low salaries and gloomy career prospects."
The decision to produce an animation based on the work of a Chinese author becomes even more unusual in light of the founding intention of Bilibili. In 2009, wanting to share the latest episodes of a popular Japanese animated series, a few fans of anime, comics and games in China created the Bilibili website. The website then unexpectedly turned into a leading video community in China.
"The childhood television memories of people born in the 1980s and 90s may be dominated by animation, but these mainly came from Japan and the United States," Zhu Chengming, a Bilibili executive, said on November 10 at the International Communication Forum on Chinese Culture in Beijing. "Chinese animation did shine, but also faded into obscurity during those decades."
An early start
Animation in China began in 1922, when four brothers from one family, surnamed Wan, issued a short advertisement for typewriters. This was roughly 14 years after the release of the world's first fully animated cartoon—1908's Fantasmagorie.
Using equipment from a bankrupt American entrepreneur, the Wan brothers created several early animation works in a tiny Shanghai studio. With an early interest in art, the brothers had mastered puppetry and incorporated it into their animated works along with other skills and elements of traditional Chinese arts.
In 1940, inspired by the Disney animated feature film Snow White and the Seven Dwarfs, the Wan brothers completed China's first feature-length animation Princess Iron Fan, based on a chapter from China's classic novel Journey to the West.
A smash hit, the film, whose copy was then looted by the invading Japanese forces, was shown in Japan during the War of Chinese People's Resistance Against Japanese Aggression (1931-45). It was this film that inspired Osamu Tezuka to create Japanese manga series Astro Boy in the 1960s.
The foundation of the Shanghai Animation Film Studio in 1957 lent impetus to China's animation industry. Havoc in Heaven, another adaption of several chapters from Journey to the West, was produced in the 1960s by Wan Laiming, one of the brothers, who became known as the "Walt Disney of China," and the other directors.
The film was a huge international success. In 1978, it won the outstanding film award at the London International Film Festival and went on to be broadcast by the BBC in the 1980s. It was also broadcast on Swedish, Danish and Russian television.
The rise
Chinese folk stories and art forms are rich sources of creative inspiration within China's animation industry. However, during the low ebbs of the industry, Chinese creators have struggled to dig into its goldmine.
China's first International Cartoon & Animation Festival took place in Hangzhou, Zhejiang Province, in 2005 and has since become an annual event in the city, known to be at the digital forefront. The festival has become one of the largest gatherings for creators and fans of animation in China.
In 2015, Monkey King: Hero Is Back by Tian Xiaopeng became a blockbuster in China's film market, raking in box office sales of almost 1 billion yuan ($143 million) and being regarded as a new milestone in the rise of Chinese animation. In the following years, several other animated films, including Big Fish and Begonia, have seen remarkable success.
In 2019, the animated fantasy film Ne Zha, an adaptation depicting a famous Chinese mythological character from the epic novel Investiture of the Gods, was a big hit, with record-high box office sales of over 5 billion yuan ($715 million).
At Bilibili's anime event this year, many of the 49 anime series lineups announced were based on Chinese ancient legendary stories, such as the new season of Fog Hill of Five Elements, which incorporates cultural elements taken from The Classic of Mountains and Seas.
Liu Rui, a college student in Guangzhou, Guangdong Province, who has been an animation fan for more than 10 years, regards the rich reserve of Chinese traditional stories as both a wonderful advantage for Chinese creators and a limit.
"Most Chinese animation is based on Chinese myths and legends, which has made it somewhat monotonous," she said. "I think our creators could go outside the box and create something more distinctive," she told Beijing Review.
The animated adaptation of The Three-Body Problem is regarded as an attempt in this direction. "I am looking forward to being thrilled by the animation of the upcoming series on December 3," author Liu said.
(Print Edition Title: Moving Pictures)
Copyedited by G.P. Wilson
Comments to yuanyuan@cicgamericas.com