Every time Chen Suzhen returns home after a rescue mission, she retreats into her tiny home sauna for a good sweat session. "Rescue work is dangerous. Whenever I get back home, I pour myself a cup of tea and just try to relax," she said.
The 58-year-old is captain of the Fujian Blue Sky Rescue (BSR) Disaster Reduction Center General Team and founder of Xiamen BSR, a volunteer organization established in 2009.
From tea tasting to rescuing
Chen was born in Xiamen, Fujian Province, a coastal city in southeast China. Before setting up the Xiamen BSR, she had been a businesswoman selling water purifiers and a tea sommelier who loved making tea, planting flowers, writing poems and traveling. "I used to live in peace and plenty," Chen told Beijing Review.
The 8.0-magnitude Wenchuan earthquake that hit Sichuan Province on May 12, 2008, dramatically changed her life. "It broke my heart when I saw the debris on TV. And I wanted to do something for the victims," Chen said. Not even giving it a second thought, she bought a ticket and flew to Wenchuan County.
However, when she arrived in the quake-stricken area, Chen found there wasn't much she could do. "I didn't know how to save lives. The only thing I could do was to take care of the injured and deliver supplies together with other volunteers," she said.
It was her first time being surrounded by so much death, an undoubtedly shocking and emotionally draining experience. "My heart was filled with sorrow, rather than fear. I figured I should do something for the victims," she said.
After she came back, Chen established the Xiamen BSR. Her nickname is "waterweed," after her favorite aquatic plant which she deems a symbol of resilience. "Everyone calls me Captain Waterweed," she said.
However, running a rescue team is no easy feat. "We started from scratch and things were difficult at the beginning," Chen said. She and her team members had to master a wide range of skills, from rock climbing and driving assault boats, which are inflatable rubber boats used in combat and rescue operations, to scuba diving. They also had to study for the national-level emergency rescue certification exam. "While carrying out rescue operations, I once broke three teeth and nearly fell off a cliff," Chen added.
Many people, including her ex-husband, simply didn't understand her. Some even laughed at her, saying, "What can a little woman possibly do?"
Chen admitted that men are usually physically stronger than women. "But I am a woman of surprising stamina," she said. Chen and her team took part in a weeklong disaster relief mission in central China's Henan Province in July 2021, when torrential rains hit the region and caused severe flooding. "We were rushed off our feet. I barely slept and ate very little. However, I felt energetic and was able to remain super calm all week," she said.
And when the pressure is on, her memory serves her very well. During the rescue mission following the 2014 Ludian earthquake in Yunnan Province, she recited roughly a dozen locals' 11-digit mobile phone numbers.
Being petite can sometimes prove an advantage in the field. During the 2015 Nepal earthquake, a villager came to Chen for help and took her to his house. The building had collapsed and the only way to enter it was through a narrow hole. His wife was trapped inside. "My team members and the Nepalese soldiers were all big and tall men. I was the smallest person there," Chen said.
Chen was the ideal person to go into the tight space. "It was horrible inside," Chen recalled. As she made her way through the rubble, she kept digging and clearing the passage to make it wider, one inch at a time, and eventually, she found the trapped woman. She eventually managed to get the victim out, with help from her team members and Nepalese soldiers.
On the last day of their mission, the rescued woman, in a wheelchair, approached Chen's team and said, "You saved me. Thank you, China! Thank you, Blue Sky."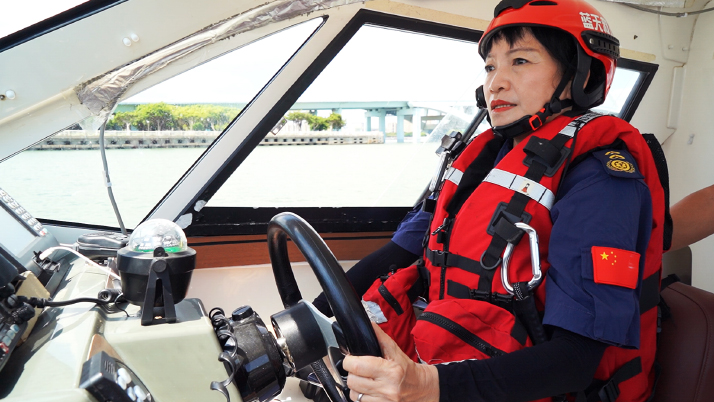 Chen Suzhen, captain of the Fujian Blue Sky Rescue Disaster Reduction Center General Team, in a rescue drill on August 16 (YIN KANG)
Growth and challenge
In the past 13 years, Xiamen BSR has conducted 1,592 disaster rescue operations, at home and abroad, and more than 1,000 missing person search and rescue missions. "The more often we take part in these rescues, the more new equipment we need. And fundraising is a big challenge," Chen said.
"The darkest moment in my life occurred in 2012," Chen said. Her team was short of funds and she had already invested all her savings. "I sold one of my apartments and was in debt," she added.
What's worse, her personal life, too, was blowing up. Her mom had just passed away and her marriage was on the verge of collapse. "I've spent all my time and savings on saving strangers. But why?" she asked herself. Chen was at a loss.
"The calls for help and the gratitude from family members of those we'd saved encouraged me to continue the work," Chen said. Thinking to herself, "I don't seek any reward so I have nothing to lose; I am fearless," she carried on, staying devoted. And just like that, "selfless, fearless and devoted" became the Xiamen BSR motto.
Chen's financial burden was eased in 2015 when the local government gave the team a leg-up by offering them a rent-free office in Siming District, Xiamen. From that moment on, rent payment issues were a thing of the past.
"But we still need to raise money by giving lectures to enterprises and providing services to the government," Chen explained. The team also receives donations from enterprises and, what's more, she's still selling tea and allocates half her profits to the team's funding.
The more Chen's team engaged in rescues, the more people came to them for help, including those seeking psychological assistance. In 2013, Chen set up a division with psychologists to offer mental health services to those in need and pay regular visits to senior residents living alone.
Her nirvana
As her team grew, so did Chen. As a person, she has become stronger and more adaptable.
Before volunteering in Wenchuan, Chen would have never dared look at a dead body. But after engaging in rescue operations, she managed to conquer her fear. Especially when involved in earthquake rescue missions, she and her teammates excavate and carry victims' broken bodies.
To this day, her team members often ask her, "You scream when you spot a rat or a roach. How do you find the courage to carry a body?"
"It's the compassion for the victims that has dispelled the fear," Chen replied. For her courage and contributions, she was honored as a national ethical role model in November 2021.
As for becoming more adaptable, Chen said, "I used to lose my temper and long for things that were beyond my abilities. I don't anymore. Having seen and experienced so many catastrophes and tragedies, I understand what the most cherished thing in my life is: the present. The present time with our families."
Because Chen had poured too much time and money into running the team, her personal life "fell to bits" and she got divorced in 2012. Six years later, she met her Chinese-American husband Yeung Yung Choy and they got married. The latter, who used to travel around the world, fell in love with Chen at first sight and settled down in Xiamen. He works as a volunteer at Xiamen BSR and has taken part in many BSR operations.
"He supports me and my determination to continue volunteering," Chen said of her significant other. "I feel very lucky and happy because my husband and I work as one."
This captain clearly has no intention to abandon her "ship." Moreover, Chen has an ambitious plan: give 100 online lectures on safety and disaster reduction in two years, including specific topics such as how to use fire extinguishers, how to survive an earthquake, and what to do in the event of a mudslide. Since setting the goal in January, she has given more than 20 online lectures.
"When people master self-rescue skills, maybe we rescue workers can relax a little and I can get back to my ideal life: planting flowers, making tea, and traveling around the world with my family. That's what I really long for," she said.
(Print Edition Title: Captain Waterweed To the Rescue)
Copyedited by Elsbeth van Paridon
Comments to linan@cicgamericas.com