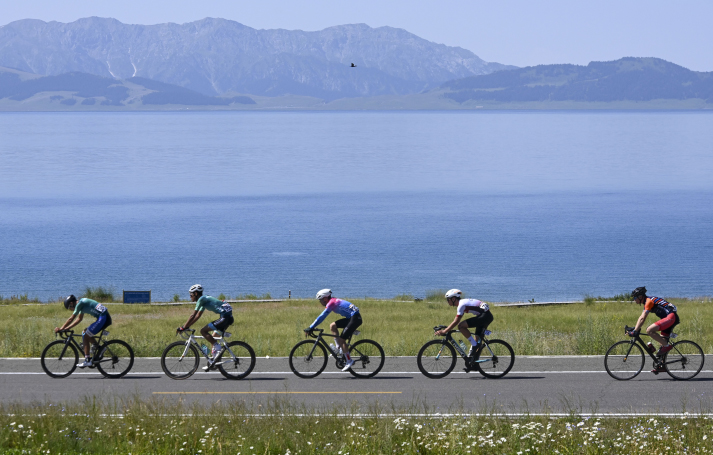 Competitors ride by Sayram Lake in Bortala Mongolian Autonomous Prefecture, Xinjiang Uygur Autonomous Region, during a cycling race on July 25 (XINHUA)
At dusk on July 17, a group of young people wearing helmets and cycling jerseys rode their bikes around Changling Lake in Harbin, capital of Heilongjiang Province. The activity was organized by a local cycling group.
Cheng Wu, head of the cycling group, said the activity is held every evening and cyclists follow a set route which stretches 24 km. The activity aims to provide cyclists with an opportunity to interact with each other, he told Heilongjiang Daily.
The group, established in 2016, now has nearly 500 members. Around 20 members take part in the activity every evening.
Cycling for exercise and social interaction is gaining popularity in China.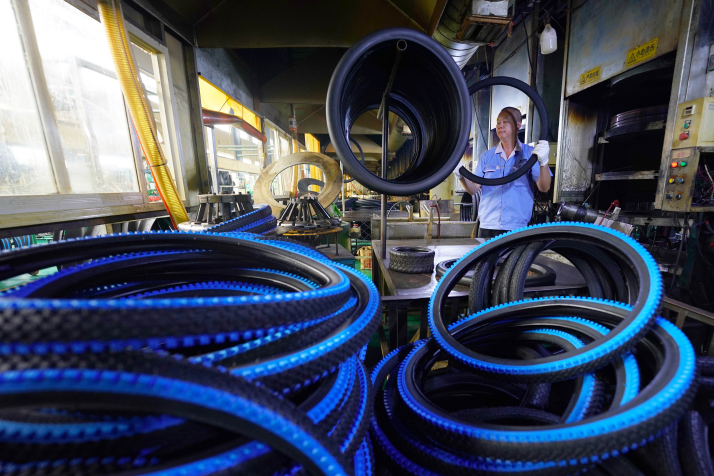 A staff member works at a bicycle tire factory in Guangzong, a county in Hebei Province, on July 26 (XINHUA)
A hot sport
Beijing resident Jiang Haozhe bought his first mountain bike for 1,500 yuan ($221.7) eight years ago when he was still in high school. He later bought other types of bikes such as a folding bike and a road bike to serve different purposes. Some of these bikes cost tens of thousands of yuan each.
Jiang said professional bikes are more suitable for sports purposes as they are sturdier. He chooses different bikes according to the road conditions.
For another Beijing resident surnamed Guo, who seldom has the opportunity to exercise, a 4,000-yuan ($591) folding bike has become his most important piece of sports equipment. Every day after work, he puts on his cycling jersey and rides from his workplace in Haidian District to his home in the suburban Changping District, 8 km away. The journey takes half an hour. "I bought the bike last year as I felt it more necessary to exercise after the outbreak of the pandemic," he told Workers' Daily.
Guo Jianrong, Secretary General of Shanghai Bicycle Association, told Workers' Daily that the improvement of urban roads, people's increased health awareness and the hosting of cycling competitions in China have attracted many young people to cycling. He added that bicycles have also reduced people's exposure to public transportation during the pandemic and therefore lowered the chance of infection.
During the pandemic, the sport has gained more popularity as it has met people's demand for exercise while indoor sports venues were closed for pandemic control. When public transportation was suspended during the pandemic in Beijing this spring, some people also switched to cycling to work.
According to statistics compiled by fitness app Keep, the number of its users who cycled reached 400,000 in March, up 33.84 percent year on year. According to a report on China's sports bicycles for 2021, published by Internet company Guangzhou Magic Cycling Network Technology Co. Ltd., 24.5 percent of its more than 30 million users cycle every day and nearly 50 percent cycle more than once a week.
The popularity of the sport has pushed up bicycle sales. During the online shopping festival around June 18 this year, the presale volume of cycling-related products including bikes surged 240 percent year on year.
A professional bike plus a whole set of equipment costs at least 8,000 yuan ($1,182), about 10 times the price of an ordinary one. In addition, the maintenance cost is also much higher.
The report revealed that 27.88 percent of purchasers would like to pay 8,001 to 15,000 yuan ($1,182 to 2,217) for a new bike, while 26.91 percent have a budget of 15,001 to 30,000 yuan ($2,217 to 4,434).
Strengthening weak links
However, while demand has increased owing to the recent cycling craze, the production and shipping of key components have been affected by the pandemic, and some popular bike models are in short supply. In Beijing, consumers need to wait two to three months or even half a year for some bestselling models.
The inadequate supply happens not only domestically but also globally as supply of key components produced by Japanese company Shimano has been disrupted by the pandemic. Shimano accounts for more than 60 percent of the global bike gear shifter market share.
Lin Lin, General Manager of Fire Tribe Sports Technology Co. Ltd. in Beijing, told business news portal Lanjinger that nearly 80 percent of multi-speed bicycles use gear shifters produced by Shimano. "The pandemic has slowed the shipping of the component and the company's planned capacity has failed to meet this year's surging demand, which resulted in the supply shortfall," Lin said.
China is a large bike producer. According to statistics from the China Bicycle Association, last year China produced 76.39 million bikes. The whole industry reported revenues totaling 308.5 billion yuan ($45.6 billion) and profits of 12.7 billion yuan ($1.9 billion).
"However, domestic brands lag behind their foreign counterparts in terms of marketing and brand image promotion. Their products are mostly designed for daily use and commuting and can't meet the consumers' demand for sports bikes," Zhou Fuyuan, General Manager of Magic Cycling, told Beijing-based Securities Times.
According to the Magic Cycling report, 31.13 percent of consumers prefer to buy foreign brands while only 13.29 percent opt for domestic ones.
Zhou said in addition to strengthening research and development, domestic brands should increase spending on brand promotion and improve their brand influence by sponsoring cycling competitions, activities and cyclists. "By enhancing brand influence, companies can increase profits which can be invested in product research and development to form a virtuous cycle," Zhou said.
In recent years, some new domestic brands are winning more recognition from consumers for being cost-effective, Zhou said.
Customers can spend half as much on a domestic bike as they spend on a foreign one with similar functions. Domestic bicycle component companies are also gaining more market share globally. For instance, some components such as handlebars produced by Shenzhen-based HL Corp. have the largest market share globally, accounting for 12 percent of the total.
However, Zhou added that China still faces bottlenecks in the production of key components such as high-end gear shifters.
In June, five ministries including the Ministry of Industry and Information Technology issued a guideline on promoting the high-quality development of light industry, which required accelerating breakthroughs in key technologies such as bike gear shifters.
Hopefully the move will inject impetus into the domestic bicycle industry.
(Print Edition Title: Cycling Craze)
Copyedited by G.P. Wilson
Comments to jijing@cicgamericas.com