Tourists walk on the beach at a scenic spot in Zhoushan, Zhejiang Province, on June 28 (XINHUA)
Twenty-seven-year-old Wang Peng's favorite memories are of scaling China's mountains. For the Shanghai-based designer, conquering the dizzying heights provides a sense of satisfaction and the natural landscapes of different regions inspire a sense of wonder. However, it has been more than two years since Wang last put on his hiking boots.
"I can't wait to get back to traveling. The pandemic has really disrupted my life," Wang told Beijing Review, adding that it seems his wish will soon come true. In late June, China announced updates to its pandemic prevention and control guidelines, after measures began producing positive results in Shanghai and elsewhere.
Previously, China's national COVID-19 contact tracing smartphone app, which was necessary for travel, had applied an asterisk to the digital pass of anyone in cities with COVID-19 cases in the preceding 14 days. The presence of the asterisk precluded users from traveling to many destinations. But now, this measure has been abolished in order to better facilitate intercity movement. The government also announced it would reduce inbound travelers' mandatory time in centralized quarantine from 14 days to seven.
"The rollout of these new measures is a signal aimed at boosting people's and companies' confidence in population movement, tourism and economic growth," Wei Xiang, a professor at the Chinese Academy of Social Sciences National Academy of Economic Strategy and a specialist in the leisure and tourism economy, told Beijing Review.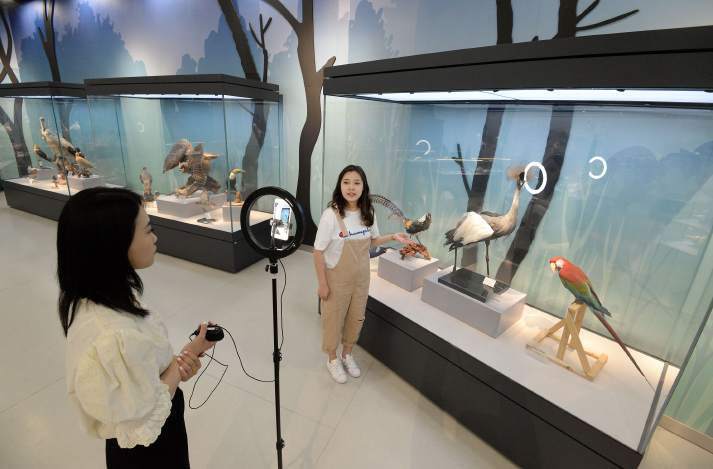 A guide introduces bird specimens via live-streaming at a museum in Handan, Hebei Province, on May 17 (XINHUA)
A good prospect
Upgrades to the guidelines, including the removal of the asterisk, were announced by the Ministry of Industry and Information Technology (MIIT). The contact tracing app, known as the Xingcheng Ka (travel card), was developed in 2020 by the ministry's scientific research institute, the China Academy of Information and Communications Technology, in cooperation with the country's three major telecom operators—China Mobile, China Unicom and China Telecom. The app obtains location data from any user's phone to produce a digital pass that must be displayed when traveling between cities.
"The rollout of these new measures does not signal a relaxation of COVID-19 control measures, nor does it mean abandoning the dynamic zero-COVID-19 strategy," Wu Zunyou, chief epidemiologist at the Chinese Center for Disease Control and Prevention, posted to his personal account on Weibo, China's Twitter equivalent.
Wei echoed Wu by saying that the adjustment was based on the latest global and domestic situation, and in accordance with China's current needs. "It demonstrates that China's approaches toward pandemic control are not rigid. They are dynamic and continue to update in response to the changing situation," Wei said, adding that while minimizing the possibility of virus spread, policies are also being geared toward creating a sound environment for economic and business recovery and development.
According to statistics from Qunar.com, an online travel service provider, searches for air and train tickets on the platform surged within 30 minutes of the new policy announcement, as did the search for hotels. Some netizens also took to social media with photos comparing Beijing South Railway Station before and after the announcement—one was almost empty and another was packed with people carrying luggage.
"Traveling during this time has some perks. Many hotels are reducing room rates and scenic areas are offering ticket discounts," Wang said.
Despite the government's positive signal, many people still have concerns about taking a long trip. "What if the local government or hotel at my destination has some kind of additional regulations or travel restrictions?" asked Liu Yi, a graduate student in Beijing who is a fan of traveling on a budget. "It would be terrible if I only found out about it after I arrived there, so I'd rather not go to another place to avoid the trouble," she added.
Liu's concern is understandable. While Wu said the removal of the asterisk will help prevent local authorities from imposing excessive travel restrictions, a number of netizens have reported cities introducing their own alternatives to maintain control, including Hangzhou, capital of Zhejiang Province, which introduced its own system using a red exclamation point in place of the asterisk.
The State Council's Joint Prevention and Control Mechanism, China's top epidemic control authority, recently reiterated its adamant stance prohibiting excessive virus containment measures and abuse of related tools, stressing that local authorities should not impose excessive travel restrictions, use digital health codes for unrelated purposes or rigidly turn away logistics workers, which has been a common occurrence in recent months.
"Wrongdoings such as the adoption of one-size-fits-all approaches and the implementation of additional control measures must be prevented," Lei Zhenglong, Deputy Director of the National Health Commission's Bureau of Disease Prevention and Control, said at a news briefing in June.
Technology is key
The pandemic has significantly disrupted tourism, but it can also serve as a strong push for industry actors to transform through the application of technology, Wei said.
For example, during the Water Splashing Festival, one of the most important holidays of the Dai people of Xishuangbanna Dai Autonomous Prefecture in Yunnan Province, which fell in April this year, the local government sponsored an online celebration. About 130,000 people around the nation watched the live-streaming, flooding the comments section with volleys of water droplet emojis, pretending to splash one another online.
"Although I wasn't able to return for the festival this year, the innovative event gave me a feeling of participation and also a platform to express my best wishes for my family," Liu Xinyu, a Dai person living in Chengdu, Sichuan Province, told news portal Chengdu.cn. "It can also help promote our culture to the rest of the country and even the world."
"In the past two decades, the technological upgrading of the tourism industry has been slow compared to that of other industries. From a positive perspective, now is the opportunity to develop it. The industry and the government are already aware of that and are exploring options," Wei said, adding that the process will weed out weak players in the tourism industry, leading to a rejuvenation. Wei also said he believes the government should offer preferential fiscal, taxation and credit policies to companies that embrace technologies that are used by travelers throughout their journeys."
"These technologies, including apps that offer travel services, can be used by travelers to plan their entire trip before they leave, and even to view their destinations in advance using virtual reality technology," Wei said.
Armchair travel is also becoming increasingly feasible in China. In 2018, the charitable China Foundation for Cultural Heritage Conservation and Internet giant Tencent developed a mini-app on Chinese super-app WeChat that enables people to "climb" sections of the Great Wall through their phones. Users can see the beauty of the World Heritage Site in the morning, noon and at dusk depending on the time they log in. They can also learn history and other facts through the Q&A function, and earn digital rewards for answering questions, which can be converted into donations to cultural relic preservation projects.
(Print Edition: Prepare or Perish)
Copyedited by G.P. Wilson
Comments to luyan@cicgamericas.com