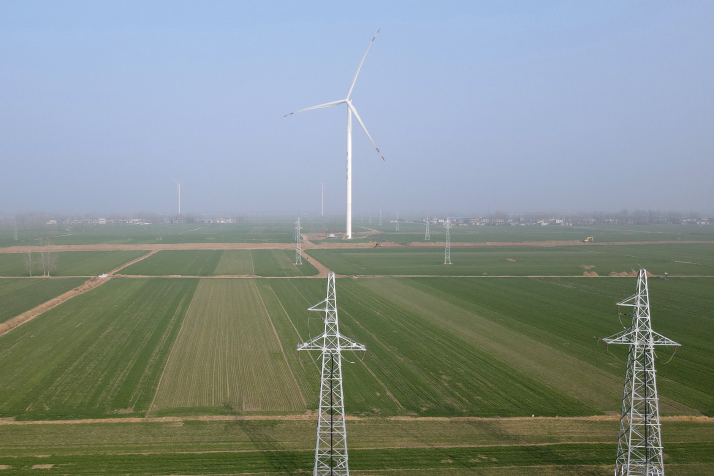 A wind farm in Guoyang County, Anhui Province, on December 14, 2021 (XINHUA)
Remaining on the national list of the least developed counties until 2017, Lankao in Henan Province was plagued by strong winds for centuries and its economy suffered greatly. Nevertheless, today is a different story.
Wind turbine manufacturer Xinjiang Goldwind Science and Technology Co. Ltd. established three wind farms in the county in 2021, which have a combined annual capacity of 15 million kW. The projects helped cut carbon emissions by approximately 16,000 tons in 2021, which is equivalent to the effect of 8,000 cubic meters of forest. At one point last year, the county managed to run entirely on clean energy for 72 consecutive hours.
Clean energy is reinvigorating and empowering many rural areas across the nation like Lankao. According to a report released by the China Renewable Energy Engineering Institute in March, rural areas, especially those in the country's central and western regions, have abundant wind and solar resources and are regions where rooftops and idle lands can be utilized for power generating facilities. Hydropower stations are mostly located in the remote areas of southwestern provinces. Biomass and geothermal energy technologies are also being employed in many places.
However, clean energy technologies still require promotion. Rural energy consumption is growing continuously, along with the improvement of living standards and the upgrading of local industries. Coal and agricultural waste remain the major energy resources for cooking and heating in many households, the report said.
In recent years, the government has increased support for a transition to clean energy in the countryside. According to an action plan released by the General Office of the Communist Party of China Central Committee and the State Council General Office in May, efforts will be made to boost photovoltaic (PV), wind, hydro andgeothermal power, reduce coal use and improve electricity transmission networks in rural areas.
The cost of solar power is now lower than that of coal-fired electricity generation, and wind power technologies are also mature enough to be economically viable. Rural areas with vast lands are most suitable to embrace clean energy, Zhou Dadi, former head of the National Development and Reform Commission's Energy Research Institute, told Beijing Review.
"More efforts are needed to improve related technologies and make full use of resources available to meet local residents' needs and turn rural areas into power suppliers for cities," Zhou said.
Clean wealth
According to the report, clean energy resources have ensured power supply, driven energy transformation and boosted industrial growth in rural areas.
Wind power facilities can be managed remotely and generate profits sustainably. More importantly, their installment on rural fields does not affect agricultural activities and should be further promoted, Qin Haiyan, Secretary General of the Chinese Wind Energy Association, told China Reform Daily.
"China's potential wind power capacity stands at 1.4 billion kW, but it is only making use of around 8 percent of it. If 100,000 villages each install two 5-MW wind power units occupying 200 square meters, over 1-billion-kW installed capacity will be added nationwide," Qin said. The National Energy Administration (NEA) estimated that in central, eastern and southern parts of the country, a village with two such units will see its residents' income increase by 300,000 yuan ($45,073) per year.
Wind power projects also bring additional benefits. In Tiandeng County, Guangxi Zhuang Autonomous Region, wind farms have become tourist attractions with distinctive decorations. Villagers who did farming or moved to cities as migrant workers now have access to alternate forms of income through operating restaurants and stores around the projects.
As use of solar power increases, PV panels are becoming common in rural areas. Starting from 2014, solar farms for poverty alleviation with a combined capacity of over 26 million kW have been launched, creating profits of around 18 billion yuan ($2.6 billion) annually and benefiting more than 4 million impoverished households, the NEA said.
According to the administration, the capacity of China's household PV power generation totaled about 21.5 million kW in 2021, suggesting that it will play a key role in achieving China's carbon peaking and neutrality goals before 2030 and 2060, respectively, and driving ruralrevitalization.
Similar to wind power, PV energy programs can be applied without changing original use of the lands they occupy. In recent years, such programs have been launched in many areas with desertification, such as Inner Mongolia Autonomous Region and Gansu Province, to reduce surface temperatures and improve the growth of vegetation. They have also been promoted in areas with depleted mines and on saline soil, the report said.
Many regions have sought to integrate PV energy projects and locally distinctive industries. Grass in a solar park in Gonghe County, Qinghai Province, grows better when shielded by solar panels. Beginning in 2015, the park has been used for raising sheep, which saves the cost of weeding. Moreover, the herd grows faster than those in other fields.
Rural areas also have rich biomass energy resources. Vegetable scraps, wood and animal waste are all examples of biomass, which can produce electricity or heat through methods including burning or the production of methane or ethanol. Other sources of biomass include waste from agriculture, forestry and industry, as well as municipal solid waste.
The NEA said China used biomass to produce 163.7 billion kWh of electricity in 2021, up 23.45 percent from the previous year.
A report by the Biomass Energy Industry Promotion Association in 2021 projected that China's annual production of biomass will reach nearly 3.8 billion tons by 2030 and over 5.3 billion tons by 2060. Coupled with carbon capture and storage technologies, the use of biomass energy will help cut carbon emissions by 900 million tons by 2030.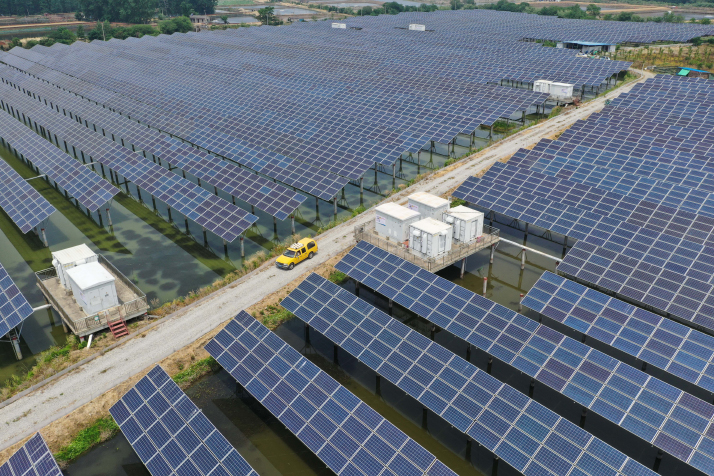 Photovoltaic systems for fishery aeration in Caoqiao Village, Yangzhou in Jiangsu Province, on May 25 (XINHUA)
The use of biomass energy can further improve the disposal of agricultural waste and improve the rural living environment, Li Chuangjun, Director of the New Energy and Renewable Energy Sources Department of the NEA, told China Electric Power News.
The NEA will promote the commercialization of biomass energy, improve biomass gasification and develop demonstration projects for biomass heating during winter in north China, Li added.
Breaking bottlenecks
Energy production systems in rural areas should operate differently from those in urban areas as rural energy use is both more dispersed and more diverse, according to Zhou. The application of wind and solar power is still under trial in rural areas and should be expanded into new uses, such as improving the electrification of rural machinery, he added.
There is yet to be a complete commercial solar power generation system that relies on rural households. The investment, operation and distribution of profits from such projects will all require standardized methods. To generate tangible benefits and achieve win-win cooperation between businesses and farmers, local governments should tighten supervision and develop more pilot programs, Zhou suggested.
He also attributed the insufficient use of clean energy in rural areas to the lack of the power storage facilities necessary to create stable supply, where many technological bottlenecks remain.
"Stable power supply and storage systems for clean energy will meet rural residents' needs and bring them more income as they can sell surplus electricity. These facilities will also help balance urban and rural power supply and demand," Zhou said.
(Printed edition title: Rural Renewal)
Copyedited by G.P. Wilson
Comments to lixiaoyang@cicgamericas.com