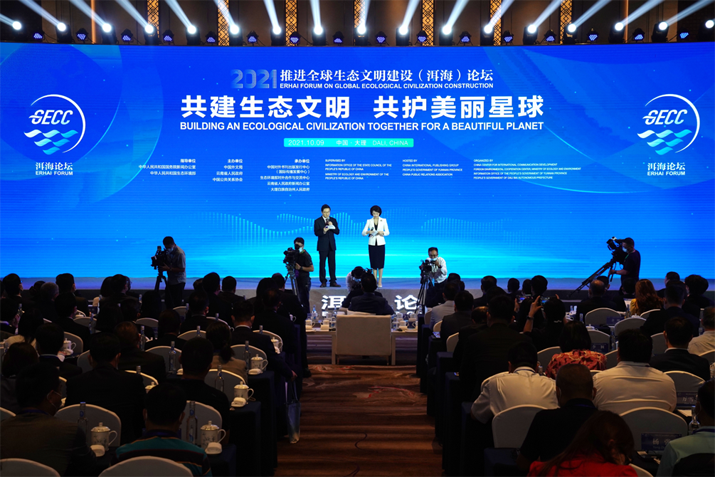 The Erhai Forum on Global Ecological Civilization Construction takes place in Dali, Yunnan Province, on October 9 (ZHANG WEI)
Participants at the Erhai Forum on Global Ecological Civilization Construction, currently underway in Dali, Yunnan, have agreed that China will work together with the international community in support of global environmental conservation.
Themed on "Building an Ecological Civilization Together for a Beautiful Planet," the Erhai Forum attracted over 300 participants, including senior politicians, leading experts and members of international organizations from home and abroad.
In keeping with the philosophy of building a community of a shared future for mankind, China will join hands with the international community to contribute to global environmental protection, said Wan Gang, Vice Chairman of the 13th National Committee of the Chinese People's Political Consultative Conference and President of China Association for Science and Technology, when addressing the forum via video link.
As an important supporting event of the upcoming 15th meeting of the Conference of the Parties to the UN Convention on Biological Diversity, also known as COP15, which is set to kick off this month in Kunming, capital of Yunnan, the Erhai Forum aims to provide Chinese solutions and contribute the nation's understanding to boost efforts in global ecological progress.
As one of the most biodiverse countries in the world, China has always attached great importance to biodiversity conservation and preserves biodiversity via creative and up-to-date measures, achieving substantial progress on a distinctively Chinese path of conservation. Additionally, the country is furthering solutions to global biodiversity conservation and collaborating with the international community to build a shared future for humanity and nature, according to a white paper released by the State Council Information Office on October 8.
China's historic successes in ecological development have demonstrated the country's experience in promoting people's well-being and environmental protection, Du Zhanyuan, President of China International Publishing Group, said at the forum.
Amidst the Covid-19 pandemic, the international community should pool its wisdom and foster both exchange and cooperation to shape synergy in sustainable development and eventually create a better world for all, Du said.
Guo Weimin, President of the China Public Relations Association, said that Yunnan's transformation is a typical example of China's ecological protection efforts.
As an active participant in international cooperation on environmental protection and the battle against climate change, China has proactively approved and implemented key international UN conventions, Guo said, noting that Yunnan has set up multiple initiatives to protect biodiversity in recent years.
More than 120 rescue and protection projects targeting plant species with extremely small populations have been implemented in Yunnan in the last five years, with 30 protection zones marked out, according to Guo. Through these projects and zones, Yunnan is effectively preserving and restoring rare and priority flora, he said.
China and the rest of the world should work together to learn from one another and to better contribute to the global fight against climate change, Guo concluded.
(Reporting from Dali, Yunnan)
Copyedited by Elsbeth van Paridon
Comments to taozihui@bjreview.com