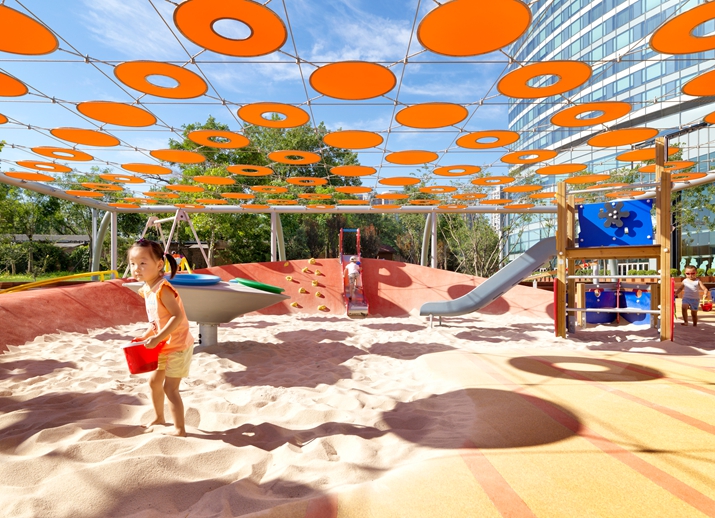 The Indigo Playgrounds, designed by Ballistic Architecture Machine, an urban landscape design studio, in a park in Beijing (JONATHAN LEIJONHUFVUD)
In 1956, the J-5, a Chinese-built single-seat fighter jet based on the Soviet MiG-17, was put into mass production. Such a product of imitation, of course, struggled to meet China's actual needs.
Fast forward to July 4, 2021. Chinese astronauts Liu Boming and Tang Hongbo exited the space station core module Tianhe wearing the new-generation domestically crafted Feitian extravehicular spacesuit. At roughly 2 meters in height and 130 kg in weight, the suit can be put on or taken off in five minutes, and guarantees the astronauts' safety during their spacewalk.
From J-5 to the Feitian spacesuit, China's aeronautics and astronautics-related design witnessed a qualitative leap in transitioning from imitation to independent design, Xu Ping, a professor at Beijing Normal University (BNU), said when addressing a design-themed forum in Beijing via video link on August 7.
Of course, the realm of design does not only exist in far-flung outer space. From cars, architecture, fashion to a table or a pen, the concept of design in its purest form connects directly to our daily lives and contributes to economic and social development.
Empowering industrial economy
Design should create value and serve the economy, Guo Yushi, Executive Director of Hispano Suiza China, a Beijing-based head-hunting company in the design field co-hosting the forum, told Beijing Review.
Design plays an important role in the conversion from pure product to brand, from "made" to "created." Its core function could pass huge economic value onto related industries, Guo added. Industrial design could, for example, help promote the development of the overall manufacturing industry.
In advanced economies, the expansion of the industrial design sector is on the fast track, according to the annual report on the development of the design industry in China (2019-20) issued by Beijing Industrial Design Center. The market in the Republic of Korea reached about 16.14 billion yuan ($2.47 billion) in 2018 and in the UK, the niche generated a gross value added of some 136.9 billion yuan ($21.14 billion) in 2016, according to the report.
In 2015, China issued a blueprint to build on China's current level of industrialization and enhance the quality of products and equipment made in China, as well as to reduce China's dependence on foreign technology and endorse Chinese technological manufacturers in the global marketplace by 2025. The initiative calls for the upgrade of innovative design capacity and encourages enterprises to set up research and design centers in a bid to export their own branding.
The historical experience of industrialized countries has demonstrated that the more active a country's industrial design, the stronger its capacity of industrial innovation and competition, Zhejiang Daily reported on August 4.
The manufacturing enterprises in Zhejiang Province widely focus on industrial design across various sectors, including automobiles, home appliances, and household products. The strength of industrial design consequently has not only boosted the sales volume of a single product or the fate of an entire enterprise, but also promoted industry-wide development at large, the newspaper further read.
In 2015, a multifunctional sink dishwasher designed and developed by Ruide, a design company in Zhejiang's capital city of Hangzhou, and Fotile, a kitchenware company in another Zhejiang city of Ningbo, hit the market. The machine came with the feature to also rinse off fruits and vegetables, redefining China's dishwasher industry. Thus far, total sales of the product have exceeded 5 billion yuan ($773 million).
Additionally, another Zhejiang's enterprise, namely Bull Electric Co. Ltd., designed and launched a special cubic power strip adding a USB port in 2016. The product today has sold nearly 18.5 million units, with accumulative sales worth 835 million yuan ($129 million).
This type of design-driven innovation may well help China upgrade from a big manufacturer to a powerful one, the Beijing Industrial Design Center's report concluded.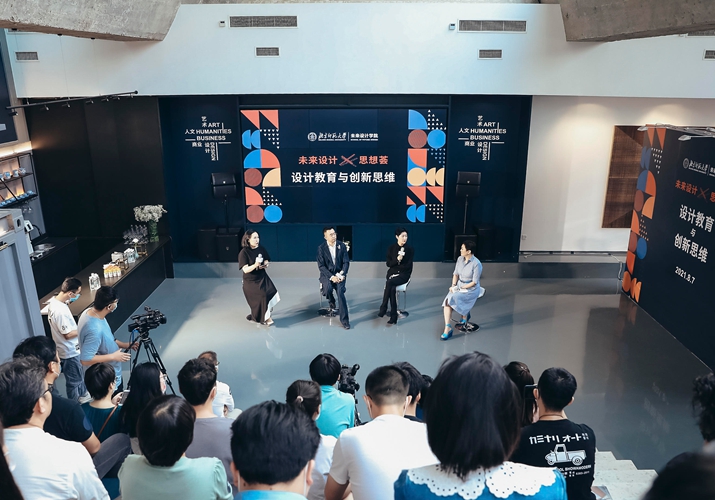 A design-themed forum kicks off in Beijing on August 7 with the participation of scholars and representatives of various enterprises (COURTESY PHOTO)
The future of design
New technology can shape new lifestyles, Gao Peng, a researcher at BNU, told the forum. The swift development of and changes in technology in turn pose new requirements to the overall design industry; design and new technology should go hand in hand, according to Gao.
For example, Haier Group, one of China's largest home appliance and electronics producers, has established its own innovation and design center to apply new technologies to its product range. The company has over the past years become a household name in overseas markets for its hi-tech products.
The 2020 World Industrial Design Conference, which took place in Yantai, Shandong Province, on November 25-29, 2020, saw a particular tour de force presented by Chinese fashion brand Bosideng. The company's high-altitude climbing suit caught visitors' eyes. According to Xinhua News Agency, the suit design was based on various newfangled technologies in the use of raw materials and production methods.
Industry 4.0, aka the Fourth Industrial Revolution, is the ongoing automation of traditional manufacturing and industrial practices, using smart technology. In its current stage, the industrial value chain has been adding data and more artificial intelligence. Only this type of design can transform the aforementioned into systems that are understandable and easy to use, Lutz Dietzold, CEO of the German Design Council, said while addressing the event's opening ceremony via video link.
Furthermore, as numerous innovations and evolutions pop up on the horizons of both social and economic fields, take the example of China churning out billions of parcels a year in terms of e-commerce, the world needs to design an efficient logistics system to lift the traditional labor-intensive courier industry to its next level and ensure fast and smooth delivery.
With the need for speed in the back of their mind, e-commerce giant Alibaba and a group of leading courier networks have designed a smart logistics system called Cainiao to improve efficiency and reduce delivery times. In this system, the routes of transportation do not stem from human intuition, but are decided by the real-time calculation of road conditions. What's more, heavily sought-after goods, based on data-controlled estimates, are pre-stored in warehouses at distribution hubs to warrant a faster delivery that will live up to consumer demand.
The field of design should serve these new market developments as well as the people by meeting their needs, Xu said, adding that service design would be the next emerging field.
Another trend has been the integration of Chinese elements in or expression of localism through design. To win the hearts of the picky Chinese clientele, enterprises have worked hard to improve the design and cultural connotations of their products. For example, traditional Chinese culture now provides a trove of inspiration for many a shoe designer.
According to China Daily, Chinese sportswear giant Anta invested around 789 million yuan ($122 million) in research and design in 2019. To gain more traction among domestic customers, the company made sure to improve the design, and specifically the cultural connotations, of their products.
Last year, Anta launched its new line of running shoes paying homage to Li Bai, the renowned Chinese poet in the Tang Dynasty (618-907). In honor of the poet's relentless pursuit of poetic beauty and his goal to lift this to a new high, Anta combined Li's life philosophy with modern design features, resulting in a new sneaker design that turned out to run very well with customers.
Li Ning, another Chinese sportswear giant, is also famous for its design in recent years weaving in typical Chinese elements. Brand Director Qian Qian told Beijing Review during the forum that design has the power to lend a product a certain spirit, and that spirit can in turn add to the product's value.
"We want to deliver Chinese culture through both design and products," Qian added.
A lunar rover model is displayed during the 2020 World Industrial Design Conference in Yantai, Shandong Province, which took place on November 25-29, 2020 (XINHUA)
Shared opportunities
China's design industry is becoming an economic growth driver.
In Beijing, the average annual growth rate of the revenue of the design industry exceeded 11 percent from 2011 to 2016. In 2018, its revenue reached 280 billion yuan ($43.23 billion), according to statistics from Beijing Industrial Design Center.
Moreover, in Shanghai, Shenzhen in Guangdong Province and Wuhan in Hubei Province, the design industry also contributes greatly to local development, the report continued.
The demand for design also boosts talent cultivation. In 2021, there are 2,052 universities or colleges planning to enroll 698,144 students in design-related majors, according to Xu.
The vast and budding design market has also attracted many international designers to China. Ballistic Architecture Machine (BAM), an urban landscape design studio established by three American designers, came to China in 2008, having no clients here and starting completely from scratch.
In China, as often comically observed, the major part of social life takes place in the public space—the urban landscape. This makes the Chinese urban landscape the most exciting design realm on the globe, Kseniya Otmakhova, Public Relations Director and initiator of the New Silk Road Initiatives at BAM, told Beijing Review. BAM has completed over 135 projects in the past 12 years, according to Otmakhova.
Those designers residing outside of China, too, can share the opportunities.
According to Ao Ciyue, President of Hispano Suiza China, the company has created a platform connecting China and international designers or design organizations.
Partaking in the design and production process of an electric bicycle in collaboration with a Spanish designer, Hispano Suiza China is promoting the bicycle's mass production in China.
"We not only have a market for the design industry, but also have a market for design products," Ao concluded.
(Print Edition Title: The new made in China)
Copyedited by Elsbeth van Paridon
Comments to taoxing@bjreview.com