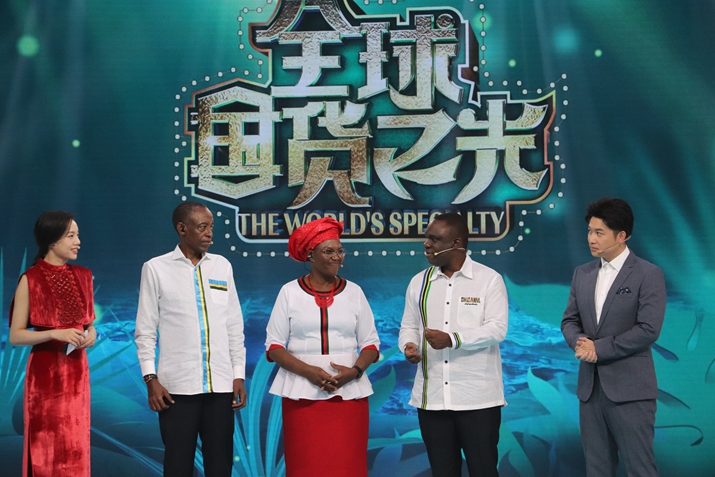 Ambassadors of Rwanda, Kenya and Tanzania attend The World's Specialties TV show to recommend national products (HU FAN)
Lobster and fish from Cape Verde, cocoa and palm kernel from Sao Tome and Principe, tea and wood carvings from Kenya, chili sauce and bamboo products from Rwanda, and Tanzanite and red wine from Tanzania were all displayed on a July episode of The World's Specialty TV show.
The show, rolled out by China's Hainan TV, invited ambassadors and diplomats from countries along the Belt and Road to display and recommend their national specialties to Chinese viewers through television screens, e-commerce platforms and other multimedia platforms.
As selling goods through multimedia channels becomes increasingly popular with producers in China, African diplomats are seizing opportunities to use the technology to promote their countries' products to Chinese consumers.
For Africa, the show was an unparalleled showcase of opportunities for exporting goods, as well as services to China.
Coffee, a leading export crop of Rwanda, was one of the main products promoted by James Kimonyo, Rwandan Ambassador to China.
"I displayed Rwandan products such as coffee to Chinese consumers to help seek to widen their market in China," Kimonyo told ChinAfrica.
Kimonyo said the event was important to the market and showcase products. At last year's broadcast, the show enabled Rwandan products to reach about 40 million Chinese consumers. "This is a very large difference," he said.
Increasing exposure
This is not the first time that Rwandan coffee has caught Chinese consumers' eyes through a media platform. In May 2020, 1.5 tons of Rwandan coffee beans sold out in one second on China's livestream sales amid COVID-19 disruption to Rwandan exports and imports.
According to the Rwanda Development Board, a sales surge is being achieved through online sales via popular celebrities as livestreaming hosts on Chinese social media platforms.
The board has encouraged Rwandan companies to trade online, hoping that more companies will raise exports to China through multiple marketing channels.
In fact, African products are finding more marketing space in the Chinese market.
In 2019, the first China-Africa Economic and Trade Expo, held in Changsha, capital of central China's Hunan Province, attracted more than 10,000 guests and traders including those from 53 African countries.
The China International Import Expo (CIIE) has also provided African traders a platform for discovering the Chinese market.
Liu Fuxue, Deputy Director-General of the CIIE Bureau, said more than 450 companies from nearly 50 African countries have joined the expo in the past three years, showcasing popular Kenywan coffee, South African tea and Zambian honey.
Agricultural products from South African exhibitors generated orders worth $210 million at the CIIE in 2020, said Zhao Zhongyi, Minister Counselor of the Economic and Commercial Office of the Chinese Embassy in South Africa.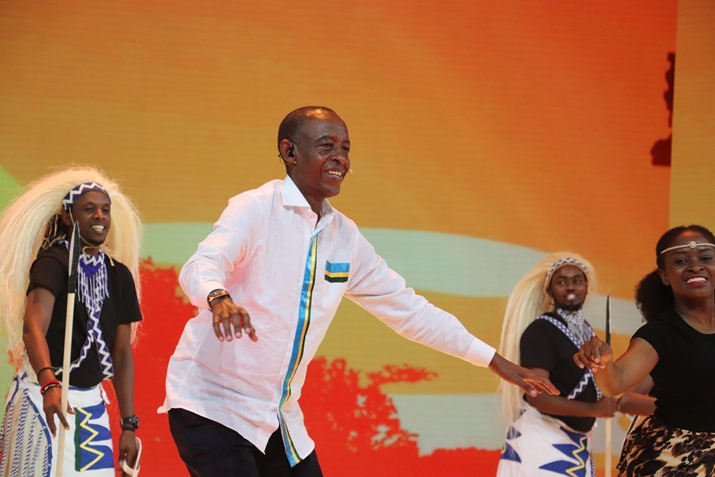 Rwandan Ambassador to China James Kimonyo dances with actors in The World's Specialties TV show (HU FAN)
Gateway to China
Hainan TV President Li Hua said The World's Specialty was born against the backdrop of the release of a plan to build the Hainan Free Trade Port last year. The plan is to make the southern island province a globally influential port by the middle of the century.
"It is hoped that the program can strengthen cultural and economic exchanges between countries, innovate the non-governmental diplomatic cooperation model, and seek mutual benefit and win-win results with an open platform of high quality," Li told ChinAfrica.
China proposed setting up a free trade zone in Hainan in 2018 and Chinese authorities released the Master Plan for the Construction of Hainan Free Trade Port on June 1, 2020. The plan is to transform the entire island province into a free trade port (FTP) and make it the largest special economic zone in China.
As reforms and preferential policies take effect, Hainan's development has reportedly gained steam. During the first four months this year, 592 foreign-invested enterprises were established in the province, realizing year-on-year growth of 443.12 percent. The actual utilized foreign capital reached $674 million, up 432.72 percent year on year.
Hainan FTP was a vehicle he was pleased to utilize to sell products on the Chinese market, Tanzanian Ambassador to China Mbelwa Kairuki told ChinAfrica.
"We are very optimistic that through the FTP products from our countries will be able to access Chinese market," Kairuki said. "And that is why we have been actively participating in The World's Specialties program produced by Hainan TV as it provides an opportunity for us to promote our products, to be known in the Chinese market."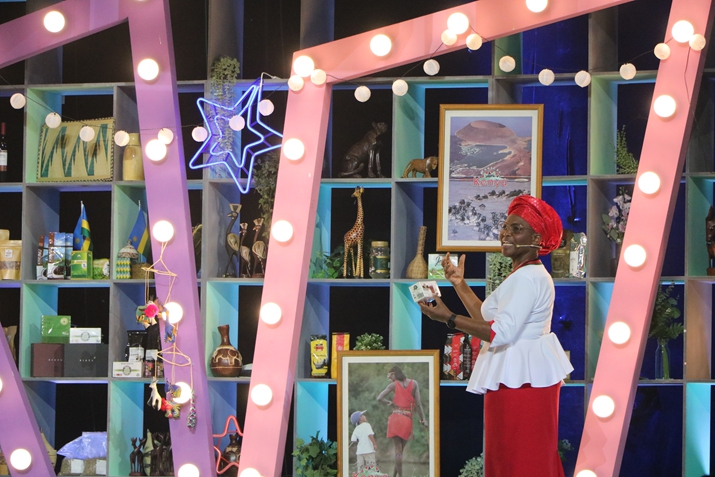 Kenyan Ambassador to China Sarah Serem recommends national products to Chinese audience (LI KAIZHI)
Surging trade
China overtook the United States to become Africa's biggest trading partner in 2009. In 2020, affected by the COVID-19 pandemic, two-way China-Africa trade dropped 10.5 percent year on year to $187 billion.
In the first quarter of this year, China-Africa trade totaled $52.1 billion, an increase of 27 percent, as most economies eased trade and travel restrictions that had been imposed to curb the spread of the virus.
The latest data from the General Administration of Customs showed that China exported goods worth 193.78 billion yuan ($19.95 billion) to Africa in the first quarter, up 29.6 percent from last year. African countries sold China goods worth 144.93 billion yuan ($22.4 billion) during the period, an increase of 5.9 percent.
Two-way trade between China and South Africa - a key destination for Chinese products and a source for imports - increased 35.4 percent year on year to reach $10.6 billion in the first quarter.
Ties between China and Africa have been bolstered by the Belt and Road Initiative, which has funded the construction of motorways, hydropower plants and railways across Africa.
(Print Edition Title: Opening Doors)
Comments to xyy@chinafrica.cn