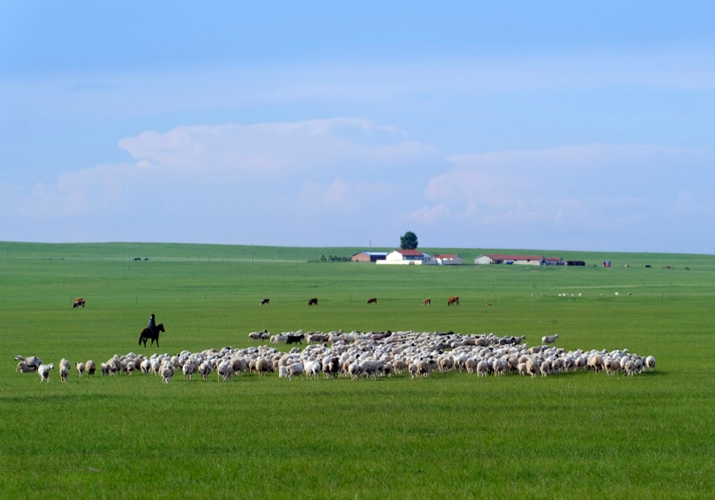 Photo taken on July 2, 2020 shows livestock grazing in a grassland in Xilingol League, Inner Mongolia Autonomous Region in north China (XINHUA)
Dorjee, a 45-year-old herder in Golog Tibetan Autonomous Prefecture in Qinghai Province, northwest China, is relieved to see the pasture in the region, where he grazes his herd, is once again covered with grass as high as his knees. More than a decade ago, he had to sell all his 200 yaks and look for odd jobs when the grassland deteriorated and there wasn't enough to feed the animals.
The change is due to the local government's measures such as treating the soil and banning or restraining grazing.
With the grassland improving, Dorjee has returned to his old business that he likes the most and started to raise yaks again. He also has another job now as a grassland ranger, monitoring the land to prevent overexploitation.
"Now our grassland is not sick anymore and I do my best to protect it," he told Xinhua News Agency.
Largest ecosystem
The grasslands are China's largest terrestrial ecosystem, serving multiple functions such as maintaining the soil, conserving water resources, absorbing carbon dioxide and releasing oxygen, and maintaining biodiversity, according to Tang Fanglin, deputy head of the Department of Grassland Management of the National Forestry and Grassland Administration (NFGA).
"Together with forests, it constitutes the country's ecological security barrier," Tang told Xinhua.
The sources of major rivers in China like the Yangtze, the Yellow River and the Lancang are all in the Qinghai-Tibet Plateau grasslands. There are more than 15,000 species of wild plants in the area, including more than 200 species of forage plants unique to China, and more than 6,000 medicinal plants. There are also thousands of wild animals living in the grasslands, including wild camels, wild yaks and Tibetan antelopes.
In the past, more importance was given to production than the ecology, leading to excessive development and exploitation of the land. This, coupled with natural factors such as climate change, left some grasslands degraded, desertified and salinized.
The government has since implemented several policies to control grazing. For instance, in 2016, eight government departments issued a plan for the recovery of cultivated land, grasslands, rivers and lakes. It will be in effect till 2030. For grasslands, the aim is to raise vegetation cover to 60 percent by that time.
The authorities also pay herders for not overgrazing on the tracts allocated to their households to ensure a grass-livestock balance.
Liu Dongsheng, Deputy Director of the NFGA, said at a press conference in December 2020 that the grazing ban had been implemented in 80 million hectares during the 13th Five-Year Plan (2016-20) period, reaching the target.
In 2020, the first pilot program to construct grassland nature parks began in 11 provinces and autonomous regions. According to a report by the National Greening Commission in March, there are 39 pilots covering 147,000 hectares.
The parks focus on ecological conservation with activities such as eco-tourism, scientific research and monitoring and cultural activities. Grassland should constitute more than 80 percent of the total area of each park, the report said.
Based on the national policy, local governments have come up with their own policies and regulations. In Ningxia Hui Autonomous Region in northwest China, for example, drones are used to patrol the land, taking photos and videos of herders who graze their animals without permission for evidence. In Sichuan Province in the southwest, the local authorities help herders find other jobs in the period when grazing is not allowed.
Private actors are also playing an important role. For example, M-Grass Ecology and Environment, a company in Inner Mongolia Autonomous Region in north China engaged in ecological restoration, has established a big data platform with a large amount of sample data. It analyzes grassland areas, plans their ecological restoration, and makes suggestions about what kind of plants to be used, the planting methods and the appropriate time to plant them.
"Understanding the language of nature is the first step in restoring the ecology. For us, nature can talk through data," said Chen Yufeng, deputy general manager of M-Grass's grassland restoration project.
The company has also developed a seeder that protects the soil during sowing, preventing wind erosion.
Yang Fuyu, a professor at the College of Grassland Science and Technology of the China Agricultural University in Beijing, advocates increasing investment for more scientific and technological innovations.
"The investment in grasslands and grassland technological innovation is still very low, less than 1 percent of the total agricultural technological investment," he said. "It is not commensurate since grasslands account for 40 percent of the country's land area."
Besides increasing investment, Yang suggests the government should encourage research and collaboration between players, such as colleges and universities, scientific research institutes, enterprises and industry authorities, to innovate the entire grassland industry chain.
Artificial forage
Ar Horqin Banner in Inner Mongolia has the largest pasture base in China. Its over 960,000 hectares constitute a major beef cattle and mutton sheep production and processing base. However in the past, due to frequent droughts and other natural disasters as well as over-utilization of grassland, there was serious grassland degradation and desertification, with the vegetation coverage in the area falling below 10 percent.
To increase the grassland coverage and herders' income, cultivated pastures were created, that is, growing fodder crops specifically for grazing on small plots with the soil prepared accordingly. The alfalfa, a perennial plant used as feedstock, was grown as a pilot and following its success, pastures started to be cultivated on a larger scale. This has given natural pasture time to recover from grazing and regain its fertility.
Hai Long is one of the first herders to plant alfalfa in Ar Horqin. The high yield he achieved was an inspiration for other local herders, spurring them on to grow the plant and increase their income.
The output of the cultivated forage grass is more than 20 times that of natural grass while its water consumption is only one third of traditional irrigation volume. Besides, the plant prevents soil erosion. Currently, it is grown in more than 90 percent of the core area, whereas in 2008, its coverage was less than 10 percent.
The cultivated forage grass has also boosted the breeding industry and given rise to a deep processing forage industrial chain. On the chain are local agricultural and animal husbandry machinery cooperatives and other companies that provide sowing, mowing, raking, baling and transportation services. This has in turn led to the generation of local jobs.
(Print Edition Title: The Strength Of Grass)
Copyedited by Sudeshna Sarkar
Comments to luyan@bjreview.com