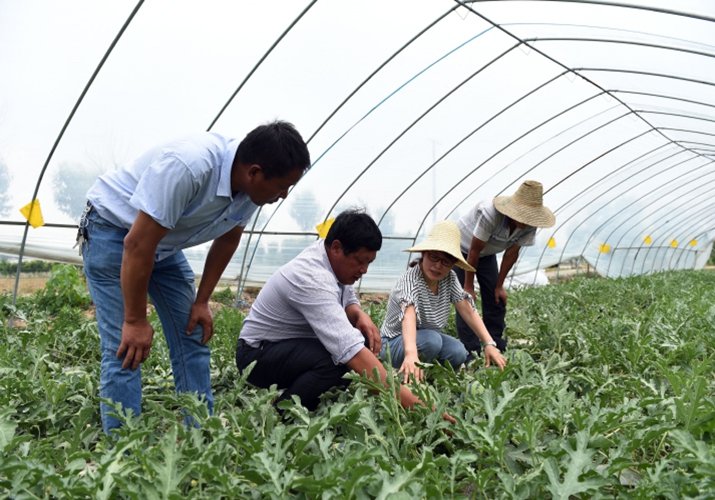 A professor passes on knowledge of watermelon cultivation at a greenhouse planting demonstration base in Anhui Province, east China, on May 26, 2020 (XINHUA)
During a nine-month field investigation into agriculture in Northeast Asia in 1909, former U.S. Department of Agriculture official, Franklin Hiram King discovered a system of agriculture virtually unknown in the West. In his subsequent book, Farmers of Forty Centuries, or Permanent Agriculture in China, Korea, and Japan, he wrote "[we were] instructed in the ways and extent to which these nations for centuries have been and are conserving and utilizing their natural resources, surprised at the magnitude of the returns they are getting from their fields."
In his book, King described a green and sustainable agriculture in Asia and how Asian farmers kept soil producing sufficiently to feed large populations over 40 centuries, without applying artificial fertilizer.
When addressing a recent Peking University forum on rural vitalization, Chen Xiwen, Chairman of Agriculture and Rural Affairs Committee of the National People's Congress, said that after the more than 110 years of development since King's book was written, the relationship between agriculture, human society and the natural world has experienced profound changes. According to Chen, it would be difficult to return to the self-sufficient, small-scale peasant economy King described, which relied on human and animal power and natural forces.
"However, it is necessary to rethink how the change of production mode and way of life impacts natural world," Chen said. China is now facing resource and environmental pressures, such as salinization, acidification and degradation of soil, which constrain the development of agriculture. "The green and sustainable agriculture described by King is still needed."
Water-saving agriculture
In the past decades as China's population has surged, farmers have boosted agricultural production through various measures. However, some of the measures were not eco-friendly.
In northern dry areas, especially the North China Plain, a major wheat and maize production area, overdraft of groundwater had caused land subsidence and other serious harms to the environment.
A study conducted in 2016 by Wang Jinxia, a professor with the School of Advanced Agricultural Sciences at Peking University, in six provincial-level regions, namely Hebei, Henan, Liaoning, Shaanxi and Shanxi provinces and Inner Mongolia Autonomous Region in north China, showed heavy use of groundwater for irrigation led to the lowering of the water table in 75 percent of villages in these areas. For one third of those villages, the water table dropped by 1.5 meters per year during the period from 2005 to 2015, Wang said.
In recent years, water management technologies and techniques such as drip irrigation have been promoted in China to help ease water shortages.
However, according to Wang, these measures are not enough, so additional measures should be taken to cut total water consumption in these areas.
In recent years, China has begun to adjust crop structure to better fit agricultural production to its seasonal climate. One such measure is to reduce the planting of winter wheat because the water-intensive crop variety, sowed in early winter, needs to be irrigated in the period with lower rainfall, which compels farmers to draft groundwater for irrigation.
China introduced a winter wheat fallow policy in 2014. Under this policy, many households in the North China Plain have replaced the winter wheat and summer maize double-cropping system with the spring maize single-cropping system.
In 2019, around 133,300 hectares of wheat plots in Hebei Province were fallowed during winter, Wang said. The measure was estimated to be able to save 300 million cubic meters of irrigation water, according to the Department of Agriculture and Rural Affairs of Hebei Province.
Currently, protecting water resources and enhancing production capacity are of growing importance. According to Wang, the pilot project is being carried out on a small scale so that it will not make an impact on the nation's wheat supply, while it can help the region recover from over exploitation of groundwater, and assist in further raising production capacity in the future. "The pilot project affects less than 6 percent of the wheat-growing area in Hebei," Wang said. "A larger scale project of this nature would require serious consideration."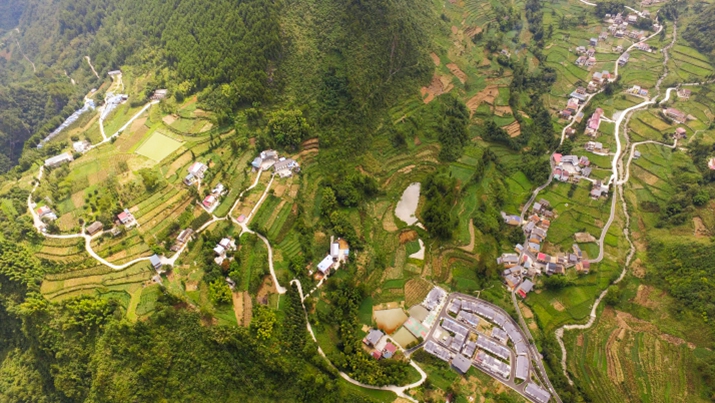 An aerial photo of a mountain village in Chongqing Municipality in southwest China on September 3, 2019(XINHUA)
Preventing pollution
Water and soil pollution in rural areas also calls for urgent attention, Wang said. "It is about food and nutritional security and the quality of farmland." Pollution-induced soil degradation in different parts of China has led to a reduction of crop yield, so the quality of soil and water should be improved.
As one of the seven measures to advance rural vitalization, preventing and controlling pollution in rural areas have been stressed by President Xi Jinping at the two-day annual Central Rural Work Conference, which closed in Beijing on December 29, 2020.
China has begun efforts to control water and soil pollution. Zeng Fanyin, President of the Anhui Academy of Social Sciences, who attended the Peking University forum via video, said Huangshan City in Anhui Province in east China established a centralized management system for pesticide in 2015, aimed at reducing related land and water pollution.
According to local newspaper Anhui Daily, as of the end of November 2020, Huangshan had established 466 pesticide distribution centers. These centers purchase high-effect and low-toxicity pesticides, and sell them to farmers at low prices. Additionally, farmers can get compensation for returning pesticide packaging, with the centers recycling and handling these packages in an environmentally responsible way. After five years of operation, these centers have recycled 47.3 million items of packaging and paid farmers 5.74 million yuan ($880,000) for returned packaging. Due to the usage of high-effect and low-toxicity pesticides, the total usage of pesticides has decreased by 20 percent.
According to Zeng, Huangshan also takes other measures to protect soil and water resources, such as installing special insect-catching devices in tea gardens to replace the use of pesticides.
"These measures can increase farmers' awareness of environmental protection, and thus help protect water and soil resources," Zeng said.
Ecological compensation
At the Central Rural Work Conference, President Xi said efforts must be made to promote the efficiency and quality of the agricultural sector, make rural areas desirable places to live and work in, and ensure that farmers are affluent.
The promotion of green and sustainable agriculture is not always easy, as some green measures have not brought income growth to local farmers. For example, projects involving leaving land fallow in winter may reduce agricultural output and hence hurt farmers' incomes.
In order to protect the environment and at the same time ensure good livelihoods for farmers, the Chinese Government has established an ecological compensation mechanism to encourage stakeholders to increase their ecological protection activities. The mechanism was piloted in Zhejiang Province in east China since 2005 to control water pollution and later rolled out in the whole country. The mechanism has now been applied to different fields of environmental protection, for instance to encourage the returning of farmland to forest or grassland.
When applied to environmental protection in agriculture, the mechanism allows farmers to receive subsidies for their environmental protection costs. According to Wang, farmers in Hebei who leave their wheat fields fallow over winter receive 7,500 yuan ($1,135) per hectare of fallow farmland.
Farmers' ability to work in other industries allows them to continue to earn incomes while their fields are left fallow, according to Wang. "As a next step, the government could provide farmers with skill training and employment opportunities, which may increase their enthusiasm for fallowing their fields in winter."
Ecological protection in rural areas is a complex issue involving diverse groups of stakeholders. The goal cannot be reached in a single step. "The various parties should build a joint mechanism that promotes the green and sustainable development of agriculture," Wang said.
Huang Jikun, Director of the China Centre for Agricultural Policy at Peking University told Beijing Review, "For the most part, government organizations should take a leadership role in ecological conservation planning and activities, rather than handing responsibility to enterprises or the market."
(Print Edition Title: A RETURN TO ECO-AGRICULTURE)
Copyedited by Garth Wilson
Comments to taoxing@bjreview.com