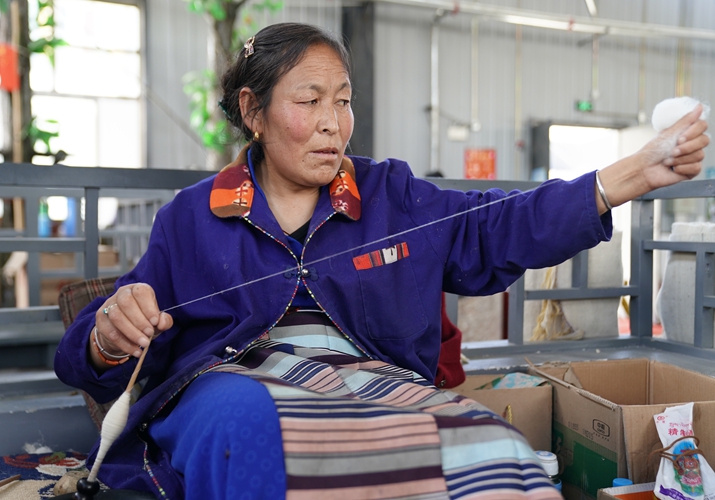 Tsamjo, a local staff works in the cooperative of Tsethang serge in Tsethang Town in Shannan, Tibet Autonomous Region in southwest China, on August 14 (ZHANG WEI)
Tsamjo, a former farm worker, is from Tsethang in Tibet Autonomous Region in southwest China. The town is known for a traditional art that goes back for centuries, serge weaving. Soft, durable and static free, the Tsethang serge, a kind of cashmere unique to the area, is considered to be the finest of all Tibetan fabrics. It dates back to the Tang Dynasty (618-907) and was used to make the robes of the nobles because of its ornate patterns and elaborate weaving that takes 18 procedures.
Tsamjo came to be associated with the art, once nearly forsaken for its complexity, after she had an accident during farming a decade ago that left her disabled. At the age of 39, she faced two options: She could sit at home on the government subsidies she was entitled to because of her disability, or she could try to explore another career.
Tsamjo chose the latter. In 2008, Pasang Tsering, a traditional painter, established a weaving cooperative in the town to keep alive the unique hand-weaving craft, an intangible cultural heritage in Tibet, as well as nurture new artisans and create jobs.
At first, Tsamjo worked there making uniforms. In 2019, she was trained for two months to wind threads for making Tsethang serge and over the past year, she has turned from an apprentice into a deft weaver. Now at 49, she wants to continue working at the cooperative though her son has a job and can support her. "I still want to work here to support myself," she told Beijing Review. "I can earn 2,800 yuan ($408) a month and we are offered free meals and accommodation."
Like Tsamjo, many unemployed, impoverished or disabled local people have seen their life changed after they learned to turn wool into delicate clothes, carpets and scarves in the cooperative. By mid-August, the cooperative had 105 employees, including 34 disabled artisans, and another 51 from families officially registered as impoverished. Tsethang serge has enabled the employees to increase their income by 36,000 yuan ($5,203) annually and driven the growth of related industries in the region, such as wool production and sewing. Its benefits have also percolated into the lives of herders, improving their incomes.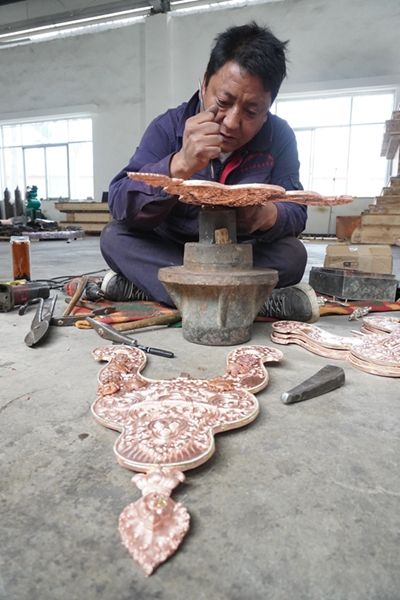 A craftsman works in a workshop of a copper Buddha statue cooperative in Benak Village, Dagze District of Lhasa in Tibet,on August 18 (LI NAN)
Weaving for wealth
To save the endangered art, Pasang had to search for several months till he could finally locate five serge weavers in the town. They were the only practitioners of this art and all of them were in their 80s. He had their weaving tools refurbished and got 42 people from impoverished households to become apprentices at the cooperative, learning the craft.
The cooperative made its first Tsethang serge in 2008 after a trial run. In 2010, the art was inscribed into the list of Tibet's intangible cultural heritage. Now, Pasang is seeking to get it recognized as a national intangible cultural heritage. At the 2017 China Trademark Festival, Zetieer, Pasang's Tsethang serge brand, won the Golden Trademark award.
The cooperative is supported by the district government with around 10 million yuan ($1.4 million) for its factories in 2017. Since a weaver can spin out only a 20-cm piece of serge a day due to the complicated procedures, the cooperative has introduced machines for printing and ironing fabrics to improve production efficiency. A machine can complete the work of three to four workers, Batse, Pasang's assistant at the cooperative, told Beijing Review.
He also said the cooperative is working with Beijing Institute of Fashion Technology and women's apparel maker Lancy Group to design new products integrating Tibetan elements and new fashions to meet the demands of modern consumers. The products, ranging from handbags to scarves and clothes, are sold on the domestic market and in countries such as neighboring Nepal. The price of a high-fashion Tibetan garment can reach around 10,000 yuan ($1,452) and a scarf 1,000 yuan ($145).
The annual output of the cooperative is around 9 million yuan ($1.3 million). Despite the novel coronavirus disease in previous months, it was able to resume production in April.
In the next three to five years, the cooperative plans to expand production, recruit 120 more weavers and provide dozens more with jobs in developing unique Tibetan tourism products. By 2023, it aims to provide employment for 350 farmers in the area.
With the joint efforts of local governments and private businesses, Shannan, the city where Tsethang is located, has made remarkable progress in poverty alleviation in recent years. In November 2019, its incidence of poverty dropped from 19.3 percent to zero. Besides helping the impoverished and disabled get employed, the city government has continued to ensure their basic living. As of February this year, it had allotted 470 million yuan ($68 million) for their medical insurance and nearly 40 million yuan ($5.8 million) of subsidies for around 10,000 disabled people.
Carving out a niche
While serge weaving has become a pillar industry of Tsethang, the copper workshops in Benak, a village famed for making Buddha statues in Dagze District in regional capital Lhasa, are also a driving force for local employment and preservation of the craft. With several well-known craftsmen moving from Chamdo, a city in east Tibet, to Lhasa in the 1880s to work in the monasteries there, the village became a hub of Buddha statue making,
Today, it has nine such workshops employing 186 people, including 25 from registered poor households. They get paid between 200 yuan ($29) and 800 yuan ($116) per day, depending on their work. Pasang Shilok, a farm hand, became an apprentice at one of the workshops in 2017. His annual income has jumped to 48,000 yuan ($6,960) from around 6,000 yuan ($870) earned before through farm work.
Badro, First Secretary of the Communist Party of China Benak Village Branch, told Beijing Review that local farmers and herdsmen can apply for poverty alleviation loans, and become shareholders of four of the workshops, getting dividends at the end of a year. In recent years, 180 local households have received dividends worth 435,000 yuan ($63,134) per year on average.
With increasing market demand and government support, the workshops have seen booming business in recent years, which has given impetus to the preservation of the craft and attracted young learners. One of the workshops was founded by Manlha Tsering, who was recognized as a national-level inheritor of the intangible cultural heritage of Buddha statue craft in 2012. The workshop has 30 artisans, including master craftsmen and apprentices. The local government paid 3 million yuan ($435,700) in 2015 to help it build factories.
According to Losang Tsering, an artisan at one of the workshops, it takes a sculptor at least five to six years to master the skills of making a Buddha statue, from designing and carving to gilding. The statues are sold in Tibet, Sichuan Province in southwest China, and Guangdong Province in the south. The work can take more than one sculptor several months to about one year. The largest statues are as huge as 17 meters, which are sold at around 1 million yuan ($145,200) each, Losang said.
Gonpo Dondrup, the 20-year-old son of the founder, started learning the craft at the workshop two years ago. Unlike many of his peers, who find the work demanding and boring, he finds it attractive. "Although I'm still learning the basic skills, I will master them to help carry on the craftsmanship," he said.
Tools of culture
The cooperatives promoting intangible cultural heritage arts for poverty alleviation are not exclusive to Tsethang and Benak. With rich and distinctive culture, Tibet has 89 nation-level intangible cultural heritage arts and 17 workshops where the arts are continued, helping over 1,000 local people shake off poverty.
China has 1,372 intangible cultural heritage programs under state protection. The potential of the workshops in helping alleviate poverty nationwide can be further unleashed. Wang Chenyang, Deputy Director of the Intangible Cultural Heritage Department of the Ministry of Culture and Tourism, told China Radio International that by June 1, there were more than 2,000 poverty alleviation workshops based on heritage arts, training nearly 180,000 people, providing nearly 500,000 jobs and helping more than 200,000 poor households shake off poverty.
"Under the epidemic contaiment measures, the Ministry of Culture and Tourism has introduced an online intangible cultural heritage shopping festival to boost sales of products through e-commerce platforms. It is important to drive up sales to create tangible benefits for the impoverished participating in the programs," he said.
(Reporting from Tibet Autonomous Region)
(Print Edition Title:Preservation and Prosperity)
Copyedited by Sudeshna Sarkar
Comments to lixiaoyang@bjreview.com