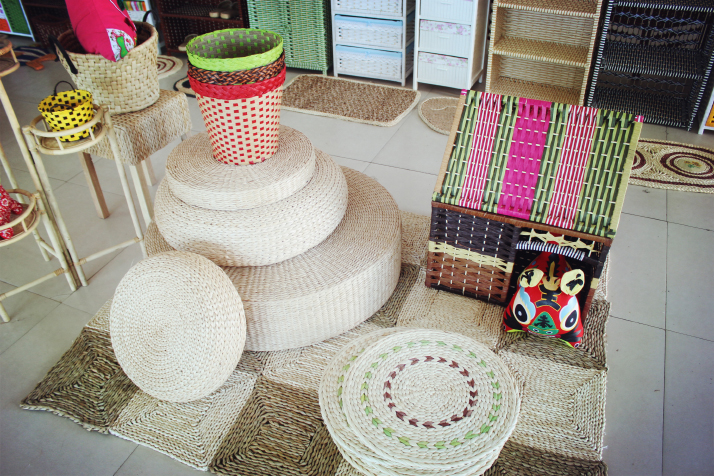 A display of products made of willow straw (COURTESY PHOTO)
In 2006, Jia Peixiao quit his stable job, determined to set up his own business even though many doubted his success. Longing to return to his hometown, he went back to Wantou Village, Boxing County of Binzhou City in east China's Shandong Province, to try his luck.
After failing several times, Jia turned his attention to a local handicraft made from willow straw. With computer skills learned in college, he opened a shop on Alibaba's Taobao, a major online shopping website in China.
Eleven years later, Jia delivered a speech at the United Nations in Geneva, Switzerland, about his successful business and experiences, explaining the new trends in Chinese villages and the development of China's e-commerce industry.
A learning point
For centuries, women in Wantou have woven willow straw into articles for daily use and sale, an essential means of supporting their families despite low profits. Because the landscape of the area limited the development of agriculture, young people used to leave their homes to work in the cities. However, the emergence of e-commerce changed both the willow straw weaving industry and the life of local people in the village.
"The 2008 Beijing Summer Olympics was a turning point for our industry as the public became interested in products with traditional features," Jia told Beijing Review. In addition, the consumption style of people today have changed. Hand-made products with natural materials are a welcome part of the market, making willow straw artwork with both ecological and cultural features a big hit on Taobao.
Jia's business took off in 2009, with shop sales exceeding 10 million yuan ($1.44 million) since 2013. Influenced by his success, more and more people in the village began to sell willow straw products on the Internet, leading to the village being selected as one of the first Taobao Villages by Ali Research, a research organization under the Alibaba Group. This title is given to villages where the number of active online stores is more than 10 percent of the number of local households, and where the annual e-commerce transaction volume reaches 10 million yuan. In 2016, the number of Taobao households in Wantou was 800, with online retail sales exceeding 300 million yuan ($43 million).
In addition, for the convenient and efficient operation of e-commerce, a mature and complete industrial chain has been formed including production and express delivery, providing job opportunities for local people. In Wantou, more and more young people are now willing to stay home and are less inclined to look for work elsewhere. The blending of traditional skills with modern technologies has brought them more opportunities in their hometown.
However, some problems have emerged. Competition is inevitable, since people who operate Taobao shops sell similar articles produced with the same materials.
But with the support of the local government, a creative industry park was built in Boxing, which includes production, storage areas and office space. Rents in the park is low and meetings for exchanging experiences are often organized. Customized technical instruction is also available for different groups of people to assist them in adapting to the market.
According to Xia Tao, Manager of the Boxing Liancheng E-Commerce Ltd. Co. in Boxing, the park has conducted market surveys and contacted companies in other countries. By expanding foreign markets, companies can boost sales, while local people can gain a broader platform to know the development trend of the industry.
"I am only one member of the willow straw weaving industry. If the entire industry here develops well, my career will get better," Jia said.
The process of passing on traditional willow straw weaving is another critical issue. With government help, more young people have become aware of the importance of protecting their intangible cultural inheritance. Government and relevant organizations arrange lectures for inexperienced weavers, where they can learn from older experts and gain respect for this traditional handicraft. To spread the local tradition, primary schools in Wantou have set up weaving courses for students where they can learn more about their culture in a fun environment.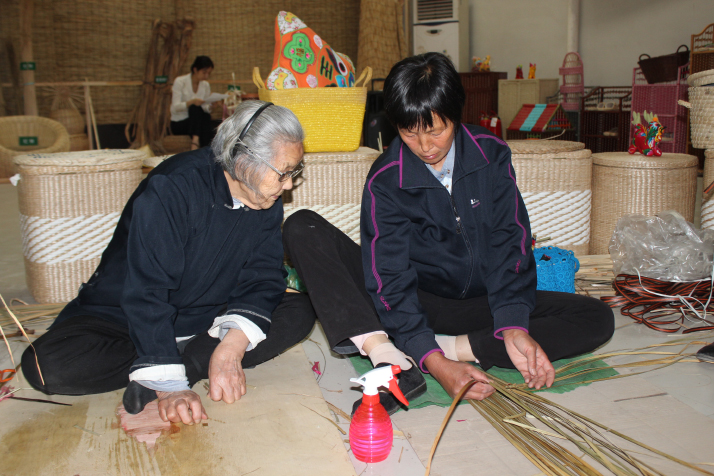 A weaver shows how to weave willow straw on May 12, 2016 (COURTESY PHOTO)
Benefits and contributions
Supportive government policies play a crucial role in the development of e-commerce in rural areas and the maintenance of a healthy, competitive industry, especially in places where farmers lack understanding of current market trends and advanced technologies.
In another Taobao Village, Dinglou of Heze City in Shandong, online costume shops are promoted by the local government. In 2013, villagers working in other places were promised that if they returned, they would receive financial aid. The government offers a 20,000-yuan ($2,870) initial fund, as well as a three-year interest-free loan of 50,000 yuan ($7,180). The government also encourages villagers to build their own brand by rewarding them when they register companies and trademarks.
Ren Qingsheng, head of a local e-commerce business, told Beijing Review that along with policies for attracting migrant workers and university graduates back home, detailed beneficial policies have been designed to meet the needs of local disabled people. Combined with financial assistance, one-to-one training has been adopted to guarantee these people's online businesses take off in the right direction. "Government officials leave their contact information with each villager so we can call them directly if we have any problems related to our work," Ren said.
The financial, organizational and scientific aid provided by the government helps villagers with different educational backgrounds to prosper. The quality of villagers' lives has greatly improved.
In 2016, some 26 poor households in the village were lifted out of poverty. Young people were encouraged to start e-commerce businesses with poverty-alleviation loans. Older people were offered jobs related to clothing so they could have a stable income. "Our requirements are not very high, allowing people of all ages and backgrounds to find the right job," Ren said.
The government's preferential policies have helped Dinglou villagers achieve progress. In return, they contribute their efforts to the development of the village. In 2014, a road was planned for efficient transport and a better business environment, with a lot of the money donated by villagers. Since the primary materials for costumes are synthetic fibers which can catch fire easily, the villagers organized donations to buy two firefighting trucks.
The improvement in people's lives in Dinglou is closely related to the strengthening of their village community, and as a result, common progress is taking place in the village. Villagers are always ready to help those in need, such as university students with financial difficulties or left-behind children in remote areas.
"Spending money on public services is much more meaningful than spending on other things," Ren said with a smile. He has donated more than 1 million yuan ($143,500), including cash and clothing.
E-commerce is bringing new opportunities for development to rural areas, evidenced by the emergence of Taobao Villages. Protected and led by supportive government policies and modern technologies, village life is now showing new energy and hope.
Copyedited by Rebeca Toledo
Comments to liqing@bjreview.com