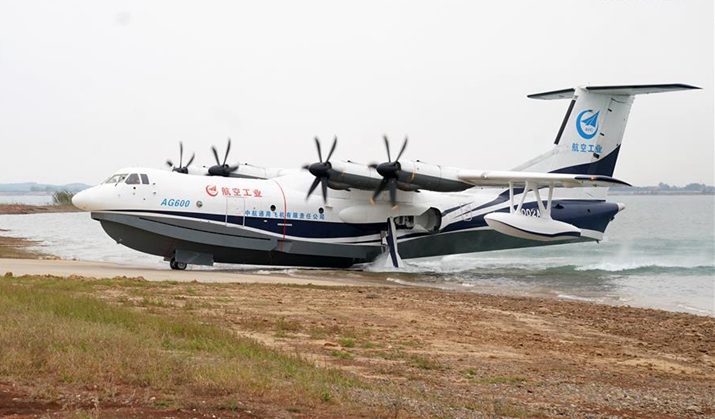 The amphibious AG600, codenamed Kunlong, moves towards the soil after landing on the water surface of a reservoir near Zhanghe Airport in Jingmen, central China's Hubei Province, on October 20 (XINHUA)
Chinese President Xi Jinping on October 20 sent a congratulatory message for the successful water takeoff and landing of the AG600, China's independently-developed large amphibious aircraft.
The success of the first on-water flight of the AG600 marked another significant achievement through independent innovation by China's aviation industry, said Xi, also General Secretary of the Communist Party of China Central Committee and Chairman of the Central Military Commission.
Xi commended all participating institutions and individuals who had valiantly overcame many difficulties and forged ahead for a key breakthrough in the project.
He asked to continue to promote the spirit of dedication, implement the new concept of development and push forward innovation-driven development.
Xi called for continued and coordinated efforts to ensure the success of the project, in order to meet the needs of strengthening China's emergency rescue system and a national natural disaster prevention system, and realize the goal of building China's strength in aviation.
Premier Li Keqiang also congratulated the success in a written instruction, calling for continued efforts to put the AG600 into service as soon as possible and create another Chinese brand with international competitiveness.
The research team was urged to make new contributions to the development of the aviation industry and the upgrading of the country's manufacturing sector to higher levels, according to Li.
The on-water test flight was carried out on October 20 in the city of Jingmen of central China's Hubei Province.
Designed to be the world's largest amphibious aircraft, the AG600 will be used mainly for water rescues, fighting forest fires, and marine environment monitoring.
The AG600 rolled off the production line in July 2016 and completed its maiden flight from land in December 2017.
(Xinhua News Agency October 20, 2018)