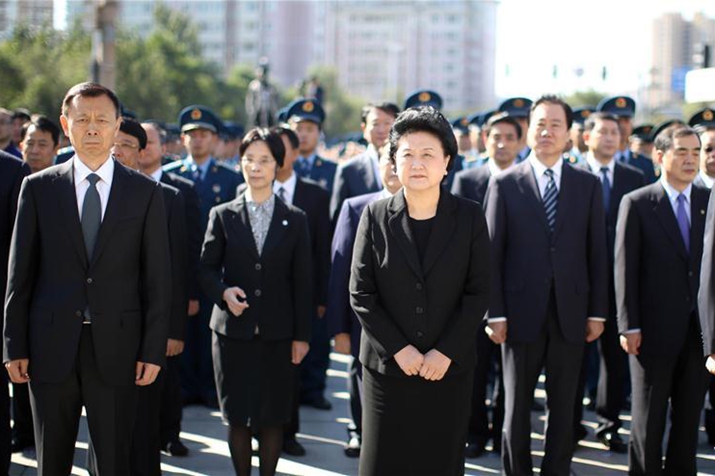 Chinese Vice Premier Liu Yandong (third from left) attends a ceremony to commemorate the 85th anniversary of the "September 18 Incident", in Shenyang, capital of northeast China's Liaoning Province on September 18(XINHUA)
About 1,000 Chinese people including Vice Premier Liu Yandong gathered at a bell-tolling ceremony in Shenyang, Liaoning Province, to commemorate the 85th anniversary of the September 18 Incident.
Liu joined a group of veterans, officials and public representatives to strike the bell 14 times, which represents the 14 years that the Chinese people fought against Japanese aggressors. Air raid sirens rang across the northeastern Chinese city, and trains, ships and cars whistled and sounded their horns.
After the ceremony, Liu said in a speech that the Chinese nation loves peace and has the courage to safeguard it.
The Communist Party of China (CPC) and the Chinese people understand the value of peace and development and consider it their duty to promote world peace and development, said Liu.
Liu called on the Chinese people to uphold patriotism and to use the spirit of those who fought the Japanese aggressors to realize the Chinese dream of the rejuvenation of the Chinese nation.
The ceremony attended by senior CPC officials, World War II veterans, as well as officials from local Party, government and army units, was followed by a visit to a museum dedicated to the history of the September 18 Incident.
On September 18, 1931, Japanese troops blew up a section of railway under its control near Shenyang, then accused Chinese troops of sabotage as a pretext for attack. They bombarded barracks near Shenyang the same evening, triggering the 14-year bloody invasion of China.
Air raid sirens also sounded in cities in 12 provincial-level regions on the morning of September 18.
In east China's Jiangsu Province, thousands of sirens rang for 19 minutes while citizens stood in silent tribute.
A tourist surnamed Zhang, from Anhui Province, took a tour to the memorial hall of the victims of the Nanjing Massacre in Nanjing, capital of Jiangsu, to mark the day.
"We forgive (the crime), but remember the history. And we'll cherish life today in peacetime," she said.
At a village administered by Changde City in central China's Hunan Province, a monument for thousands of victims of Japanese germ warfare during WWII in Changde was completed on September 18.
Scores of people, including families of the victims, Chinese scholars and Japanese lawyers, attended the ceremony for the completion.
In 1941, 16 residents of Ji'anwan Village died from plague caused by the troops. Last year, the family of one of the victims proposed the monument be built.
"The tablet records the miserable fate of our compatriots and provides a place for us to mourn them," said Gao Feng, head of the association of Changde germ war victims.
(Xinhua News Agency September 18, 2016)