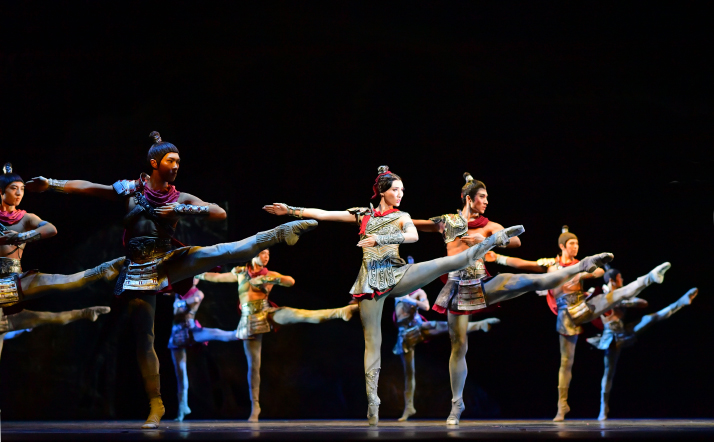 Hua Mulan and her male companions in action in a scene from Hua Mulan, a ballet by Liaoning Ballet of
China that hit the David H. Koch Theater in New York City on August 23(COURTESY PHOTO)
Cultural industries in China achieved steady and rapid growth in the first half of the year despite the mounting downward economic pressure at home and complicated external conditions abroad. Statistics recently released by the National Bureau of Statistics (NBS) showed that the revenue of the 56,000 leading cultural companies surpassed 4 trillion yuan ($558.2 billion) in the fi rst half of 2019, up 7.9 percent year on year.
According to Yin Guojun, a senior statistician with the NBS, the industry has maintained a growth rate of about 8 percent this year. Its structure has continued to be optimized, with the proportion of cultural services and core cultural areas continuously expanded, while the cultural industry in central and west China has grown at a faster pace than the same period last year. In addition, thriving new business models have expanded the scope of the industry, contributing to innovation and promoting its development.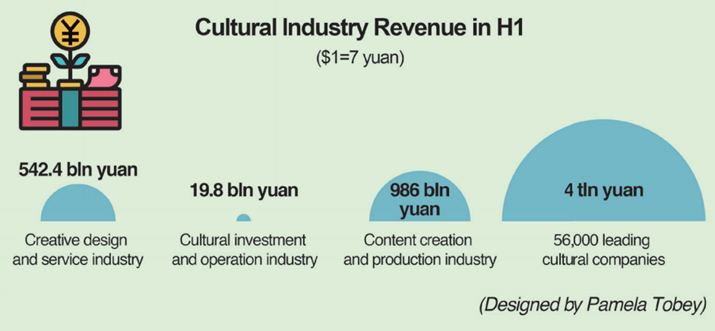 The cultural industry has helped increase people's sense of happiness and gain by providing high-quality products and services. It has made remarkable progress due to the following reasons: First, the guidance of the Communist Party of China and the continuously unleashed policy dividends have boosted the confi dence of industry participants. President Xi Jinping's expositions on cultural reform and development have mapped out the direction for the industry. The Central Government's favorable policies for supporting its development have helped attract resources and bolsteredstakeholders' morale.
Second, supply-side structural reform has promoted the upgrading of cultural consumption. With optimized cultural supplies, represented by booming cultural tourism, cultural consumption has also been upgraded and become an important part of national consumption. In the fi rst half of the year, per capita educational, cultural and entertainment expenditure increased 10.9 percent year on year, faster than the 3.4 percent growth rate of per capita expenditure. This expansion has also driven the development of the retail, catering, hotel and transportation industries.
Third, the development of new technologies has provided new growth drivers for the cultural industry. New generation information technology, including cloud computing, big data, the Internet of Things, artificial intelligence, block chain and 5G, has fundamentally reshaped the way people learn, spread information and access cultural products. New items based on the Internet such as animation, video games and live streaming have become fresh engines and growth points for the industry.
Fourth, the supervision of the cultural industry has been improved to create a sound environment for its development. Departments in charge of the industry have strengthened planning and guidance for the creation and production of cultural products and improved their services to create a favorable business environment. As a result, healthy and positive content and creative ideas have taken hold in the industry.
(Source: Xinhua News Agency)