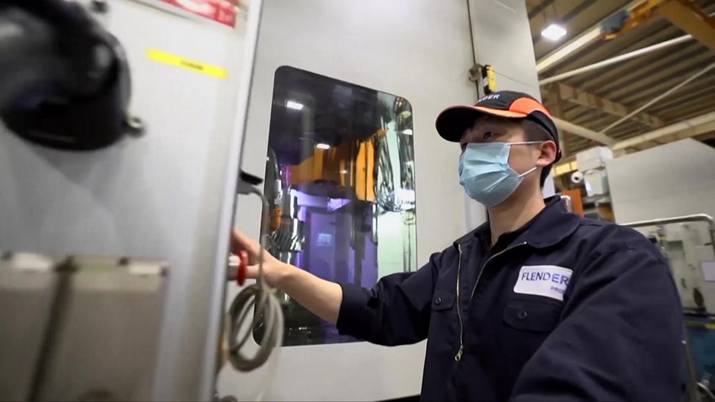 A staff member works at a workshop of Flender Ltd., China, in north China's Tianjin on July 29 (XINHUA)
Foreign-funded enterprises remain upbeat about investment prospects in China despite uncertainties brought about by the COVID-19 pandemic and battered global economy.
China remains a hot investment destination. In U.S. dollar terms, foreign direct investment in the Chinese mainland, in actual use, expanded 18.9 percent year on year to $155.3 billion in the first three quarters of 2022, the Ministry of Commerce said on October 27.
Eyeing China's huge and more open market, comprehensive industrial system, and improved business environment, many foreign-funded businesses are doubling down on their investments in the world's second-largest economy.
Huge Opportunities
Achieving carbon peaking by 2030 and carbon neutrality by 2060 is a requirement for China's high-quality development and its solemn commitment to the world.
China's green drive and ensuing enormous investments in clean energy are offering huge business opportunities for Flender, a leading global supplier of mechanical drive systems.
"We know that half of the world's wind turbine market is here in China. That requires even more investment," said Martin Kaufung, director and CFO of Flender Ltd., China, adding that the China subsidiary has become Flender's largest gearbox manufacturing base outside Germany.
"We are quite confident that we are in the right market at the right place," said Joerg Sieber, general manager of the Wind Turbine Gearbox Division, Flender Ltd., China.
The German firm recently launched the 10th phase of its capital increase and expansion project in its Tianjin subsidiary. The latest investment of 300 million yuan ($41.9 million) came after an over-400-million-yuan capital increase in 2021.
"Flender has never wavered its confidence in the Chinese market or its resolve to take root in China," said Gou Jianhui, chairman and CEO of Flender Ltd., China.
Airbus is also upbeat about the Chinese market. "Driven by Chinese people's consumption upgrades, the Chinese aviation market has huge potential," said George Xu, CEO of Airbus China.
"We believe that China will continue to be the world's largest market for new aircraft over the next two decades, and that gives us assurance," Xu said.
China remains Airbus' largest single-country market globally. Commercial aircraft deliveries in the country accounted for more than 23 percent of Airbus' total global deliveries in 2021, according to Airbus China.
Earlier in July, Airbus confirmed the signature of orders with Air China, China Eastern Airlines, China Southern Airlines and Shenzhen Airlines for 292 A320 family aircraft.
Airbus delivered the 600th A320 family aircraft assembled at its Asia final assembly line in Tianjin on September 23. The company inaugurated the final assembly line in Tianjin in 2008.
In a few months, Airbus is expected to deliver the first A321 aircraft assembled at its Asia final assembly line in Tianjin. "This is our latest step in China, showing our unwavering support for the Chinese market," said Xu.
Business Environment and More
Over the years, China has been striving to open its doors wider to the rest of the world with an ever-improving business environment.
China will optimize the investment environment and deepen the implementation of the negative list for foreign investment to transform opening-up policies into concrete projects, according to a document jointly released by the National Development and Reform Commission and five other government organs earlier this week.
The document urged facilitating the entry and exit of executives and technicians of multinationals and foreign-invested firms and their families to the country, under the premise of sound COVID-19 pandemic prevention and control.
"China has been firmly committed to its reform and opening up policy. It's significant. We prefer to invest in a market that is safe, stable, and with bright prospects, which China can provide," said George Xu, CEO of Airbus China.
Besides, China has world-leading infrastructure, a complete set of supply chain and production systems, and a labor force with comparative advantages. "I think all of these factors attract many foreign enterprises to invest in China," Xu added.
"You cannot call yourself a global enterprise without investing in the Chinese market," said Gou Jianhui, chairman and CEO of Flender Ltd., China. "Over the years, Flender has gained a firmer footing in China, especially in Tianjin, so we are more and more confident. A stable and predictable business environment is the most important factor for investors," Gou said.
Global healthcare giant Novo Nordisk currently has seven new investments ongoing at its Tianjin plant, according to Niels Laurbjerg Nielsen, corporate vice president of Novo Nordisk Site Tianjin.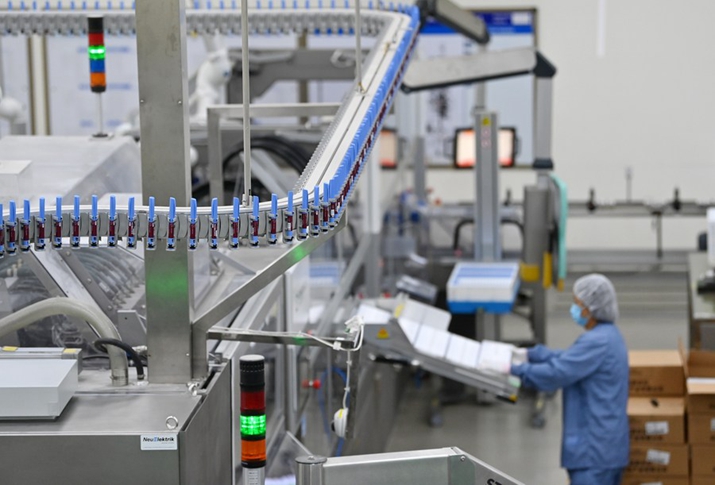 A staff member works at a workshop of Novo Nordisk (China) Pharmaceutical Co., Ltd. in north China's Tianjin on September 22 (XINHUA)
Since 1995, Novo Nordisk has expanded its investment in its facility in Tianjin eight times to boost its local presence. The Tianjin facility is not only one of its strategic manufacturing sites but also its only provider of durable insulin injection devices and its largest insulin production site.
"We will continue to relax market access and improve the system for promoting foreign investment to cultivate an environment that attracts, facilitates and stabilizes businesses," said He Zhineng, deputy director of the Tianjin Commission of Commerce.