To him, CIFIT brims with promise as it brings together prominent businesses and serves as a unique platform to spawn opportunities for foreign investors and for Chinese companies looking to go global. "Foreign companies benefit from operating in China, and contribute to China at the same time," Seyedin said.
Guo Tingting, Assistant Minister of Commerce of China, said at the opening ceremony on September 8 that the history of the fair reflects China's delivery on its opening-up commitments over the years, and that the fair has also been a part of the win-win development foreign enterprises have achieved in China.
In and with China
This year, the four-day event concluded with deals inked on over 480 projects, with a combined investment of 342 billion yuan ($49.1 billion). Over 800 industrial and trade groups, 4,000 companies and about 60,000 business people from 90 countries and regions attended online or offline, highlighting global enthusiasm for and interest in doing business in and with China.
On the fair's sidelines, over 40 seminars, briefings and business conferences were on offer, focusing on the potential of digital technologies, green investment, the China-proposed Belt and Road Initiative and Global Development Initiative, BRICS cooperation and the Regional Comprehensive Economic Partnership.
According to the fair's organizer, some 200 countries and regions, and 450 Fortune 500 companies have participated in the CIFIT since its inception. More than 30,000 projects have been signed, and $340 billion has been invested in China through the platform.
"Over the past 35 years, China has become our second largest market and the plant in Xiamen now is one of our key research and development (R&D) centers," Wang Jie, Vice President of Schneider Electric and head of its corporate affairs and sustainability development division in China, said.
A day before the opening of this year's CIFIT, a new product from Schneider rolled off the production line at its Xiamen plant and made its debut. Wang said as fairs like the CIFIT send a signal that China supports the operation of foreign companies, Schneider will "deploy more innovative processes here in China."
Optimism
China will expand foreign trade while bolstering efforts to attract more foreign investment, Guo said. The country will improve services for foreign investors so that they will become more interested in investing and developing in China, she added.
Paid-in foreign capital in China rose 21.5 percent year on year to $123.9 billion in the first seven months of this year, with investment from the Republic of Korea, the U.S. and Japan seeing the fastest growth rates, according to the Chinese Ministry of Commerce (MOFCOM).
AmCham South China has more than 2,300 members that account for about 40 percent of all U.S. business, trade and investment with China, Seyedin told Beijing Review.
According to a survey released by the chamber in February, 80 percent of its member companies reinvested in China to expand their existing operations and to be able to keep up with customer demand in 2021.
The percentage of firms with budgeted reinvestment of over $250 million in China increased from 5 percent in 2021 to 10 percent in 2022. "That's quite substantial given the difficulties that we all face today," Seyedin said, adding that 94 percent of the respondents hold a positive outlook toward the future of their business in China. Since 2010, member companies have signed annual investments of over $2 billion at the CIFIT, according to him.
Nine Rivers, a U.S.-invested wine producer in Longyan, Fujian, began the construction of a single malt whiskey distillery in the city in February. The distillery is expected to begin operation in 2023, delivering an annual output of 200 million yuan ($29 million). "The opportunity is huge in China as it's the world's largest consumer market," Jay Robertson, CEO of Nine Rivers, said during this year's CIFIT.
"More than 80 percent of our members have already moved up the value chain. They're primarily here producing goods and services in China, for the Chinese market," Seyedin said.
French sports goods chain Decathlon entered the Chinese market in 2003. It has completed its entire industrial chain in China. Servando Quevedo, Vice President of Decathlon China, said during the fair that the company will continue to invest in China over the next decade.
Chinese companies are also investing overseas at an increasing pace. MOFCOM data also showed that China's non-financial outbound direct investment ticked up 4.4 percent year on year to 424.28 billion yuan ($61.6 billion) in the first seven months of 2022.
Maja Stefanović, Serbian Ambassador to China, told Beijing Review that as of June this year, Chinese mining company Zijin Mining had invested $3.3 billion in her country, creating more than 6,600 jobs and making important contributions to its economic and social development.
Argentina's participation in cooperation under the Belt and Road Initiative in February has lifted its friendly and cooperative relations with China to a new height, Argentine Ambassador to China Sabino Vaca Narvaja said. Related Argentine authorities are in discussions with Zijin Mining, expecting to strengthen investment and trade in minerals with China.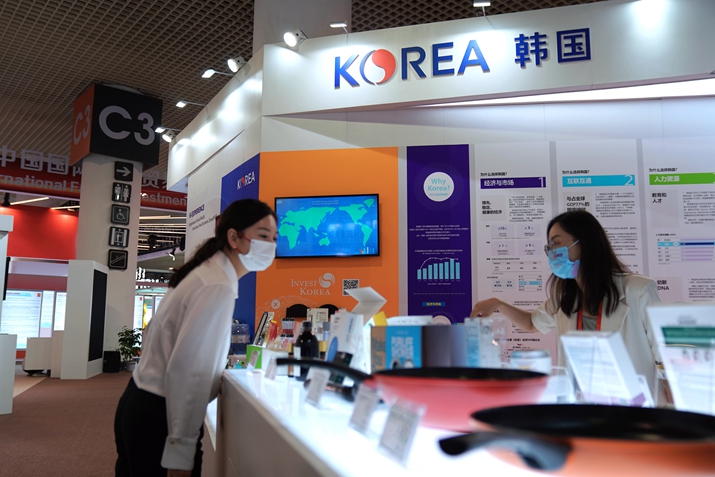 A visitor talks with an exhibitor at the booth of the Republic of Korea during the 22nd China International Fair for Investment and Trade in Xiamen, Fujian Province, on September 8 (ZHANG WEI)
New openings
Global investors at the CIFIT also mentioned that emerging fields such as the digital economy and green development offer enticing opportunities in China.
China's digital economy soared from 11 trillion yuan ($1.65 trillion) in 2012 to 45.5 trillion yuan ($6.58 trillion) in 2021, with its share in national GDP rising from 21.6 to 39.8 percent during the same period, according to the Ministry of Industry and Information Technology.
Swiss engineering giant ABB has been cooperating with Chinese partners in building data centers across the country for 25 years. James Zhao, President of ABB Electrification China, said the east-to-west transfer of computing resources, a national project to build an integrated big data system, embodies China's commitment to developing its digital economy and delivering opportunities to the whole industry. The project was launched in February, involving the establishment of eight national computing hubs and 10 national data center clusters.
China has vowed to peak its carbon dioxide emissions before 2030 and achieve carbon neutrality before 2060. According to Wang of Schneider, the targets are calling on more enterprises to accelerate green transition in a bid to enhance future competitiveness.
"Industries are embracing digital and sustainable transition, which has sparked a surge in demand for green and innovative products and low-carbon solutions based on digital technologies," Wang said.
Underlining its decarbonization commitment, Schneider now runs 64 net-zero carbon factories worldwide, with 15 located in China. In the future, it will continue to bolster R&D in China with a pledge to offer more green and innovative products and solutions to the globe, Wang said.
In September, China's largest battery supplier Contemporary Amperex Technology Co. Ltd. (CATL) launched its second European plant in Hungary. With a total investment of $7.28 billion, it is expected to achieve a production capacity of 100 GWh.
Green, low-carbon and sustainable development have become new trends in global trade, CATL's founder and Chairman Robin Zeng said at the fair, adding that his company is investing more on R&D, providing the most advanced batteries for the world and continuing to support and lead the progress of green industry.
(Print Edition Title: Openness, Optimism,Opportunities)