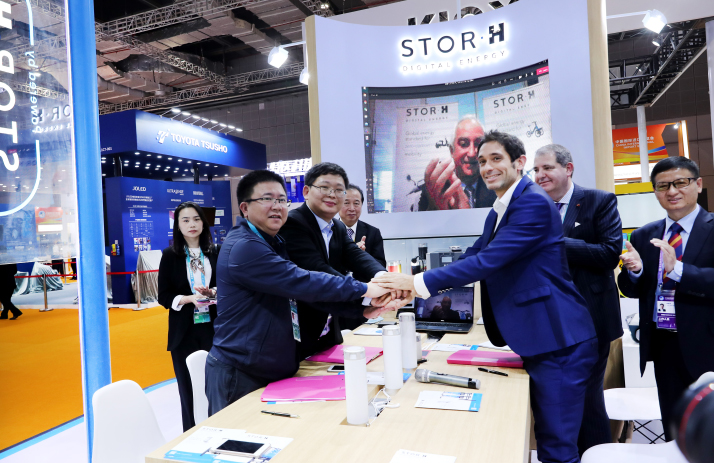 Chinese and Swiss partners celebrate after signing an agreement on hydrogen-fueled vehicles at the Third China International Import Expo in Shanghai, November 6 (XINHUA)
Though China already has the largest new-energy vehicle (NEV) market in the world, its motto remains the same: Bigger is better. Specifically, the industry will follow a 15-year roadmap to fulfilling a list of ambitions.
By 2025, NEVs will account for some 20 percent of the country's total new auto sales, the average power consumption of purely electric passenger cars will be reduced to 12 kWh per 100 km, and advanced autonomous vehicles will be widely used within certain areas and designated zones, reads the plan issued by the State Council on November 2.
Starting from 2021, NEVs will account for at least 80 percent of the newly increased or upgraded buses, taxis and trucks inside national ecological civilization pilot zones and key areas for air pollution prevention and control. In addition, the government will formulate favorable taxation policies catering to NEV-related industries, offer financial support for the construction of charging piles, and enhance incentives for NEV parking and charging facilities.
By 2035, purely electric vehicles will make up for the majority of new auto sales, all vehicles used for public transportation will be electrified, and fuel cell vehicles will have a wide commercial application, effectively promoting energy conservation and emission reduction.
"The plan maps out a strategic direction for the NEV industry and will significantly strengthen its leading role and pillar status in the economy," Fu Yuwu, honorary President of the China Society of Automotive Engineers, said in an interview with China Business Journal.
"The plan marks an upgrading of the country's NEV strategy," Qin Lihong, co-founder and President of NEV startup NIO, told China Business Journal. "It will encourage electric vehicle producers to make full efforts in research and development, thus promoting the transformation of the whole industrial chain. NEV producers must pay attention to quality, customer services and the innovation of business models, provide more value-enhanced services in combination with their own advantages, and extend their service chains."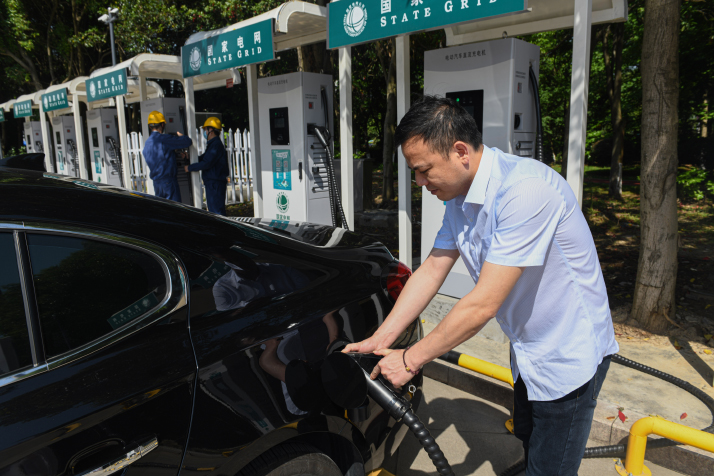 A driver charges his electric car at a charging station in Ningbo, Zhejiang Province in east China, on May 19
(XINHUA)
Top-down design
The Chinese Government has been vigorously supporting the development of the NEV industry since its inception in the country in 2009. After a decade's development, it has been transformed from a policy- to a market-driven business model.
Zhao Qiang, Vice President of the NEV brand Singulato, said in an interview with China Business Journal that the government's focus has already shifted from extensive support in the early stages of NEV development to more targeted support across various technical categories, which encourages enterprises to prioritize quality over quantity.
The most recent plan lays out several major tasks. The capacity for technological innovation must be enhanced. Finished vehicles and spare parts will be given equal importance, technology innovation in vehicle integration will be strengthened, and the basic ability of power batteries and other key components will be improved.
With eco-oriented enterprises at the forefront, China intends to accelerate the development and application of automotive operating systems, build systems for efficient recycling of power batteries, strengthen quality and safety monitoring, and promote the formation of a new-type industrial ecology featuring mutual integration, cooperation and shared benefits.
Integrated industrial development falls in line with the overall pursuit. The comprehensive and in-depth integration of the NEV industry with energy, transportation, information and telecommunications sectors will see advancement. The country will also improve its energy consumption mix, transportation systems and urban intelligence level, in a bid to create a new pattern of coordinated industrial development.
The development of NEV-related facilities also features high on the agenda. Construction of charging and other facilities will witness acceleration and innovative business models will be promoted to create a user-friendly environment for NEVs.
The drive for opening up and cooperation will also intensify. China will expand international exchanges and cooperation in research and development, design, trade and investment, and technical norms, take active part in international competition and raise the competitiveness of its NEV industry.
Challenges ahead
China's NEV industry is in urgent need of shoring up its weak spots and turning the first-mover and scale advantages into technology and brand advantages, according to a report on global NEV development issued by Evergrande Think Tank, a Chinese research institution, in August.
It said from January to November 2019, there were four Chinese domestic brands among the top 10 global NEV producers with the highest sales volumes. However, Chinese companies still rely mainly on the domestic market. In the time between January and September 2019, none of the best-selling electric vehicle models across the U.S., EU, and Japanese markets came from Chinese brands. Moreover, China is still highly dependent on imports in terms of certain key components.
"China's NEV industry must strengthen its research and development in key technologies such as battery materials and core chips," said the report.
In 2019, China started to reduce the subsidies for NEV purchases. The subsidies were lowered by 50 percent compared with the 2018 level and will be scrapped by the end of 2020.
Due to the decline of subsidies, China's NEV sales volume dropped significantly in the second half of 2019. According to figures from the China Association of Automobile Manufacturers (CAAM), China produced 149,000 NEVs and sold 163,000 in December 2019, down 30.3 percent and 27.4 percent, respectively, year on year. Throughout the year the output and sales volume of NEVs stood at 1.24 million and 1.21 million units, decreasing 2.3 percent and 4 percent respectively over a year earlier.
However, such declines saw a reverse in July this year, and the NEV industry gradually started to recover from August onward, when output and sales volume reached 106,000 and 109,000 units, respectively, up 17.7 percent and 25.8 percent year on year. "Benefiting from the policies of boosting NEV sales in rural areas and the support from local governments, the market has steadily turned for the better," said a press release by CAAM on September 11.
China's NEV market has experienced several drops in the past three years, but they were merely temporary declines after having gone through high-speed growth, Xin Guobin, Vice Minister of Industry and Information Technology, said at the 2020 World New Energy Vehicle Congress in Haikou, Hainan Province in south China, in September.
"Consumers still have a welcome attitude toward NEVs. With the progress of power battery technologies and improvement of charging and other facilities, the advantages of NEVs will become increasingly evident," he added.
(Print Edition Title: Taking a Green Turn)
Copyedited by Elsbeth van Paridon
Comments to wangjun@bjreview.com