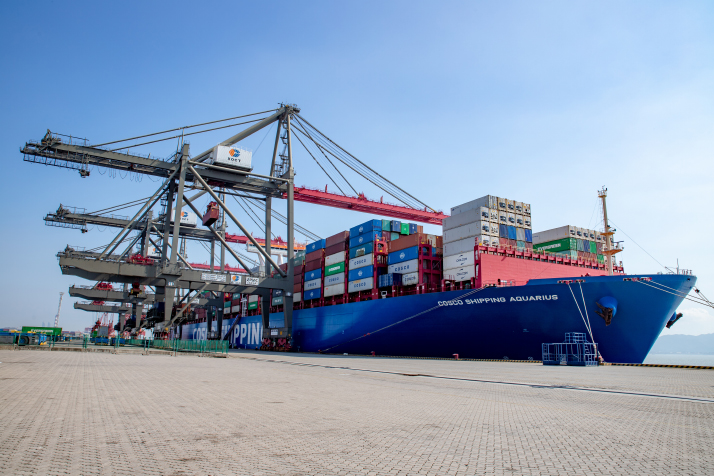 The COSCO SHIPPING Aquarius arrives at a berth of Xiamen Haicang Port Area in Fujian Province, southeast China, on November 23 (COURTESY PHOTO)
On November 23, a container ship belonging to China COSCO SHIPPING Corporation Limited (COSCO SHIPPING) arrived at a berth in the Port of Xiamen in Fujian Province, southeast China. The terminal is managed by Xiamen Ocean Gate Container Terminal Co. Ltd. (XOCT), a subsidiary of COSCO SHIPPING. There was no traditional bustling in sight or workers to be seen. Nevertheless, the terminal was busy loading and unloading containers.

Rows of automatic and gigantic stacking cranes were moving swiftly and orderly, with their robotic arms grabbing, lifting and lowering containers with perfect precision. On the ground, automated guided vehicles (AGVs) shuttled back and forth carrying containers from one location to another.

Like a scene from a science fiction movie, the only sounds that could be heard were from the movements of the machines. The entire terminal is controlled by an intelligent handling system and several staff members sitting in a central control room.

Yan Zhengping, captain of the M.V. COSCO SHIPPING Aquarius, told Beijing Review that Xiamen was their third stop along the Belt and Road route to the Port of Gdansk in Poland. After 77 days at sea, the ship will return to the Port of Shanghai.

The Aquarius is a typical example of a new generation of large container ships with a 20,000-TEU capacity manufactured by Chinese companies. Their energy consumption level is far lower than other same class ships on the market, meeting the international emissions standards for the next decade.

"XOCT is unique with its automated equipment, since it only takes an average of 2 minutes to load a container onto the ship," Yan said, adding that it is China's first fully automated terminal with independent intellectual property rights, followed by terminals in Shanghai and Qingdao in Shandong Province, east China. Over the last three years of operation, the terminal has set up a standard for others to upgrade their systems and has helped to promote the competitiveness of Chinese container terminals.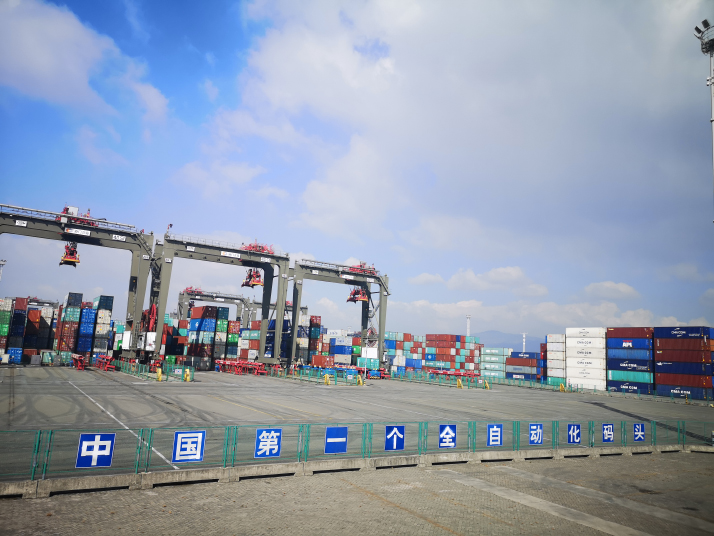 The automated terminal of Xiamen Ocean Gate Container Terminal Co. Ltd., a subsidiary of China COSCO SHIPPING Corporation Limited, in Fujian Province, southeast China, on November 23 (MA MIAOMIAO)
A terminal for all
The automated terminal was put into use in March 2016. The bridge cranes, rail-mounted gantry cranes and AGVs adopted for loading and unloading containers were all made by Shanghai Zhenhua Heavy Industries Co. Ltd., one of the world's largest manufacturers of cranes and large steel structures.
Through laser scanning and positioning, a computing program guides a crane to locate the four corners of each container, accurately grab it and put it onto a driverless truck.
These AGVs are equipped with intelligent control systems that can plan optimal routes based on real-time traffic conditions, while a laser collision avoidance system and an ultrasound sensing system ensure their safe and smooth operation. They even know when it's time to recharge their lithium batteries.
Through this automated terminal, the company has reduced labor costs, increased handling efficiency and saved energy compared to traditional terminals, since loading and unloading operations are all driven by electric vehicles, said Chen Yipeng, XOCT General Manager.
The development of the terminal has essentially upgraded a blue collar job to a white collar one, Chen added. Workers used to operate machines from sky-high cranes in a dangerous and harsh working environment with a working life that normally continued into their 40s. Now much of the work has been left to a computer in an office, enabling workers to be separated from machines and moved to a safer and more comfortable area.
On May 27, 2017, M.V. OOCL Hong Kong, then the world's largest container ship with a carrying capacity of 21,413 TEUs, berthed at the XOCT automated terminal, setting a record by launching the first voyage by the largest ship from China's first automated terminal.
The successful construction of the terminal also provides a model for the whole industry. The experience has been promoted and applied to the CSP Abu Dhabi Terminal at Khalifa Port, a company inaugurated by COSCO SHIPPING and Abu Dhabi Ports, with the aim to position Abu Dhabi, capital of the United Arab Emirates, as the regional hub for the group's global network.
Eco-friendly
The terminal's equipment is all powered by electricity, making it the first in the world to be entirely free of any internal combustion engines, pollution-free and emissions-free, Sun Bosheng, Deputy General Manager of XOCT, said.
In addition to the automated terminal construction, a shore power plant was put into operation in November 2016, allowing berthing container ships to shut down their auxiliary generators and use the electricity provided by the port, which is more environmentally friendly.
Since 2016, the company has carried out a LED lamp renovation project. Currently, the lighting reconstruction of all yards within the terminal has been completed. There are now 1,102 LED lamps that have been modified or newly put into use, with the coverage of green lighting increasing to 66.3 percent. It is estimated that about 1.9 million kWh of electricity will be saved per year, according to Chen.
The terminal was awarded the Green Port Award System (GPAS) by APEC Port Services Network (APSN), a non-profit organization established in 2008 in response to the directives of the 14th Asia-Pacific Economic Cooperation (APEC) Economic Leaders' Meeting held in 2006 and to enhance exchanges and cooperation among APEC regional ports and related sectors. The GPAS serves as a green evaluation system for ports in the Asia-Pacific region, which represents an integral part of APSN's ongoing efforts to promote the green growth of the port industry in the region.
5G smart port
A plan to make XOCT's first intelligent terminal with 5G application was released in July. According to an agreement signed with China Mobile, it will supply communications equipment, 5G smart applications and cloud computing, among other things, to the terminal.
Recognizing that the 4G network could not meet the strict performance requirements in terms of time intervals and bandwidth, XOCT decided to embrace 5G, Zhang Jinyang, Deputy General Manager of the Information Department of the company, told Beijing Review.
"With the assistance of the 5G network, we can solve the problems of abnormal communication interference and major delay in the traditional mode and successfully realize the transmission of AGV control signals with little delay and high reliability," Zhang said.
While following its routes, an AGV must send the container to the specified location within the prescribed period of time, something that is not a very difficult task for a skilled driver. This is where the network signal transmission is quite critical for an AGV to fulfill its tasks correctly. The inherent advantages of the 5G network undoubtedly can lay a solid foundation for its upgrade.
In the future, XOCT will continue to explore new applications in terminal operations to boost the high-quality development of the port industry in China, Zhang added.
Copyedited by Rebeca Toledo
Comments to mamm@bjreview.com