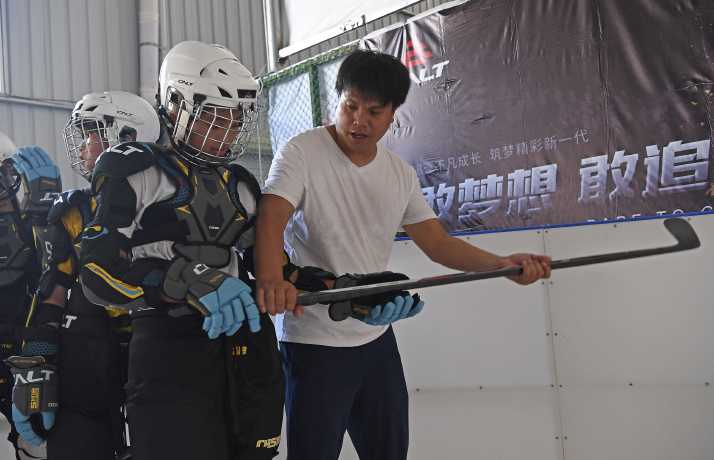 A coach (right) trains an ice hockey player in Shicheng, a county in Jiangxi Province, east China, on July 17 (XINHUA)
With people's enthusiasm for ice and snow sports growing as the 2022 Beijing Olympic Winter Games approach, efforts are being made to meet the increasing demand for professional workers in the industry.
More higher vocational education institutions will offer training in ice and snow sports facility maintenance and management, according to a list of higher vocational education programs endorsed by the Ministry of Education.
Founded in 2018, the Institute of Ice and Snow of Zhangjiakou University, located some 200 km northwest of Beijing, has introduced a series of courses in sports knowledge, language and multi-cultural communication, as well as first aid.
Dong Jianming, Dean of the institute, said they aim to cater to the increasing need for professional staff for the 2022 Games and beyond. "They have brought us an unprecedented opportunity for fostering more talent in the growing ice and snow industry," he said.
Zhangjiakou, a city in Hebei Province in the north, will co-host the 2022 Games and stage many competitions including snowboarding, freestyle skiing, cross-country skiing and ski jumping.
Ski resorts and ice-skating rinks, which used to be less popular, are now in vogue with more and more youth trying their hand at the sport.
"What appeals to me the most about skiing is speed, freedom and sense of accomplishment that comes from conquering difficult slopes," said Cao Yu, who works in the Internet industry in Beijing. Cao has been to several ski resorts in China and abroad.
Compared to the United States, China lags behind in snow quality, the length of slopes and ski resorts, but it is improving every year, he said.
Though the ice and snow sports industry is still in the initial stages in China, the popularity of the sports is rising. In Beijing, many parents drive for hours to take their children to ski resorts in remote suburbs or neighboring Hebei on a regular basis.
From 2018 to 2019, the number of domestic skiers grew to 23.45 million, an increase of 21.5 percent from the previous year, according to the International Data Group, a market researcher. China is expected to see more than 300 million people involved in winter sports by 2022, according to a development plan launched by authorities.
According to Dong, the training of professionals in the ice and snow sports industry is affected by various factors such as sports sites, seasons and people's preference. So large-scale cultivation of talent through the solo efforts of educational institutions is unrealistic.
That is why Zhangjiakou University is planning more school-enterprise cooperation projects to provide various educational platforms, the dean said, adding that talent cultivation in this industry is a long-term process.
This is an edited excerpt of an article originally published by Xinhua News Agency
Copyedited by Sudeshna Sarkar
Comments to dengyaqing@bjreview.com