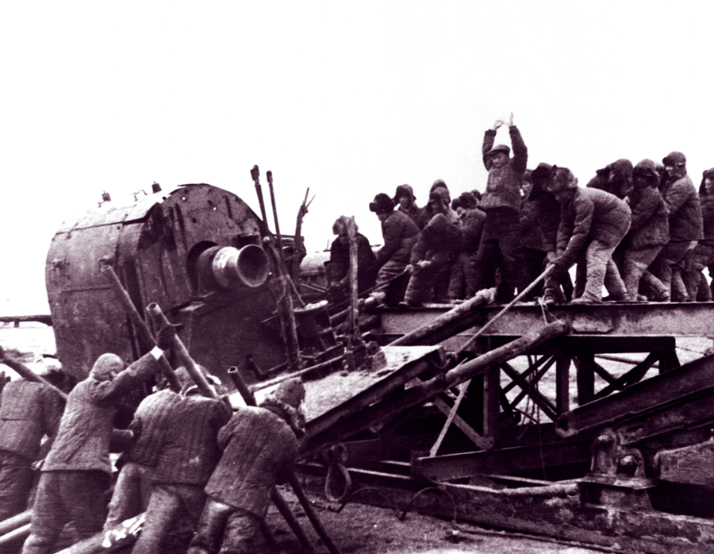 Workers carry a drilling rig at the Daqing Oilfield in the 1960s (COURTESY PHOTO)
From extensive exploitation to the utilization of cutting-edge technologies, Wang Qimin, 82, has seen the growth of the Daqing Oilfield located in Heilongjiang Province in northeast China over the past 60 years. Born in Huzhou, east China's Zhejiang Province, Wang chose to major in petroleum at the Beijing-based China University of Petroleum by chance, never imagining that he would be closely connected with the oilfield and see its key turning points.
The oilfield was discovered as the largest in China on September 26, 1959, and began to be exploited in 1960. Its name, which means great celebration, was chosen to mark the 10th anniversary of the founding of the People's Republic of China in 1949. Daqing Oilfield is now a subsidiary of the country's largest oil producer China National Petroleum Corp.
Wang started to work at the oilfield after graduating in August 1961 when its output was still low. He and his fellow workers collected and analyzed over 10 million pieces of data, created new mining modes and increased the oilfield's output.
"In oil exploitation, trash can be turned into treasure and nothing is impossible," Wang said. Although retired, he still goes to work like before, conducting research and instructing young researchers.
Since China has turned to pursuing high-quality economic growth, the oilfield, which is playing a key role in the country's energy security, faces both opportunities and challenges. By stabilizing oil and gas output, improving production efficiency and tapping into the global market, the oilfield is moving toward a bigger stage.
An uphill battle
Crude oil is a country's industrial lifeblood and Daqing has made great contributions to China's energy security and economic development. Over the past 60 years, it has produced 2.39 billion tons of crude oil, accounting for about 40 percent of the country's total crude oil output from onshore wells in that period. As a large state-owned conglomerate, it has also successfully driven local economic growth.
After the discovery of the oilfield in 1959, workers like Wang overcame difficult conditions and built it into a crude oil production base with an annual output of 5 million tons in only three years.
Its output grew steadily in the following years. From 1976 to 2002, the oilfield had over 50 million tons of annual crude oil output for 27 straight years, making it a miracle model for oilfields around the world with similar conditions that usually maintained stable output for only 12 consecutive years. From 2003 to 2014, its annual output was 40 million tons.
After experiencing a boom, however, Daqing began to see bottlenecks as remaining reserves were difficult to exploit and costs were high. Fluctuating oil prices in the international market also posed a threat.
As a resource-based enterprise, its traditional advantages weakened. In 2016, the oilfield suffered a loss for the first time in its history. "We never thought the oilfield would be losing money," said Liu Guangjun, who has worked at the oilfield for more than 30 years.
In recent years, China's crude oil imports have increased substantially as the gap between supply and demand widens. The output of natural gas is also falling behind domestic demand. All of this has raised concerns about energy security.
To cope with risks, the oilfield launched reforms to improve production quality and efficiency. It made breakthroughs by developing technologies, improving both oil and gas output, and streamlining institutions.
To drive production through innovation, the oilfield has focused on scientific research and cooperated with other enterprises and institutions. It signed a cooperation agreement with China's tech giant Huawei in June 2018. This year, it set a goal of having technologies contribute 60 percent of its growth.
Despite fluctuating oil prices in the world in 2018, the oilfield had stable output, producing over 32 million tons of crude oil and about 4.3 billion cubic meters of natural gas. Its overseas revenue exceeded 10 billion yuan ($1.4 billion) for the first time, while its total operating revenue and profits reached a record high not seen since 2015.
As oil prices picked up this year, the global oil industry has rebounded. In the first three quarters of the year, the output of crude oil and gas from Daqing was 23.88 million tons and 3 billion cubic meters, respectively, generating revenue and profit growth.
In the years ahead, the oilfield plans to continue to maintain stable oil and gas output and achieve a major transformation between 2020 and 2030.
Technologies have also been adopted for green development as the company seeks industrial upgrading. According to Zhang Yueyang, an employee with the company's exploitation sector, technology-based recycling equipment has been adopted to make full use of discharged liquid to reduce pollution and cut costs.
Daqing has dealt with pollution through implementing an accountability system and building demonstration zones of ecological protection, Che Renjie, head of the company's Land Resource Management Department, added.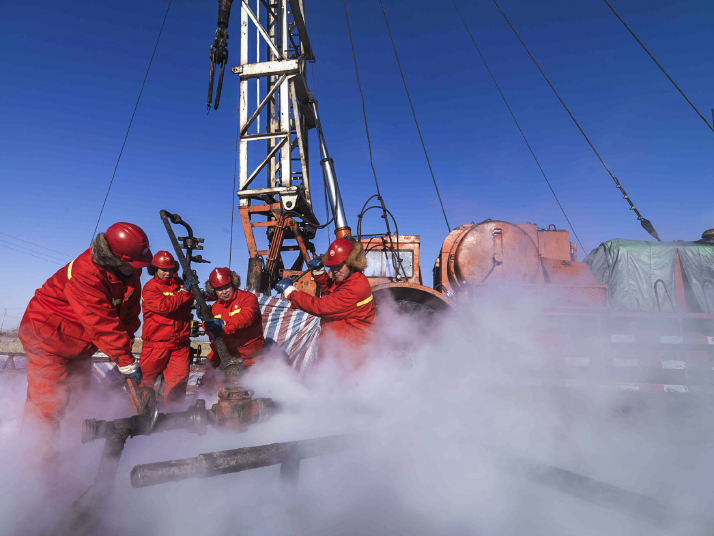 Employees work at a natural gas field at the Daqing Oilfield on December 13, 2008 (COURTESY PHOTO)
Global footprint
Daqing entered the international market in 1998 and signed a contract with U.S.-based Aspen Energy in 2005, the first time it penetrated the U.S. high-end drilling market.
In recent years, it has seized opportunities afforded by the Belt and Road Initiative. In the first three quarters of the year, Daqing saw its revenue from international markets grow to about 7.9 billion yuan ($1.1 billion), a year-on-year increase of 26.5 percent.
Currently, it has overseas projects in 26 countries and regions. Its revenue in Iraq and Mongolia has both exceeded $100 million. Foreign employees account for over 60 percent of those working for its overseas business, which has a total of 3,900 people.
Over the years, the oilfield has gradually gained a foothold in the international market. Since the beginning of the year, it has received orders for 64 pumping machines from Canada and five from Peru, which is its first partner in South America. Its orders from foreign markets more than doubled compared to the corresponding period last year.
It has also expanded its international presence through technological exchanges. For example, after tapping into Sudan's market, it has entered the markets in Kazakhstan and Russia and cooperated with oil companies from Kuwait and Indonesia.
"Daqing will continue to focus on both domestic and international markets to explore more room for growth," Xie Yuxin, head of Daqing's Marketing Department, said.
According to the company, its goal is to expand the share of its businesses abroad to 50 percent by 2050, and build itself into an internationalized and innovation-oriented enterprise with strong competitiveness.
Copyedited by Rebeca Toledo
Comments to lixiaoyang@bjreview.com