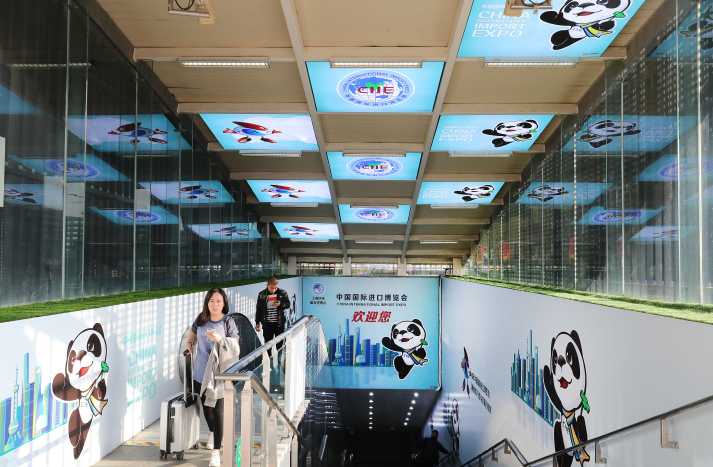 The exit of the National Exhibition and Convention Center subway station in Shanghai shows posters for the Second China International Import Expo on October 21 (XINHUA)
Last year, when the organizers of the China International Import Expo (CIIE) unveiled the mascot of the expo, a giant panda looking dapper with a stylish scarf draped round its neck, people agreed that it was delectable. This year, when it made its appearance at a matchmaking event ahead of the Second CIIE, it was actually edible.
A baking feat, the bread panda was part of the Bread of Jinbao collection, an assortment of breads also shaped like the CIIE logo and the four-leaf clover, which is the shape of the National Exhibition and Convention Center in Shanghai where the Second CIIE opened on November 5. The collection was the handiwork of three master bakers, the national team of China, who are competing with four other teams in the Louis Lesaffre Cup Asian qualifying round of the Coupe du Monde de la Boulangerie, the artisan bakery competition held annually in Paris, also known as the Bakery World Cup.
"The qualifying rounds are generally held in professional bakery or food fairs, but this year, we chose the CIIE as it is a global platform," Yu Zhiqiong, Corporate Communication Manager of Lesaffre China, a French yeast and bread maker and one of the organizers of the bakery competition, told Beijing Review. "Through the CIIE we want to showcase to the world a high-caliber competition, masterly hand skills and craftsmanship, and China's bakery capabilities. The CIIE is more than just a platform for us to sell our products."
"The contestants were confused at first when they were told the bakery competition would be held at an import expo," Yu added. "But it is the CIIE, and it creates possibilities."
Lesaffre took part in the First CIIE, the first national-level import-themed trade fair, to gain industrial influence and seek business partners. They found the CIIE was also a platform for business-to-business companies to tap the business-to-consumer market.
The French factor
This year marks the 55th anniversary of the establishment of China-France diplomatic ties and France is a guest country of honor at the Second CIIE. Last year, the 69 French enterprises taking part in the expo notched up transactions worth $1.51 billion.
This year, there was impetus for them from the top level, from the presidents of both countries. On October 15, Chinese President Xi Jinping and his French counterpart Emmanuel Macron had a telephone conversation where Xi said China stands ready to work with people around the world, including France, to advance the building of a community with a shared future for humanity. He also said China will continue to pursue the strategy of opening up based on mutual benefit.
Gao Yuanyuan, Counselor at the Office of Economic and Commercial Affairs of the Chinese Embassy in France, said there was a high level of interest among French companies in the CIIE.
"French government organizations came to us during the past two years to ask detailed questions about the CIIE, which showed their in-depth research on the event. The French Government attaches high importance to it," she said.
"The CIIE serves as an important window for us to participate in and share the opportunities of China's stable economic growth," Zou Chunyi, Vice President of Greater China Public Affairs at Danone, a French food corporation, told Beijing Review.
"While offering a capacious trading platform for global partners, it accommodates premium imported goods from all over the world, which is conducive to generating new demands, stimulating consumption and upgrading and satisfying people's ever-growing needs for a better life."
French beef producers have embraced the CIIE to reach the Chinese market after a long prohibition on beef imports. In 2001, China announced the first ban on European imports due to the outbreak of the mad cow disease. In 2003, the U.S. also came under the ban. But the restriction began to be eased in recent years.
"Last year, French Minister of Agriculture and Food Didier Guillaume announced the return of French beef to China at the CIIE," Meng Fanye, chief Chinese representative of the French Pig Federation and French Livestock and Meat Industry Association, told Beijing Review. "This year marks the real return from a market perspective."
On January 16, beef processing, sales and e-commerce companies from China signed a cooperation agreement with French beef production and breeding companies, which marked its official entrance into the Chinese market.
The French enthusiasm has shown again how foreign enterprises can benefit from China's huge market and their confidence in long-term development in China.
"French meat companies choose China for its market potential and its importance to the world," Meng said. "France has been cautious about where to export. French companies choose China based on years of study and consideration and they have plans for long-term cooperation and development."
Especially for the French beef market, he said although there are challenges as 90 percent of China's imported beef is from countries like Uruguay and Brazil, French companies are coming to China not for a quick huge profit but for stable and solid growth.
The 5G bond
Other Western companies also see growth prospects in China. Swedish telecommunications company Ericsson is heartened by the Chinese Government's promotion of advanced technology.
"The Chinese Government really plays a big role in helping drive the Chinese economy as well as technology, which I think is very positive," Amanda Woolverton, Ericsson's Vice President of Marketing and Communications for Northeast Asia, told Beijing Review. "The CIIE is a very good exemplification as it gives the message that the entire country is behind it for global business to connect to Chinese buyers and consumers."
The Chinese Government's support of 5G, Ericsson's main focus at this year's CIIE, is another reason for the company's optimism in China. "The government is so decisive in rolling out 5G licenses, which gives the right signal to all the players that 5G is not just a buzzword, but is going to be a reality," she said. "If we don't know what the prospect is, no one will seriously invest. But in China we know 5G has become its national strategy and we have confidence."
She said Ericsson has the confidence to continue its commitment to China's development. "5G is something that really requires global collaboration. Just like telecommunication itself, it needs to work everywhere," she added. "If it is just a technology for a single country, then no one can connect with anyone else."
Regarding Ericsson's relationship with Chinese brands, Woolverton said they have mutual respect for each other. Also, "5G will make the pie bigger" as it drives new businesses.
According to the Ministry of Commerce, foreign direct investment into the Chinese mainland grew 6.5 percent year on year to 683.21 billion yuan ($96.4 billion) in the first nine months. Over 30,800 new foreign-funded enterprises were founded during the period.
This increase amid a slump in investment globally indicates an improved business environment in China. China's ease of doing business ranking climbed to 31st this year from 46th last year, according to a World Bank report on October 24.
World Bank senior economist Marcin Piatkowski attributed the growth to the special attention paid by the Chinese Government especially to the formulation and implementation of laws and regulations.
Global collaboration
Woolverton echoed Xi's thought at the Boao Forum for Asia meeting last year that China's development cannot be separated from the world, and the world's development cannot be separated from China's.
"There are a lot of things Ericsson can learn from Chinese companies, and Chinese companies can learn from Ericsson as well," she said.
Ericsson entered the Chinese mainland as early as 1892, when many people didn't know much about China. Today, more than 95 percent of Ericsson's revenue comes from international markets.
With Chinese companies today keen on expanding their business internationally, they could learn from the Ericsson example while readying for the global market and devising strategies and systems for risk management.
Woolverton also appreciated Chinese companies' resource allocation ability, and speed of innovation and product portfolio updates and in meeting customer requirements. She called it impressive and worth learning from.
"Competition is important, but it requires more participation of all players to make things happen," she said. "It's not just one company, one player. We need the entire ecosystem to play a bigger role."
(Sun Xuan contributed to this report)
Copyedited by Sudeshna Sarkar
Comments to zhangshsh@bjreview.com