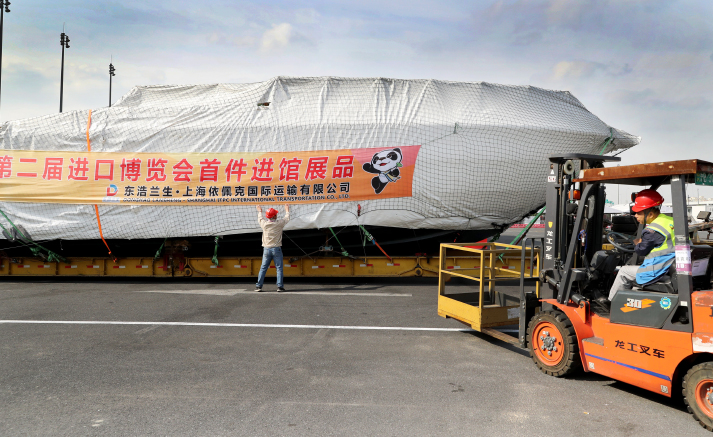 Staff members prepare to move the Italian patrol ship Ferretti FSD 195 into the National Exhibition and Convention Center (Shanghai) on October 22. It is the first exhibit of the Second CIIE to enter the venue (XINHUA)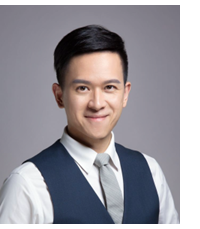 The Second China International Import Expo (CIIE), to be held in Shanghai on November 5-10, will again include a country exhibition, a business exhibition and an international economic forum. As of now, 64 countries will take part in the country exhibition, including 15 guest countries of honor. The business exhibition will host more than 3,000 companies from across the world and cover 330,000 square meters, 20 percent more than last year. In addition, international organizations such as the World Trade Organization (WTO) and the United Nations Conference on Trade and Development will cooperate with the Chinese Government to host the Hongqiao International Economic Forum.
Consumption boom

In 2018, China successfully held the First CIIE. During the six-day expo, more than 5,000 products were displayed for the first time in China and over 800,000 people visited the National Exhibition and Convention Center (Shanghai) (NECC), with transactions valued at $57.83 billion, a figure greater than the total foreign investment that flowed into China in 2001 when it entered the WTO.
As the world's first import-themed national-level expo, the CIIE is an innovation in the history of global trade, Minister of Commerce Zhong Shan said. Combining diplomacy, exhibitions and a forum, the expo allows the world to share China's huge market opportunities and builds a common platform for countries to cooperate with each other, providing an international public good for economic globalization.
The report delivered by Xi Jinping, General Secretary of the Communist Party of China (CPC) Central Committee, at the 19th CPC National Congress in 2017 noted, "The principal contradiction facing Chinese society has evolved. What we now face is the contradiction between unbalanced and inadequate development and the people's ever-growing needs for a better life." The CIIE aims to meet the Chinese people's needs for a better life, and at the same time, share a bright future with people in other parts of the world.
Coincidentally, the day after the CIIE closed last year on November 11 is dubbed Singles Day in China, which has become the biggest online shopping festival in the country. Last year was the 10th anniversary of the event, which was initiated by e-commerce giant Alibaba, with transaction volume growing from 50 million yuan ($7 million) to 213.5 billion yuan ($32.74 billion) in that period. The explosive purchasing power of Chinese consumers has surprised many across the world.
CNN used the headline Alibaba Singles Day Sales Hit Over $1 Billion in 85 Seconds to report on the spree. CNBC reported that Singles Day is not just for China anymore.
In 2014, China's November 11 shopping festival and the U.S. Black Friday sales day were neck to neck. Sales at all traditional stores across the U.S. on Black Friday totaled $9.1 billion, with online sales totaling $2.3 billion, an aggregate of $11.4 billion. In the same year, the online retail sales volume of Alibaba for November 11 was 57.1 billion yuan ($8.1 billion). But now, according to calculations by
Forbes
, Black Friday sales volume is merely a fraction of November 11's volume.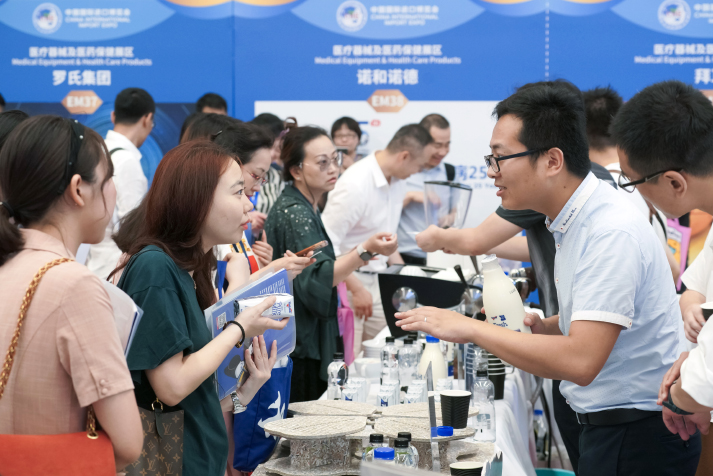 Visitors learn about dairy products from New Zealand at a matchmaking event for the Second China International Import Expo (CIIE) in Shanghai on July 26 (XINHUA)
Raising the bar
In recent years, both e-commerce and brick-and-mortar stores in China have achieved rapid growth, demonstrating the rising demands of Chinese consumers. As views broaden and demands for a higher quality of life grow, the market for high-end products keeps expanding, and consumption upgrading becomes a general trend. Good quality imported goods at competitive prices are finding new opportunities.
In his keynote speech during the opening ceremony of the First CIIE, President Xi said, "To meet the trend of consumption upgrading, we will take more proactive measures to increase people's income and spending power, foster new growth areas of medium- and high-end consumption, continue to unleash the potential of the domestic market and expand the scope for imports."
The following day, various famous e-commerce platforms started to announce their big plans at the NECC.
Alibaba organized the Global Cross-Border Import and Supply Chain Leaders' Summit and announced a five-year plan to import $200 billion worth of international goods to China. JD.com hosted the Boundless Retail—World Import Trade New Driver Summit Forum and signed agreements to import 100 billion yuan ($14.1 billion) worth of goods during the expo. Suning held its Global Supply Chain Summit and announced 15 billion euro ($16.6 billion) worth of global procurement orders. NetEase organized a dialogue on emerging trends of global cross-border imports, and NetEase Kaola, its cross-border e-commerce platform, signed agreements to procure 20 billion yuan ($2.83 billion) worth of goods from over 110 global quality suppliers from around the world.
The day before the First CIIE closed, many of the exhibits became available on shopping websites, attracting huge numbers of orders on November 11.
Permanent success
In addition, a year-round import expo has become possible via permanent venues, such as the Greenland Global Commodity Trading Hub (G-Hub) across from the NECC. Some 120 businesses from 45 countries and regions are exhibiting 22,000 commodities, including food, drink, daily needs and home appliances exhibited at the First CIIE. Many businesses are choosing this location for the global debut of their products.
At the hub, for instance, the price of the French mineral water Evian was surprisingly low. A 330-mililiter bottle of water cost 5.5 yuan ($0.78), and the member price was only 3.9 yuan ($0.55) .
For quite a long time, ordinary consumers have been very price sensitive. As China is further opening up to the outside world, the question of how to reduce intermediate costs so as to increase corporate profits and benefit consumers will be determined by the coordination between the government and businesses along with their power of execution.
More importantly, the CIIE demonstrates China's advantage in pooling resources for major initiatives and the flexibility and efficiency of the country's administrative system, and shows the aspirations and confidence of Chinese people for reform and innovation.
Moreover, after a year of exploration, Shanghai has set up permanent centers for bonded exhibition and transactions. Xu Kunlin, Vice Mayor of Shanghai, said that compared to duty-paid transactions, bonded transactions can help make better use of working capital; once the goods are dull of sale, they can be returned to the bonded warehouse and transported to other markets.
At present, there are two bonded exhibition and transaction centers, namely G-Hub and the Hongqiao Import Commodity Exhibition and Trading Center, where prices of imported goods are the same as on the global market.
The author is an assistant professor with the Digital Belt and Road Research Center at the China Institute of Fudan University in Shanghai
Copyedited by Rebeca Toledo
Comments to dengyaqing@bjreview.com