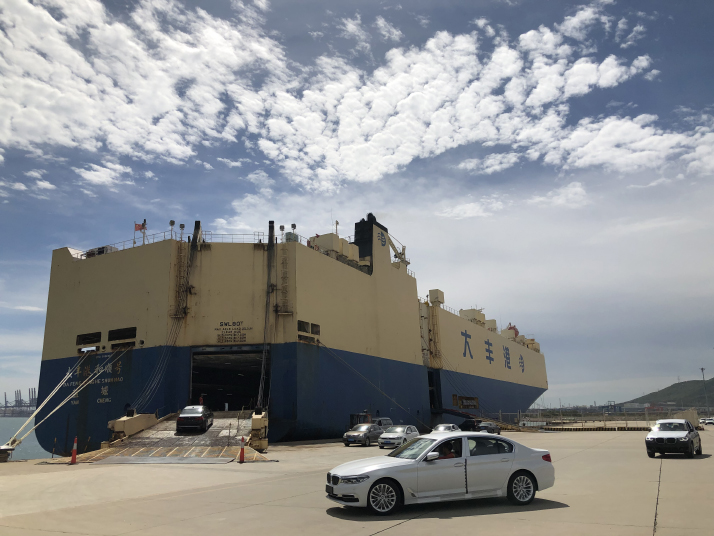 Cars are loaded onto a ship at the Dalian Automobile Terminal on September 11 (XIE PENG)
On September 5, 400,000 tons of ore transported from overseas were directly sent to a storage yard for blending after being offloaded at Dalian Port in northeast China's Liaoning Province.

"Last year, the Dalian Area of China (Liaoning) Pilot Free Trade Zone (FTZ) launched an innovative regulatory system for bonded ore blending, streamlining customs procedures and making transshipment more efficient. This has not only benefited enterprises, but also created a model that can be applied throughout the country," Shi Chengmin, Vice General Manager of Dalian Port Bulk and General Cargo Terminals Co. of the Liaoning Port Group, said.

With a rapidly growing bonded ore blending business, Dalian Port increased its annual throughput by 20 million tons in 2018, reversing the losses of 80 million yuan ($11.32 million) in the previous year and establishing markets in Japan and the Republic of Korea (ROK). Since 2018, Liaoning has strengthened cooperation with Northeast Asian countries, with its trade volume with them surpassing $44.6 billion. In the first half of the year, the port's net profits increased 127 percent year on year.

Golden era

The Dalian Port Ore Terminal is one of the first four sites in China approved to receive 400,000-ton ore carriers, and it is also the country's first special wharf for bonded ore blending.

In recent years, the port has been improving its service capability and operation efficiency and strengthening cooperation with iron ore suppliers. Since the inauguration of its ore blending operation, more than 30 million tons of iron ore have been processed, with the volume of international transit climbing to 15 million tons.

In cooperation with Vale, the world's largest iron ore supplier based in Brazil, Dalian Port began its bonded ore blending business on March 15, 2012. "This was the first time Dalian Port provided this service for Vale, changing the previous practice that it could be conducted only at steel plants or mines and becoming the first Chinese port to be able to do so," Shi said. The accurately mixed and high-quality port products were credited by Vale as Dalian iron ore.

As international iron ore trade recovered from the blows of the 2008 financial crisis, Dalian Port has expanded the ore blending business since 2016, and is trying to develop overseas markets.

Since the establishment of the Liaoning FTZ in April 2017, the port has embarked on a golden era in the business. Through cooperation with government departments concerned, it has become the first in the country to launch a new regulatory system for bonded ore blending, which has greatly promoted the growth of the business and helped its products enter overseas markets such as Japan and the ROK.

"This has not only facilitated iron ore imports to China, but also helped the country realize the shift from a pure importer to a transit trader of the commodity. An important achievement of the Liaoning FTZ, it was recommended by the State Council to other FTZs to regard as a reference," Shi said.

Dalian Port has been focusing on upgrading its facilities and services to attract more ore blending orders. Through the improvement of technologies, operational procedures and equipment, Dalian iron ore has established three salient features, namely, accurate blending, blending upon demand and tailored blending.

To dock large international vessels, the port has renovated the No.2 berth of its ore terminal to accommodate vessels of 150,000 tons (or vessels of 200,000 tons on conditional occasions) and increased the annual blending capacity from 150 million tons to 200 million tons by upgrading its No.4 storage yard.

"Currently, our iron ore transit services cover China's Bohai Sea Rim region and Yangtze River Delta, as well as Japan and the ROK. We are cooperating with 15 ports for international transit business," Shi said.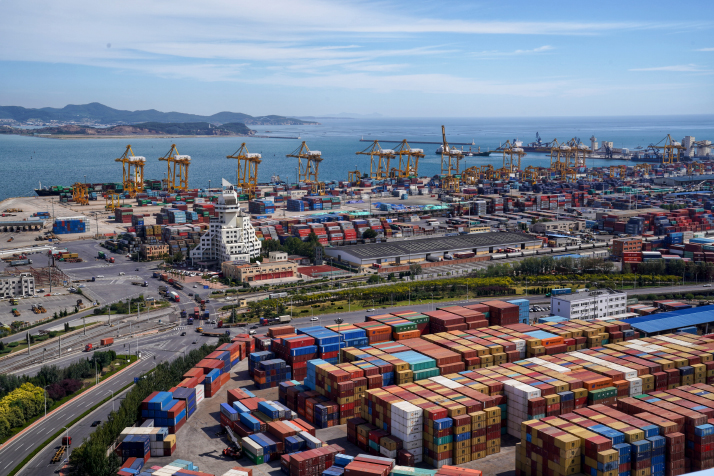 A bird's-eye view of Dalian Port in northeast China's Liaoning Province (ZHANG WEI)
More opportunities
In 2018, the Dalian Automobile Terminal handled 826,000 vehicles, generating a revenue of 130 million yuan ($18.39 million). It held 100 percent of Liaoning's coastal roll-on/roll-off transportation market for another consecutive year, according to company sources.
Established in January 2004, the terminal is a joint venture between Dalian Port Co. Ltd. and COSCO Shipping Ports Ltd. of China and Japan's Nippon Yusen Kaisha. It is the first special roll-on/roll-off terminal of advanced international level in northeast China. Since becoming operational in July 2006, it has become a hub for commercial vehicles in China and a regional transit center for multimodal transport.
"In addition to well-developed road access, we are also the only special roll-on/roll-off terminal in the country with direct access to railways," said Guo Yingqiao, a senior executive with the joint venture, adding that it can provide all-weather berthing service to all types of roll-on/roll-off vessels.
"The annual handling capacity of the terminal has increased from 27,000 vehicles in its early years to 826,000 vehicles at present, with an average annual growth rate of over 33 percent since 2010," Guo said.
Currently, the terminal consists of one 50,000-ton and two 10,000-ton berths, while its 450,000-square-meter storage yard can accommodate 25,000 cars. According to Guo, it handled 430,000 vehicles through sea-railway combined transportation in 2018. The figure reached 223,000 in the first half of the year, 100 percent of the country's total.
The terminal has improved its service system for the automobile supply chain and intensified cooperation with automakers, shipping companies, logistics firms and the railway sector. There are regular ferries between the terminal and Yantai, Shanghai, Guangzhou and Ningbo, as well as other ports along the Bohai Sea Rim. It also has sea routes to Japan, Europe, the Americas, the Mediterranean and the Gulf region.
To satisfy market demand and handle large roll-on/roll-off vessels, Dalian Port plans to build two 70,000-ton and one 50,000-ton berths in its northern section, with a total shoreline of 964 meters and a land area of 936,000 square meters. "Now, a 70,000-ton berth and a 300,000-square-meter storage yard are ready for operation. After all new berths are put into use, the automobile terminal will be able to handle 1.8 million vehicles per year, the largest among all ports in China," Guo said.
(Reporting from Dalian,Liaoning Province)
Copyedited by Rebeca Toledo
Comments to dengyaqing@bjreview.com