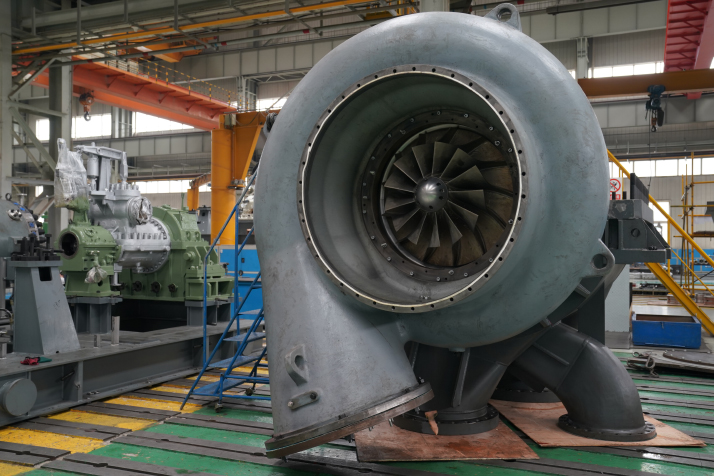 A compressor being assembled at the Shenyang Blower Works Group (SBW) in Shenyang, northeast China's Liaoning Province, on September 6 (ZHANG WEI)
Less than a year after he started working at the Shenyang Blower Works Factory, the predecessor of the Shenyang Blower Works Group (SBW), Wang Chuanghua was assigned a task in May 1992 to design two compressors with a pressure of 160 kg for a national-level chemical fertilizer project.
"I was very excited to receive such an important mission not long after arriving in the factory," Wang, SBW Associate Chief Engineer, who had just returned to Shenyang, northeast China's Liaoning Province, from the company's production and test base in Yingkou, told Beijing Review.
Established in 1934, the factory became China's first blower manufacturer in 1952. For over 60 years, SBW has focused on manufacturing equipment for energy and chemical industries, creating a number of records in China and establishing itself as an industrial leader. The company, however, suffered difficulties in the early 1990s.
Trying times
As China's reform and opening up advanced in this period, a large number of enterprises were established, stimulating the market demand for various kinds of equipment. However, SBW received few orders because of its poor technology capability, leading to financial difficulties.
At the same time, domestic equipment manufacturers fell far behind their foreign counterparts, with SBW only
capable of producing small-sized equipment. Compressors of larger sizes had to be imported. "In the early 1990s, our company would get orders only for the simplest compressors. The pressure of the compressors I designed could rarely surpass 40 kg, and even the 160-kg compressors were simple ones based on current standards," said Wang.
It is widely accepted in many industrial sectors that compressors decide the profitability of a factory. Transmitting various gases and liquids through the use of energy, a compressor acts like the heart in a human body; thus it is called the heart of industry.
SBW made it its goal to improve technology capability and develop compressors on par with foreign products as quickly as possible. The only solution was to promote innovation as well as research and development (R&D).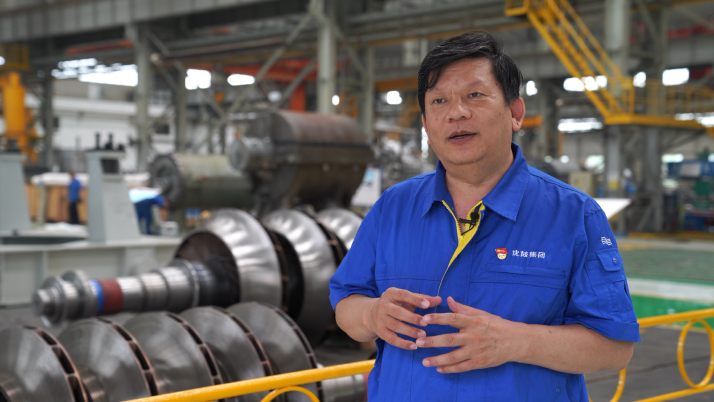 Wang Chuanghua, SBW Associate Chief Engineer (XINHUA)
Road to innovation
Every member of SBW was a participant in the innovation revolution, since it could not be realized overnight. For instance, Ma Jiangfa, former SBW Chief Engineer, managed to continue R&D despite financial hurdles. Chen Fufang and other engineers gave up their management positions and devoted themselves to technology
development, working to improve the efficiency of compressor impellers. Young engineers such as Wang, while learning from senior engineers, brought innovative energy to the company.
During the 1990s, most compressor designs were hand drawn and usually an engineer could design only one or two compressors a year. Although computers were in use in SBW's design department, few gave them a try since no one had studied computer-aided design. "I was thinking of how to create a computer program to finish a design quickly that used to take one or two years," said Wang. He received three orders in one month and using computer drawing, finished all of them within five months.
Since SBW regards innovation as the source of development power, it has always provided awards for innovation. Every year the company rewards achievements made not only by engineers, but also by workers. It has adopted stock option incentives and introduced a profit-sharing mechanism concerning the intellectual property rights developed by staff members. These measures have helped establish an atmosphere of innovation and forward thinking in the company among all staff.
In addition to encouraging innovation, SBW also emphasizes the training of talent, creating an environment of respect for knowledge, talent and technology, while offering competitive salaries and benefits for technology and research professionals.
At SBW, three career paths are provided: skill, technology and management. From junior skilled worker to professor-level specialist, from ordinary engineer to professor-level senior engineer, and from office clerk to general manager, the three different paths provide every SBW staff member with career prospects and help the company establish a sound talent pool of all ages. "Among equipment manufacturers worldwide, such a large core team is very rare, and SBW has enough qualified talent to pass on technologies," Wang said.
A key project
As it advances innovation, SBW has accumulated enough strength for success. In 2011, the National Energy Administration (NEA) assigned SBW to develop compressors to serve air separation units capable of producing 100,000 cubic meters of oxyen per hour, a national-level key project. This was part of a large coal liquefaction project by China Shenhua Energy Co. Ltd. and Wang was selected to lead the project. At the time, he was a senior engineer with over 20 years of experience in air compressor design.
An air compressor of this capacity is regarded as the Mount Qomolangma of the compressor industry because of the extremely complicated technologies it requires. The Chinese market had long been monopolized by two German producers, Siemens AG and MAN Energy Solutions. Wang understood it was an arduous task since he knew of a number of cases where Chinese enterprises had no choice but to choose large foreign air separation compressors.
"Developing large air separation compressors is something that is required by China's energy mix," Wang said. "China has abundant reserves of coal, but its reserves of oil and natural gas are inadequate, so we are now heavily reliant on imported oil and gas." To change this situation, China must readjust its energy mix, making the development of the deep processing of coal necessary. Air separation compressors that are able to produce oxygen serve as the core equipment of coal liquefaction, for which large amounts of oxygen and water are needed.
Wang and his team spent hundreds of days developing the huge air separation compressor. In August 2015, SBW's first compressor of this kind was successfully tested at the company's Yingkou test base and passed the NEA's acceptance check. In April 2018, the compressor, which had been in operation in Shenhua for a year, passed the expert appraisal organized by the China Machinery Industry Federation. After the success of SBW's 100,000-cubic-meter air separation compressors, the prices of those same foreign products were cut in half, and SBW became known as a "national weight" in China's petrochemical equipment manufacturing in the country's competition with foreign producers.
"The Shenhua project alone needed 12 air separation compressors with a capacity of 100,000 cubic meters per hour, which means broad market prospects. The first compressor helped us gain client trust," said Wang. After the project was completed, Wang and his team didn't stop innovating, further improving the structure and efficiency of the compressor.
In addition to the 100,000-cubic-meter air separation compressors, SBW has also achieved breakthroughs in the domestic production of equipment such as million-ton-level ethylene compressors and 10-million-ton-level oil refining compressors, among others. While breaking the monopolies of foreign corporations in technologies and keeping Chinese-made equipment up to world advanced levels, SBW has established itself as a key segment in China's industrial chain.
(Reporting from Shenyang,Liaoning Province)
Copyedited by Rebeca Toledo
Comments to dengyaqing@bjreview.com