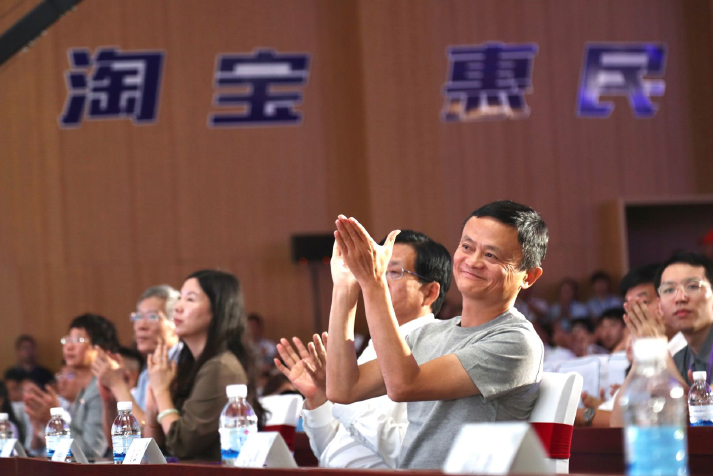 Jack Ma (front right), founder of Alibaba Group, applauds award-winning e-commerce practitioners at the Seventh China Taobao Village Forum in Huimin County, Shandong Province, on August 30 (COURTESY PHOTO)
Jack Ma, founder of Alibaba Group, said on August 30, that his company will work with local governments to build a new supply and marketing system for rural areas in China where farmers can buy better seeds and fertilizer, and sell their products as well.
He made the announcement during a speech at the opening session of the Seventh China Taobao Village Forum held in Huimin County, east China's Shandong Province.
Ma said although China's Supply and Marketing Cooperative (SMC) system helped develop the agricultural industry and rural areas, it needs to undergo reform and adopt new ideas and technologies.
Alibaba is willing to work with local governments to build a new SMC system to help farmers sell their products and purchase the finest agricultural necessities at reasonable prices, Ma said.
"It is of vital importance for Taobao to achieve better sales of agricultural products and help improve farmers' livelihood", said Ma, adding that Alibaba's success lies in the entrepreneurship of young people, farmers and small businesses. Taobao is the e-commerce giant's major online shopping platform.
He also said he is glad to see that the majority of Chinese people are embracing e-commerce, and that it is bringing talent back to China's rural areas.
"I believe the best opportunities lie in rural areas and rural industries," Ma said. "It is encouraging that more young talent are going back to villages to develop the countryside."
He also suggested local governments help ink preferential policies to attract talent, improve the e-commerce business environment and protect the environment.
In 2009, when AliResearch, Alibaba's research arm, tried to locate Taobao Villages, a term coined by the company to define villages with e-commerce volume exceeding 10 million yuan ($1.39 million), there were only three.
But in 2019, 4,310 Taobao Villages were spotted scattered in 25 provinces, according to a report released during the forum.
In 2018 alone, the total sales volume of all 2.4 million vendors in Taobao Villages exceeded 700 billion yuan ($109.5 billion), accounting for 50 percent of China's rural e-commerce volume and creating 6.83 million jobs.
The report is co-authored by AliResearch, Nanjing University, Zhejiang University and the Chinese Academy of Social Sciences.
(Reporting from Huimin County, Shandong Province)
Copyedited by Rebeca Toledo
Comments to maxiaowen@bjreview.com