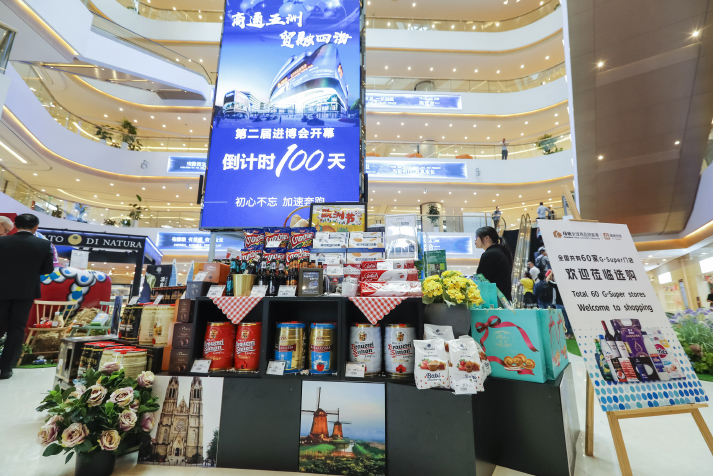 A display at the Greenland Global Commodity Trading Hub during a 100-day countdown to the Second China International Import Expo (CIIE) event in Shanghai on July 25 (XINHUA)
This year, the Chinese Internet giant Alibaba Group made a decision to cooperate with a local aquatic product company for the Second China International Import Expo (CIIE) to be held on November 5-10 in Shanghai.
"There is a Chinese saying that food is people's paramount necessity," Yi Guangtao, Director of Alibaba's Auction platform, told Beijing Review, "The reason we chose a food company this time is that Chinese people are showing increasing demand for high quality food."
The CIIE, the world's first import-themed national-level expo, was launched last year on November 5-10, surpassing expectations in its debut season, as the value of intended deals hit $57.8 billion.
Eyeing China's huge market, companies from around the world are lining up to participate in this year's expo.
Over 3,000 companies from more than 150 countries and regions have confirmed their attendance, said Vice Minister of Commerce Wang Bingnan at a press conference organized for the 100-day countdown to the second CIIE on July 26.
As part of China's efforts to promote the import of foreign goods, open up wider to international markets and meet domestic demand for high-quality goods, Wang said this year's expo, themed New Era, Shared Future, will feature larger scale, higher quality, stronger innovation, higher level and better results based on the experience and practices of the first expo.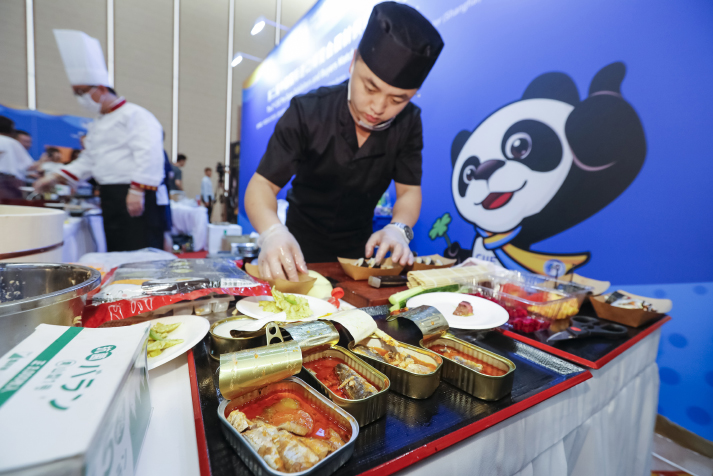 A chef prepares sushi at the booth of a Spanish company during a matchmaking event for the Second CIIE held at the National Exhibition and Convention Center in Shanghai on July 26 (XINHUA)
Bountiful fruits
"I met with many of my counterparts in the healthcare industry who said the CIIE is a fantastic opportunity, so we can't miss it this year," Julio Gay-Ger, President of Lilly China, a U.S. pharmaceutical company, told Beijing Review.
To make up for lost time due to its absence last year, Lilly will display five new products, three of which have already arrived in the market. In addition, Lilly's third factory in China with an investment of 2 billion yuan ($291 million) will be finished in November to localize the production of insulin in Suzhou, east China's Jiangsu Province.
"There are 450 million people all over the world who suffer from diabetes; almost 150 million, or one third of them, are in China, so the opportunity to serve Chinese patients is big," Gay-Ger said, adding that the plant is also planning to export products from China to other parts of the world.
This year more than 250 companies on the Fortune Global 500 list have confirmed their participation at the expo, among them are both old friends who have already benefited from the maiden CIIE and new friends who want a piece of the pie.
"Most of the agreements (from the First CIIE) have been completed, while some are still in progress since the one-year contracts have not yet ended," Assistant Commerce Minister Ren Hongbin said at the press conference. "Exhibits, such as the coin-sized cardiac pacemaker, have already entered the Chinese market, which shows that the contracts are taking effect," he said.
The Shanghai Shenkang Hospital Development Center, an investor in public medical institutions, organized 17 public hospitals in Shanghai to sign contracts to import 33 types of medical equipment during the First CIIE. To date, 27 of them have been installed and are in use.
To amplify the spillover effects of the First CIIE, platforms such as the Greenland Global Commodity Trading Hub (G-Hub) and the Hongqiao Import Commodity Exhibition and Trade Center have been created, which feature a "6+365 days" professional service model, meaning the six days of the expo plus year-round services. Exhibits from the First CIIE or those that were not able to participate in the expo can enter these permanent exhibition and trade platforms for sales and purchases.
"Last year at the CIIE, our volume of business was 2 million euros ($2.23 million); we have since accumulated customers who came to us after the expo through this platform," said a representative from the Czech Republic Pavilion at the G-Hub right next door to the National Exhibition and Convention Center where the expo will take place. "So far, the volume of transactions after the First CIIE is 3-5 million euros ($3.34-5.57 million)."
Due to the limited quota, the U.S. manufacturer Stanley Black & Decker will be unable to participate in the Second CIIE. "It is a pity that we can't be in the exhibition center where the expo will be held, but this location is good since buyers and customers can visit our brand here. It is a great opportunity for exposure," Aylin Bagci, the company's Vice President of Commerce for Asia Pacific, told Beijing Review at the G-Hub.
According to Shang Yuying, Deputy Secretary General of the Shanghai Municipal Government, a total of 31 such platforms have attracted 558 exhibitors from the First CIIE with over 13,600 kinds of products. By July 15, imports through the platforms totaled 75.2 billion yuan ($10.9 billion).
Chinese President Xi Jinping said at the First CIIE, "China's initiative to expand imports is not a choice of expediency. It is a future-oriented step, taken to embrace the world and promote common development. The CIIE, an event to be held on an annual basis, will feature good performance, good results and continued success in the years to come."
To this end, efforts have been redoubled. "The government has carried out a lot of healthcare reform in the last couple of years which helped to accelerate innovation," Gay-Ger said. "Patients can get the best innovative medical products in the fastest possible time, which is great progress."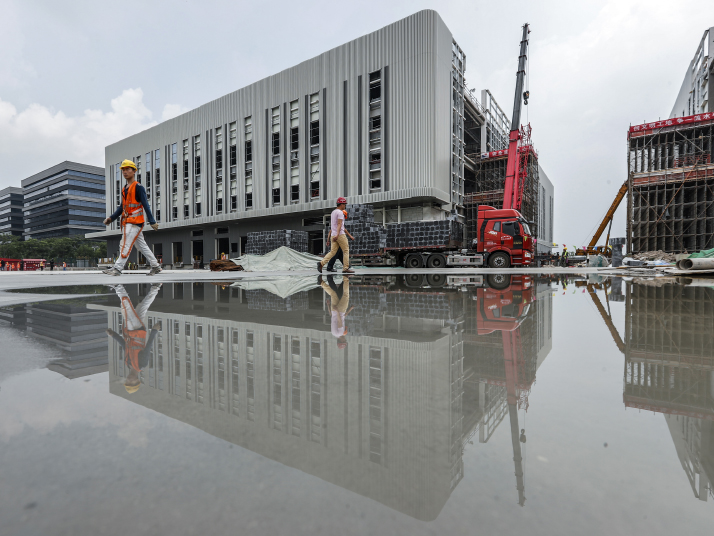 Workers at a bonded warehouse under construction at the Hongqiao Import Commodity Exhibition and Trade Center in Shanghai on July 25 (XINHUA)
Continued success
To facilitate trade, the government also launched preferential policies on tariffs. In 2018, China lowered tariffs on imported goods from 9.8 percent to 7.5 percent on average and issued a guideline in July to expand imports, facilitate trade, lower compliance costs and optimize the structure of imported goods.
Since 2019, the government has repeatedly adjusted import tariffs for vehicles, auto parts and value-added tax on drugs for rare diseases, among others, and expanded the scope of consumer goods subject to lower import tax rates.
According to Dang Xiaohong, deputy head of the department of port control of the General Administration of Customs of China (GACC), the clearance time for imported exhibits at the First CIIE was shortened by two thirds due to supporting policies.
"The salmon we eat in Shanghai is 10 days old due to the long clearance time, more in inland cities, which is not as fresh as when it's caught in Japan," Qian Bing, president of the international aquatic products trade center in Shanghai that is partnering with Alibaba this year, told Beijing Review.
"We solicited opinions from all stakeholders and identified 120 specific items for improvement," Xu Kunlin, Deputy Director of the CIIE's Organizing Committee and Vice Mayor of Shanghai, said on July 26.
"This year, we have made two practices from the First CIIE permanent and will introduce them to other import-themed expos in the country," Dang said, referring to last year's most popular practices of extending time for the ATA Carnet, a passport for imported goods, from six months to one year, and permitting exhibits to be transferred to customs special supervision areas or bonded logistics center, where they are changed into bonded goods. Dealers like Qian who run fresh food businesses will greatly benefit from these policies.
In addition, the GACC launched two lists for restricted and prohibited items and a special customs office at the expo venue to provide one-stop services for exhibitors. The prohibition list has been reduced from four items to three this year.
Furthermore, the Shanghai Intellectual Property Administration said it will set up a service window at the expo and give priority to reviewing exhibitors' applications. The administrative power to regulate the trade of endangered aquatic plants and animals has been delegated from the Central Government to the Shanghai Municipal Government.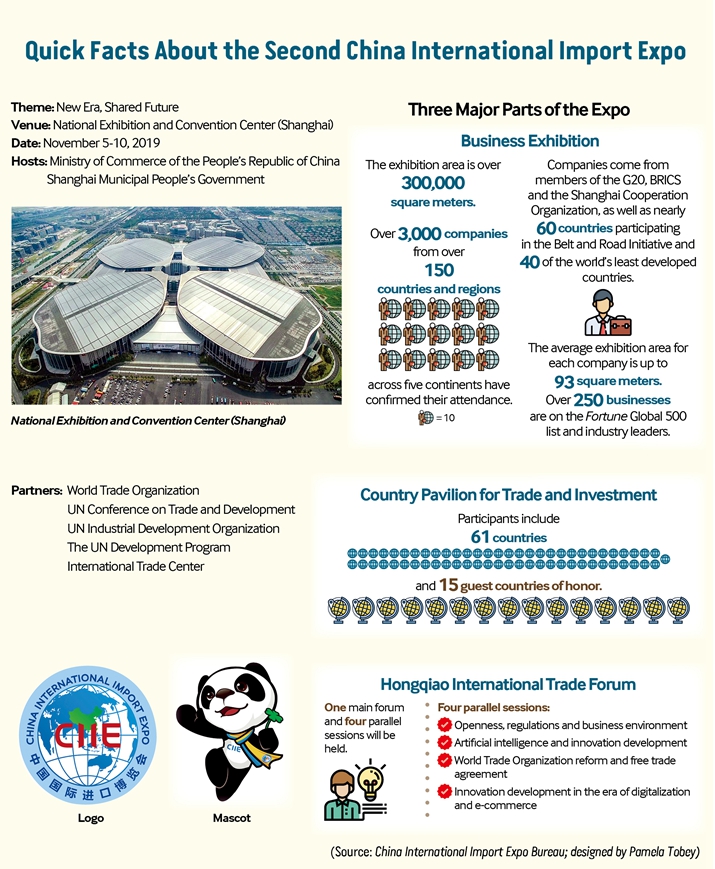 Mutual growth
The CIIE is a global platform, which indicates its achievements should be enjoyed by all participants at large.
"The CIIE is an important platform for inclusive growth," Ren said. Last year, over 170 U.S. companies participated in the First CIIE, ranking third in quantity and covering over 36,000 square meters. This year, U.S. companies already outnumber last year's, while their exhibition area has grown by 35 percent.
"The increase indicates that the Chinese market contains enormous attraction for domestic and overseas businesses, including those from the U.S. despite trade friction," Ren said.
"I don't think the U.S.-China trade friction will affect companies, at least it doesn't affect our business, because we are in the business of innovation and the Chinese Government is very committed to continuing healthcare reform," Gay-Ger said.
African countries are also important exhibitors for the platform, Ren said, adding that the government has provided them with many supporting measures.
"We removed tariffs and quotas on 95 percent of imported products from the most underdeveloped countries in Africa," Ren explained. For example, the CIIE set preferential prices for expo pavilion booths.
"Almost all of the 55 countries and regions on the African continent participated in the First CIIE, however their product variety was not diverse enough," he said, "But we will keep focusing on bringing products from the most underdeveloped countries in Africa as well as its developing countries to China in the hope that through the CIIE, it will be possible to push forward industrialization, economic and trade development and the overall advancement of China-Africa economic and trade ties."
Yu Shuai, CEO of the newly established China agency of Manda S.A., a Madagascar food company, said, "Agricultural products in Madagascar are natural, however, due to a lack of knowledge about China's import policies and quality requirements, they are barely sold in China. So we want to have face-to-face exchanges with purchasers at the CIIE to enhance understanding and enter the market."
In addition, other participating companies at the Second CIIE are members of the Group of 20, BRICS and the Shanghai Cooperation Organization, with nearly 60 countries participating in the Belt and Road Initiative and 40 of the world's least developed countries.
"China sticks to the policy of opening up, and the Second CIIE will further advance economic globalization and trade liberalization," Sun Chenghai, Vice President of the CIIE Bureau, told Beijing Review at the news conference.
Along with exhibitors, the CIIE brings tangible benefits to domestic purchasers. "Previously, we had to go to trade fairs around the world to get foreign goods which consumes time and money, but now we see these products in one platform," Qian said.
"It seems as though China is only helping foreign companies to do business, but it's actually a win-win situation," Qian added.
Copyedited by Rebeca Toledo
Comments to zhangshsh@bjreview.com