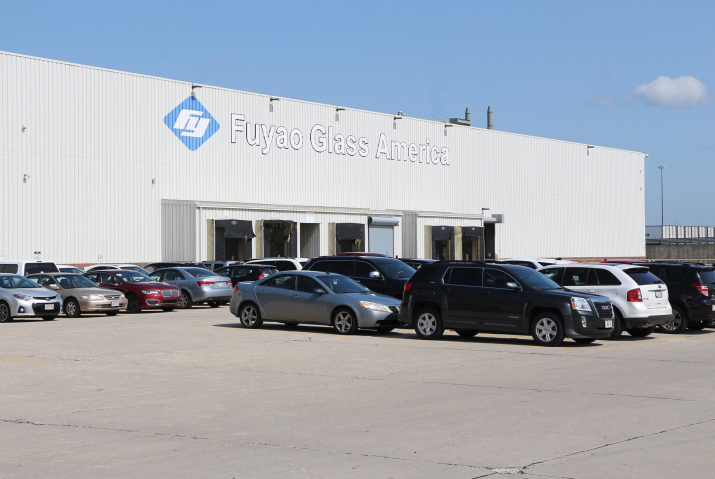 The workshop of Fuyao Glass America in Moraine, Ohio (ZHAO WEI)
Chuck Marr, 63, once an owner of a bar and grill in Moraine, Ohio, has worked at Fuyao Glass America for three years. He plans to continue working there well over 70 years old as long as he's in good health. "It's a better place to work," said Marr, who started at an entry-level position, has been promoted several times and is now a supervisor leading a group of 35 workers.
"Unlike General Motors, which was based on seniority, it's all performance based here. So the harder you work, the quicker you can advance and the more you can earn accordingly," he said. Thus, young workers are also attracted to the company. "I've seen 21-year-old supervisors," Marr said. "Young people are moving up through the ranks and that's very unusual, especially in the automotive industry."
Fuyao Glass America, the U.S. branch of Chinese auto glass maker Fuyao which began production only three years ago, has not only won the trust of its employees but has also become a role model of Chinese investment in the local community.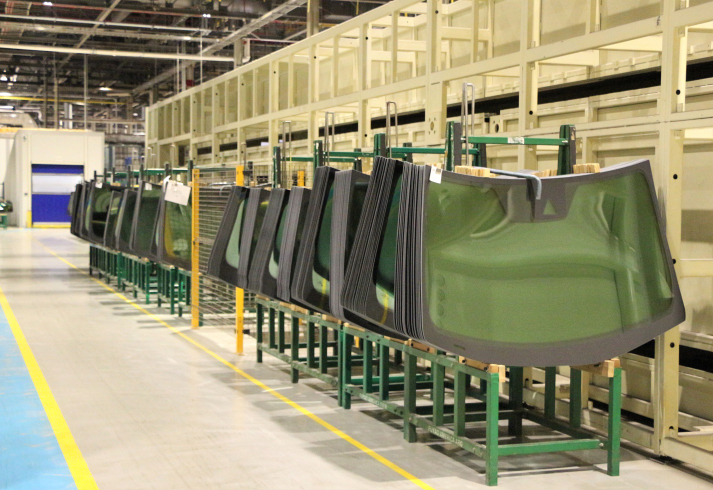 Finished products in the workshop of Fuyao Glass America (ZHAO WEI)
Local benefits
Five years ago, Fuyao acquired an abandoned plant from General Motors in Moraine, which is part of the Dayton metropolitan area that sits along the country's Rust Belt.
Fuyao invested $600 million and its plant started full-scale production in 2016, with an annual capacity of 4.5 million sets of automotive glass and 4 million pieces of windshield glass, making it the world's single largest manufacturer of auto glass.
However, as a foreign company, Fuyao encountered a big crisis due to a cultural clash on the factory floor. The company moved to solve safety issues and improve the work environment as a result. It now employs about 2,400 people, most of them locally hired.
Mitch Heaton, Vice President of the Dayton Development Coalition, said Fuyao's contribution has been tremendous, referring to the number of employees it has hired.
"Generally, for every dollar spent [by Fuyao], seven go to the community," said Heaton.
Niraj Antani, State Representative for the 42nd District, also said that Fuyao's contribution is critical, adding that not only is it employing local people, it is employing them at a good wage. Fuyao has already made one wage increase in just the past three years, he said.
"From a community perspective you're talking about 2,400 families that are being supported. From a governmental perspective, that's also 2,400 new taxpayers," Antani said.
Fuyao is also a good citizen for the community, said Jeff Liu, President of Fuyao Glass America. On July 20, about 100 of Fuyao's top executives and employees built the entire frame to one of the houses that the company is going to construct this year, which will serve a family of about five. The Heran Foundation, launched by Fuyao Chairman Cao Dewang in 2017, committed $50,000 to the project.
In December 2017, the company also established the Fuyao Glass America Hardship Fund, the first relief fund to provide financial assistance grants directly to its employees during times of hardship or disaster.
Liu said it's important to build a great culture if the company is going to keep its employees. "Turnover is going to kill the company," he said.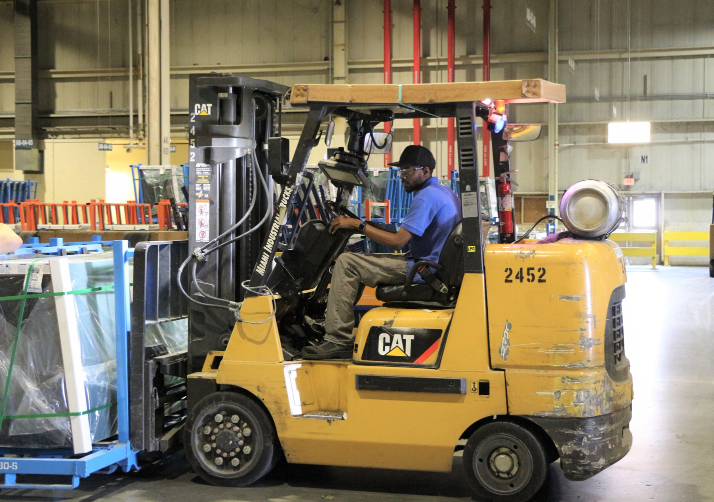 A local worker drives a forklift in the workshop of Fuyao Glass America (ZHAO WEI)
More 'Fuyaos' wanted
Thanks to Fuyao, the Dayton area, the county and the state of Ohio are wooing more investments from China.
Antani said they want to see more foreign direct investment (FDI) cooperation between the state of Ohio and China. "An example of FDI, like Fuyao, is very important. It's relationships like these that will show both of our national leaders what these relations can do for our countries."
Phillip Parker, President and CEO of the Dayton Area Chamber of Commerce, said it is really enjoying the investment that Fuyao and its chairman have made in the community, but it also looks forward to the possibility of other Chinese investments in the future. "There can be a synergy that we've seen with other industries with other countries," said Parker, citing an example of the large number of Japanese member companies in the organization.
Erik Collins, Director of Montgomery County's Economic Development Department, said, "We're excited about fostering and bringing more Chinese businesses to our community, and then of course, working with our local companies to do more work in China." He added that the Dayton region has focused on making itself a business-friendly community and that the department will do its utmost as it works with local businesses to connect them with Chinese opportunities.
According to Collins, the county is doing a global report for the region, profiling its connections in different countries, and China is among them. "I'm happy to say that we are seeing more and more connections that we're working on in China," Collins said.
More connections between the region and China have been in the making. Heaton said he just went to Fuyao's headquarters in Fuzhou, southeast China's Fujian Province, and spent time with 11 companies throughout Fujian. They will also be hosting a very large delegation from central China's Hubei Province, including Jinmen City, in September.
(Reporting from Dayton, Ohio)
Copyedited by Rebeca Toledo
Comments to yushujun@bjreview.com