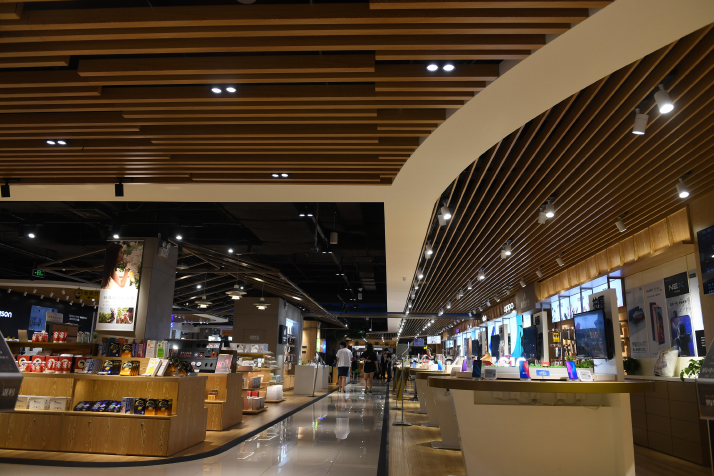 A Suning store in Nanjing on June 12 (XINHUA)
With Suning.com, one of China's leading retailers, announcing it was purchasing a controlling stake in French retailer Carrefour's business in China, retail in China gets a fresh impetus. Suning now joins the two tech giants Alibaba and Tencent in turning to fast-moving consumer goods (FMCG) businesses for growth.
Home appliance specialist Suning runs one of China's largest business-to-consumer e-commerce platforms. A company report said it had over 8,800 stores in more than 700 cities by the end of the first quarter this year.
Eyeing the greater opportunities brought about by New Retail, a concept introduced by Alibaba founder Jack Ma that refers to the integration of online, offline, logistics and technology in a single business, Suning is now improving the weak points in its grocery and fresh food arm.
The Nanjing-based company announced on June 23 that it was buying 80-percent equity in Carrefour China for 4.8 billion yuan ($698.8 million) in cash. After the acquisition, Suning will have five seats out of seven on Carrefour China's supervisory board. The transaction is under regulatory approval and is expected to close by the end of the year.
The company said it will digitalize the Carrefour China stores and further integrate its online and offline businesses after the deal is completed.
Complementary synergy
Carrefour China was running 210 hypermarkets and 24 convenience stores in prime locations in 22 Chinese provinces and municipalities by March. It used to be one of the most popular supermarkets for locals.
However, its heyday in China seems to have gone as people's consumption habits and demands are rapidly changing along with technological growth. Europe's largest retailer has spent years trying to fix its business in China, but its 2018 sales fell 5.9 percent to 4.1 billion euros ($4.6 billion) and its operating loss was 32 million euros ($36 million).
As delivery services and online payment expand, wandering through supermarket aisles and waiting in long queues to check out are no longer the first choice of many customers.
Suning, one of the first brick-and-mortar home appliance stores that went online, is expanding its retail business in daily necessities. The strategy is paying off. During its promotional campaign on June 18, Suning's earlier acquisition of 37 Wanda department stores from Chinese conglomerate Wanda Group led to sales of 750 million yuan ($109 million).
According to Suning Vice President Tian Rui, Carrefour and his company can achieve complementary cooperation. While Carrefour has developed strong supply chains, substantial offline operation experience and brand awareness, Suning enjoys extensive logistics networks and advanced technology.
"By combining the comparative advantages, Suning can improve its online-to-offline layout of FMCG, efficiently reduce costs in sourcing and logistics, and enhance its market competitiveness and profitability," he told 21st Century Business Herald.
The deal will also raise the value of Suning's commercial property portfolio, since Carrefour's stores are self-owned or on long-term lease in first- and second-tier cities, Tian said.
However, integrating Carrefour's assets and structures with Suning's retail business is a challenge. Suning's financial performance may be negatively impacted in the next one or two years.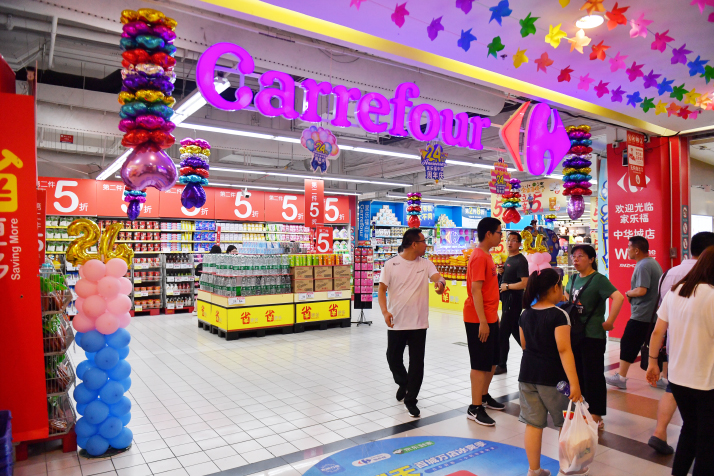 Shoppers at a Carrefour store in Xiamen, southeast China's Fujian Province, on July 11 (WEI YAO)
Switching to smart retail
As e-commerce soars in China, traditional retailers are experiencing a slowdown in large-size retail formats like hypermarkets and supermarkets. Facing mounting pressure from new players, several traditional giants have chosen to exit the Chinese market, sell stakes or seek cooperation with e-commerce players.
British groceries and general merchandise retailer Tesco, for instance, teamed up with Chinese retailer China Resources Enterprise for a minority share in the joint venture. Lotte Mart of the Republic of Korea exited around last year while Amazon.com, the world's largest online retailer, announced in April that it would stop providing services to third-party merchants in China. Amazon has been struggling to improve its performance in the Chinese market where it came a distant seventh after Chinese operators like Alibaba and JD.com.
To find a way out, retail giants such as Walmart of the U.S. have turned to China's e-commerce players for new impetus. Walmart China last year announced it was working with Tencent on smart retail to expand digitally and promote Tencent's online services such as mobile payment and mini programs.
But despite the retreat of struggling foreign retailers, China's market with its huge demand hasn't lost its luster. On June 7, ALDI, the Germany-based discount supermarket chain, opened its first store in Shanghai. According to Ministry of Commerce (MOFCOM) data, China's consumer goods sales reached 38.1 trillion yuan ($5.5 trillion) last year, up 9 percent from 2017. Consumption has remained the main driver of economic growth for five straight years.
"To adapt to the rapid development of China's market, foreign retailers need to localize their services," Ding Liguo, a retail specialist, told National Business Daily.
Challenges ahead
In March 2015, Alibaba launched its Hema Fresh Stores, which offer products ranging from meats, vegetables, dairy and frozen seafood to wine and prepared food. Consumers can view the products and pay through a mobile app and people living within 3 km of a store can receive their orders in 30 minutes. As such stores become the new choice for people seeking both fresh food and convenient services, New Retail has turned into a key battleground among China's retail giants.
According to a white paper on China's retail industry by accounting firm KPMG in 2018, many online sellers' costs to attract and retain customers exceeded brick-and-mortar stores' expenses.
As New Retail emerges, neither e-commerce nor offline retailing will be able to develop exclusively, Li Mingtao, a researcher with China International Electronic Commerce Center, a Chinese e-marketplace, said.
To avail of traditional retailers' long-accumulated strengths, e-commerce giants are reaching out to both foreign and domestic brick-and-mortar stores. Alibaba has purchased stakes in China-based retailer Sun Art Retail and is cooperating with the Bailian Group to open convenience stores. Tencent, besides its tie-up with Walmart, has purchased stakes in domestic supermarket Yonghui Superstores to strengthen its grocery business.
However, the integration between the e-commerce giants and traditional retailers is not yet seamless. An e-commerce specialist, who declined to be named, said that the long time and high cost of transportation in large cities and inadequate supplies in convenience stores are prominent challenges for retailers to retain consumers. High rentals and labor costs are also a factor that e-commerce giants attempting to expand their offline business have to deal with.
Most importantly, the diversified customer demand has upped the ante in the New Retail competition. According to Suning Chairman Zhang Jindong, the time when the growth of retail industries was mainly driven by capital has ended. Instead, improving customers' experience through technology has become key for retailers to achieve success.
Suning has opened several unstaffed shops across the country since 2017, where facial recognition technology is used for payments. The smart shelves displaying products can inform warehouses automatically when the goods run out. Customers enjoy a smart consumption experience and improved efficiency.
The trend of integration between offline and online businesses has created new challenges for both domestic and foreign retailers in China, while it can promote innovation and upgrade domestic consumption, MOFCOM spokesperson Gao Feng said at a press conference in June.
Copyedited by Sudeshna Sarkar
Comments to lixiaoyang@bjreview.com