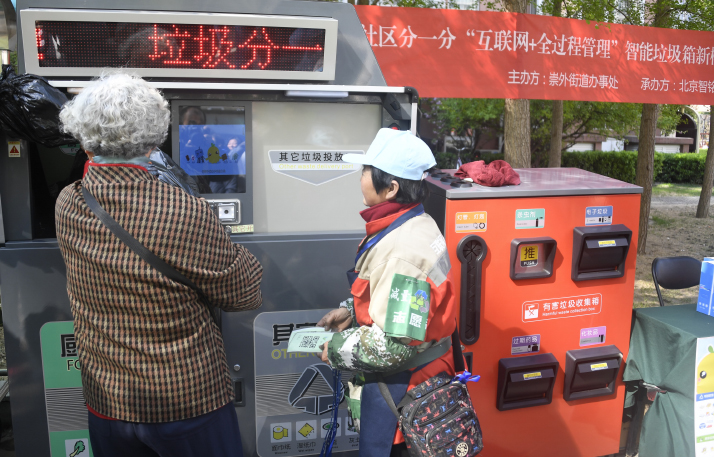 A volunteer helps a resident operate a smart garbage sorting machine in a residential block in Beijing on April 10 (XINHUA)
Smack in the middle of two buildings in an upscale residential compound in Shenzhen, south China's Guangdong Province, stand six "picky eaters" who are waiting for their exclusive feed of the day. Each has its own special diet: glass, metal, plastic, paper, batteries and light bulbs.
They are trash containers designed for garbage classification, equipped with a smart voice informer and a camera to guide and supervise residents to sort their garbage correctly. To date, there have been 35 such household waste collection sites in the community and volunteers are present every night to guide residents. In 2018, these bins collected 13.9 tons of glass, metal, plastic and paper and 876 kg of batteries.
The community is part of a pilot program designated by the State Council, China's cabinet, to explore the building of waste-free cities in January. The program involves 11 cities, including Shenzhen, downtown Chongqing in the southwest and Sanya in the southern province of Hainan, and five other areas across the country.
The development of waste-free cities refers to an urban development model that aims at minimizing landfills and the environmental impact of solid waste by promoting green production and lifestyles, reducing solid waste at the source and transforming them into resources.
"The pilot program is a reform and innovation project for the overall management of solid waste in social and economic development," Zhuang Guotai, Vice Minister of Ecology and Environment, said at the launching ceremony of the program on May 13. "It aims at establishing mechanisms, technologies, markets and regulatory systems that are suitable for building cities without waste and forms a string of replicable models to lay a solid foundation for nationwide implementation."
By the end of 2020, garbage classification systems will have been built in 46 major Chinese cities, and all cities at the prefecture level and above should have such systems by 2025, according to official targets unveiled in February.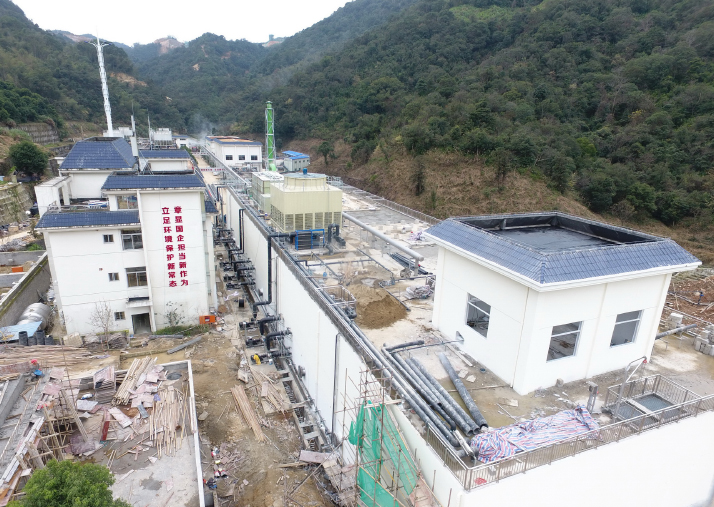 A leachate treatment plant in Fuzhou, southeast China's Fujian Province, on January 15 (XINHUA)
Greener city
The actual waste varies from agricultural waste to domestic refuse, which is a broad concept. However, it does not mean there is zero waste or that the solid waste can be fully utilized. It is an advanced concept of urban management with the purpose of minimizing solid waste generation, making adequate utilization of resources and providing safe disposal of a city's entire waste, which requires long and stringent efforts.
In addition to an accumulated stock of industrial solid waste up to 70 billion tons, China produces more than 10 billion tons of solid waste annually, with the growth rate rising drastically year by year. Du Xiangwan, Chairman of the Committee of the Pilot Program of Cities Without Waste, said in May "if not properly disposed and utilized, the huge amount of solid waste will result in serious environmental issues and a huge waste of resources."
Currently, China has a foundation for the construction of cities without waste. With joint efforts by governments at all levels, enterprises and citizens, a new outlook can be anticipated, which will create environmental, social and economic benefits, Du added.
The 11 cities and five areas including Xiongan New Area, a new economic zone near Beijing in north China's Hebei Province, were selected for meeting the program's requirements. In the process, the Ministry of Ecology and Environment (MEE) prioritized national strategic areas such as the Beijing-Tianjin-Hebei region, the Yangtze River Economic Belt and the Guangdong-Hong Kong-Macao Greater Bay Area as well as localities that have implemented or are implementing garbage sorting programs that have borne fruit.
For example, under Chongqing's garbage classification regulations that took effect on January 1, pilot programs have been launched in 23 residential blocks throughout its urban areas. By 2020, at least half of the sub-districts and towns in downtown Chongqing are expected to implement garbage sorting, and the recycling rate of urban domestic garbage in these areas will reach 35 percent. In addition, 15 enterprises in Chongqing jointly set up an industrial alliance for the disposal of solid waste at the end of 2018, which provides technical support for the waste-free program.
More importantly, the program emphasizes the improvement of weak links in the pilot phase. Measures are mainly focused on a long-term mechanism to rationalize pollution prevention and the recycling of urban solid waste such as establishing responsibility lists for different government organs and creating an integrated management system and an index system for evaluation of achievements.
A guideline issued by MEE on May 13 said there are five general criteria for assessing the effectiveness of the program: reduction of solid waste at the source, utilization and recycling, final disposal, support capacity and public benefits.
Potential market
The program of waste-free cities will yield huge economic benefits, Du said. By 2030, the value of reused "urban mine," or recyclable rare metals, will reach 2.14 trillion yuan ($309.7 billion), the utilization of rural waste will generate profits of 3.97 trillion yuan ($574.5 billion), and the economic benefits from recycling major industrial solid wastes will top 1.35 trillion yuan ($195.4 billion).
According to a research report by Solid Waste Observer, a social media account founded by Zhang Yi, former President of the Shanghai Academy of Environmental Sciences, industry insiders estimated that in 2017, China's construction waste disposal market exceeded 80 billion yuan ($11.6 billion), double that of 2010. The average annual growth rate in the past eight years surpassed 10 percent. At this speed, the market can easily reach 100 billion yuan ($14.5 billion) by 2020.
Statistics released by MEE showed that the amount of general industrial solid waste, industrial hazardous waste, medical waste and domestic waste generated in large and medium-sized cities nationwide reached 1.31 billion tons, 40.1 million tons, 781,000 tons and 219.44 million tons, respectively, in 2017, showing great potential for the solid waste disposal industry in the future.
In addition, by 2030, the output value of China's solid waste classification and recycling is estimated at 7 trillion-8 trillion yuan ($1.01 trillion-1.15 trillion), and the sector will create 40-50 million jobs. It will become an essential pillar of China's strategic emerging industries and a new growth driver for economic development.
Driven by rising economic returns, a number of companies in the field of environmental protection that previously engaged in sewage treatment have begun to dabble in the solid waste disposal market.
According to the China Association of Environmental Protection Industry, in 2018, the combined revenue of 43 Chinese mainland and 13 Hong Kong-listed water pollution control companies totaled 256 billion yuan ($37.1 billion), up 3.6 percent year on year. Twenty-two mainland and two Hong Kong-listed air pollution prevention companies reported revenue of 117.9 billion yuan ($17.1 billion) altogether, down 3.9 percent year on year. Meanwhile, 22 mainland and 11 Hong Kong-listed solid waste disposal companies took in 288.9 billion yuan ($41.8 billion), a 19-percent increase year on year. Twenty-nine of these companies' revenue increased compared with the same period in 2017, with the highest growth rate at over 153.5 percent.
Copyedited by Rebeca Toledo
Comments to zhangshsh@bjreview.com