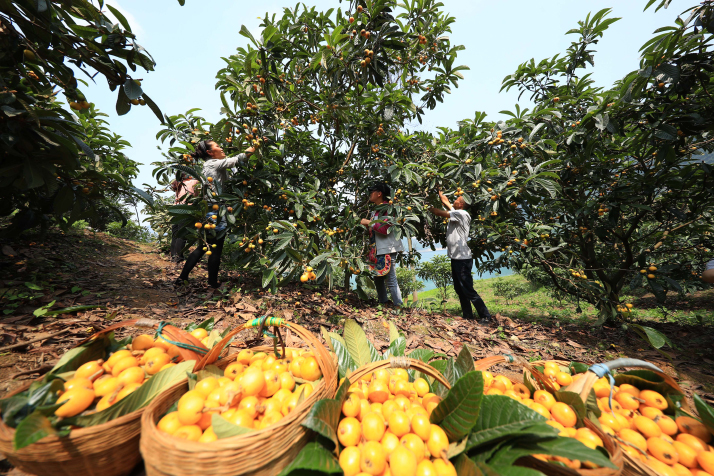 Tourists pick loquats in a village orchard in Zhijin County, southwest China's Guizhou Province, on May 16 (XINHUA)
Releasing the regular monthly figures for the economy's performance in April, the National Bureau of Statistics (NBS) said the momentum of progress continues.
"The economy performed within a reasonable range and sustained the momentum of progress in overall stability… with growing positive factors in April," the NBS said in a press release on May 15.
According to the data, in April, the index of service production increased by 7.4 percent year on year, the second highest monthly growth since September 2018. The total value added of industrial enterprises above the designated size grew by 5.4 percent year on year, 3.1 percentage points slower than in the previous month but 0.1 percent point faster than in the first two months.
While the NBS statement cautioned that "increasing instabilities and uncertainties are clouding the external environment, which is quite complicated," the impact of the trade friction between China and the U.S. is under control, Meng Wei, spokesperson of the National Development and Reform Commission (NDRC), said at a press conference in Beijing on May 17.
External challenges
Meng said the trade friction, starting in March 2018, has made some impact on China's economic growth, but it is, overall, controllable. China's capability to address external challenges is strengthening as corporate confidence becomes increasingly stable, market expectations become rational and the measures taken by the Central Government begin to take effect.
"The Chinese economy has shown sufficient resilience, massive potential and robust vitality," she said.
In April, the volume of imports and exports totaled 2.51 trillion yuan ($373.14 billion), a year-on-year increase of 6.5 percent, which was 2.7 percentage points lower than that in the previous month. Of the total, the value of exports was 1.3 trillion yuan ($193.49 billion) and that of imports 1.21 trillion yuan ($179.65 billion), up by 3.1 percent and 10.3 percent, respectively, year on year. The trade surplus stood at 93.6 billion yuan ($13.84 billion), a decline of 43.8 percent over a year ago.
This round of U.S. tariffs is what China does not want to see because it is unfavorable for both the two countries and the whole world, Meng said, referring to the Donald Trump administration raising tariffs from 10 percent to 25 percent on $200 billion of Chinese imports in May.
In response to the U.S. measure, the Chinese Government has announced new tariffs on $60 billion of U.S. imports and at the same time, is taking proactive measures to enhance reforms and strengthen the economy.
Meng said to address the pressure of any economic downturn, China will focus on developing a modernized economy. Continuity and stability of the macro policy will be ensured and counter-cyclical market management strengthened. Taxes will be cut and fees reduced further, while sufficient liquidity will be maintained. Market vitality will be stimulated through intensifying reform and opening up.
The total retail sales of consumer goods reached 3.06 trillion yuan ($443.47 billion) in April, a year-on-year growth of 7.2 percent, 1.5 percentage points slower than in March. However, the number of holidays in April was two days less than in March. If the effect of this on consumption is deducted, the total retail sales of consumer goods in April would have gone up by 8.7 percent year on year, the same as in the previous month.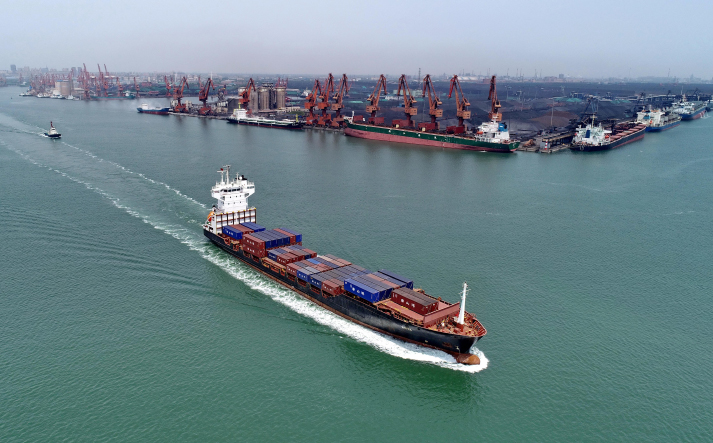 A container ship leaves Tangshan Port in north China's Hebei Province on May 20. The port's cargo throughput reached 212 million tons from January to April, up 11.42 percent year on year (XINHUA)
A powerful market
To encourage consumption, the government will improve its stimulus mechanisms. Supply channels of quality products and services will be diversified and consumption upgrading boosted in rural areas.
To ensure stable investment, the use of investment under the central budget will be accelerated, infrastructure and public services improved and technical transformation and equipment upgrading in the manufacturing industry realized.
In addition, the business environment will be improved. The government is committed to protecting intellectual property rights, facilitating investment and promoting sustainable and sound development of private investment.
In the first four months of 2019, fixed assets investment (excluding rural households) totaled 15.57 trillion yuan ($2.26 trillion), a year-on-year increase of 6.1 percent, 0.2 percentage points slower than in the first three months but 0.2 percentage points faster than in 2018.
Concerning possible fluctuations in employment, Meng said the NDRC will strengthen monitoring and early warning on the job scenario. Policies to ensure stable jobs will be implemented, such as providing unemployment insurance and giving more support to college graduates and people facing problems in finding employment to address structural unemployment.
In the January-April period, 4.59 million new jobs were created in urban areas, accounting for 42 percent of the annual target. In April, the surveyed urban unemployment rate was 5 percent, 0.2 percentage points lower than in the previous month.
To address possible fluctuations in market expectations, the NDRC will, while improving the macro policy environment, provide more targeted support to private enterprises as well as small and medium-sized enterprises to solve their difficulties, ensure important products' supplies and prices remain stable, and promote energy supply.
"History will eventually show that the Chinese economy is able to grow stronger despite external headwinds," Meng told the press conference.
In addition to resilience, massive potential and robust vitality, China also has an important advantage, NBS spokesperson Liu Aihua said at a press conference on May 15. "We have ample room for the macroeconomic policy," she said.
Liu pointed out that the inflation and deficit rates in China are now at a low level, and there are sufficient foreign exchange reserves, leaving substantial room and adequate tools to implement the macroeconomic policy. This is an important guarantee that there will be steady and sound economic growth in the future, she said.
In April, the consumer price index went up by 2.5 percent year on year and up by 0.1 percent on a monthly basis; the producer price index went up by 0.9 percent year on year and up by 0.3 percent on a monthly basis.
"China's positive economic fundamentals and long-term trajectory remain unchanged, its space for development continues to expand and its capability of addressing external challenges is improving, creating a solid foundation for the Chinese economy to maintain steady and sound development," Liu said.
Copyedited by Sudeshna Sarkar
Comments to wangjun@bjreview.com