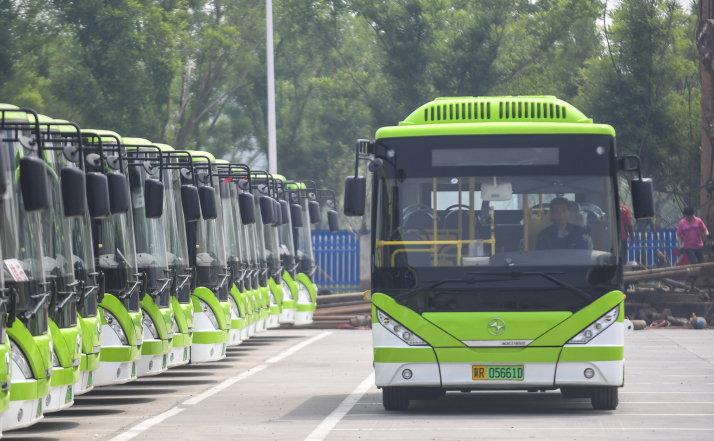 The local government in Bazhou of Hebei Province buys 150 electric buses to facilitate green transportation in 2018 (XINHUA)
Chinese Premier Li Keqiang signed a State Council decree on May 5 to promulgate a regulation on government investment, which will take effect on July 1.
Making clear the scope, methods, decision-making process and execution of government investment, the regulation is intended to guide government fund investment and prohibit government departments from illegally borrowing funds for investment or ordering construction enterprises to advance funds for government projects.
Long-awaited regulation
The drafting work for the regulation on government investment was actually started in 2001, meaning it has taken nearly 20 years for China to formulate the regulation. In an article written in 2017, Liu Lifeng, a researcher with the Investment Research Institute of the National Development and Reform Commission (NDRC), analyzed the difficulties in drafting the regulation.
The general orientation of government investment was not clear. The relationship between the government and the market was undergoing constant readjustments, and it wasn't until 2014 when the Third Plenary Session of the 18th Central Committee of the Communist Party of China made clear that "the market should play the decisive role in allocating resources in China." Without the clear positioning on the part of the government, it would have been impossible to define many other important issues.
A 2010 draft regulation included many provisions on details such as the approval procedure, construction and implementation of government investment, but didn't mention some critical issues such as the restriction on government behaviors, transparency of government decision-making and control of government debt risks. Without addressing these issues, the regulation would not have been meaningful.
In the past, coordination among different administrative departments was difficult. Of all the government investment, the NDRC only managed a small part, with the majority administered by the Ministry of Finance. In addition, ministries and commissions in charge of water conservancy, transportation and power were also significant participants in the decision-making process of related investment. Regarding issues such as those involving division of power or readjustment of department interests, it has long been difficult for different ministries and commissions to reach consensus, making it hard to formulate a government investment regulation.
In addition, how to further improve the decision-making mechanism for government investment and better introduce market mechanisms to improve efficiency during the construction and management of government investment projects are also issues that must be addressed, Wu Yaping, a researcher with the Investment Research Institute of the NDRC, told Economic Information Daily.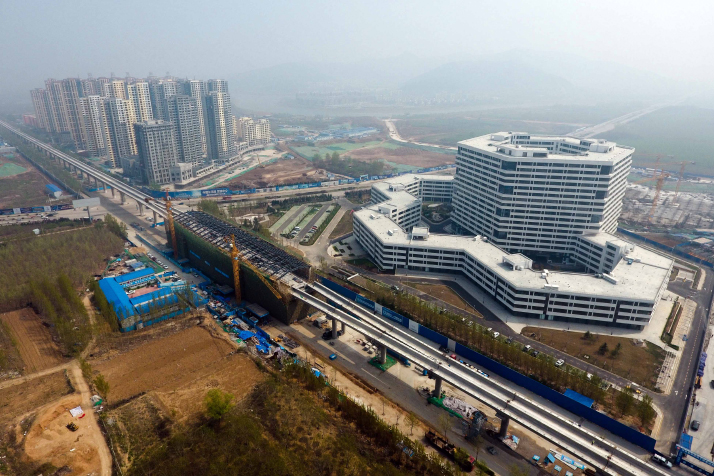 The metro line R1 is seen under construction as part of the Shandong Provincial Government's investment of 50.5 billion yuan ($7.42 billion) in 120 key infrastructure projects in 2017 (XINHUA)
Strengthening investment management
These issues were settled in the final regulation, which defines government investment as fixed assets construction activity with funds under the government budget in China, including newly-built projects, expansion, reconstruction and technology transformation.
Among the 60.6 trillion yuan ($8.92 trillion) of total fixed assets investment in 2016, about one third was from the public sector, with 15 percent government funds, which meant the size of government investment totaled trillions of yuan, said Ma Xiaohe, former deputy director of the Academy of Macroeconomic Research under the NDRC, in an interview with Economic Information Daily.
"Government investment has long faced problems such as overlapping but separate administration and non-coordinated management rules. Due to the lack of integrated plans for government investment, the limited fiscal power of the government was dispersed," said Wu.
Compared to the draft unveiled in 2010 for public opinion, the final regulation narrows the scope of funds for government investment. In the 2010 draft, funds for government investment could come from the fiscal budget, various special construction funds, sovereign debt funds or other types of government funds.
The regulation makes it clear that government funds should be mainly invested in non-business projects where the market cannot effectively allocate resources, including social services, public infrastructure, agriculture and rural areas, ecological protection, major scientific and technological projects, social management, and national security.
The scope of government investment is almost the same as that of a public-private partnership (PPP), indicating that government investment can be combined well with a PPP to better play its role, which is also conducive to regulating the behavior of government investment and improving its efficiency, Jin Yongxiang, General Manager of Dayue Consulting Co. Ltd., told National Business Daily.
According to the regulation, the country will strengthen budget control of government investment funds, and government departments should not borrow funds for investment illegally.
He Daixin, a researcher with the National Academy of Economic Strategy of the Chinese Academy of Social Sciences, said funds are an important part of government investment and against the backdrop of proactive fiscal policy, the government may expand investment to stimulate economic growth. But if local governments, whose debt burden is already heavy, are not well regulated, there will be new debt risks at the local level.
Zhu Lijia, a professor with the National Academy of Governance, said China is now in major economic transformation, so the number of projects and amount of funds for government investment will keep increasing. However, some local government leaders are overambitious and rash when making investment decisions, leading to serious debt problems. "Therefore, the regulation on government investment is of great significance, aiming to better regulate local government debts and establishing a sound system," Zhu said in an interview with National Business Daily.
The regulation also stipulates that the government should not order construction enterprises to advance funds for government projects. He said construction enterprises' advanced payments are mainly private funds that could also bring debt risks to the government.
"The regulation on government investment will greatly improve the law-based management of government investment, which will be significant for optimizing the investment orientation, making decision-making process more reasonable and improving efficiency," Wu said.
Copyedited by Rebeca Toledo
Comments to wangjun@bjreview.com