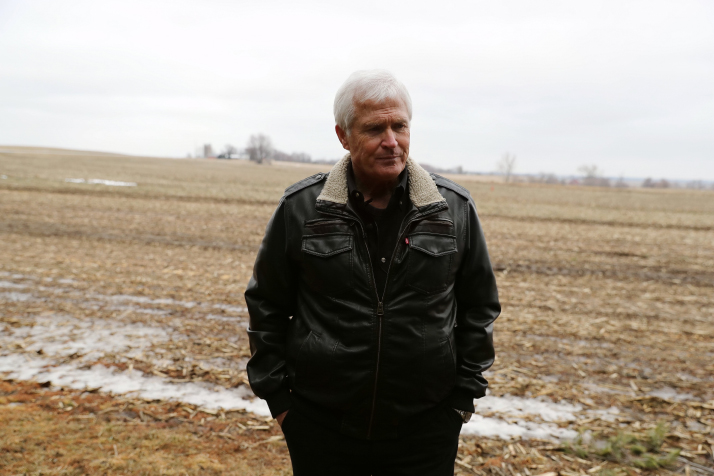 Rick Kimberly, a farmer in Des Moines of Iowa State, said he is considering to readjust the soy bean acreage if the trade war with China starts on April 6 (XINHUA)
For those California residents who lost their homes in recent wildfires, there could be more trouble on the way as U.S. President Donald Trump continues to wage a trade war on several fronts. Trump's tariffs are driving up the price of imported timber, drywall, nails and other key construction materials needed to rebuild homes, resulting in the costs of building a standard new house in the state rising by up to $20,000.
But they are not the only victims of the tariffs imposed by the Trump administration. The rising price of industrial materials and components is squeezing the profits of manufacturers too. Companies trying to absorb the new fees are seeing their profit margins depleted and being forced to lay off workers.
Businesses suffer
Small businesses are suffering the most. Due to Trump's 25-percent import tariffs introduced in July that include Chinese components for television and video equipment, Element TV Co., a television manufacturer based in South Carolina, announced that it was laying off 126 workers, the vast majority of its employees, leaving a workforce of only eight people to run its plant.
Increasing trade tensions are also plaguing steel and aluminum consumers in the country. Trump's move to impose tariffs on steel and aluminum is meant to protect an industry that employs about 140,000 Americans at home. Yet the tariffs themselves hurt a far larger group of U.S. workers—the 6.5 million in industries that rely on steel and aluminum—ranging from automakers and aircraft manufacturers to the suppliers of building materials.
In early March, the Beer Institute, an industry trade group, predicted that the 10-percent tariff on imported aluminum would lead to the loss of 20,300 jobs at bars, breweries and along the industrial chain in between. Tariffs are biting big companies too, with General Motors, Whirlpool and Ford all performing worse than expected in the second quarter of this year.
The increasing burden on manufacturers will eventually translate into higher prices for American consumers, especially those with lower incomes. Moreover, the United States is starting to find the retaliation of foreign governments particularly troublesome.
China has announced tariffs primarily focused on agricultural goods imported from the United States. Panic has spread among U.S. farmers, especially the 300,000 in soybean production, who fear that they will bear the brunt of China-U.S. trade tensions. Roughly one third of the soybeans grown in the United States, valued at around $14 billion, are destined for China. But now soybean future prices are in sharp decline and farmers look likely to lose the massive Chinese market.
The European Union's (EU) retaliatory tariffs, which target motorcycles, blue jeans and bourbon, have also taken effect. The EU raised its tariffs on U.S. motorcycles from 6 percent to 31 percent, with legendary motorcycle manufacturer Harley-Davidson one such enterprise that has begun to feel the impact. The EU's move has led to a price hike of $2,200 per motorcycle sold in its member states, a major blow to the company's sales in the European market, which account for 17 percent of Harley-Davidson's global total. In response, the company has already revealed plans to move some of its production overseas to avoid the duties.
A visitor tries out a Harley-Davidson motorcycle at an international motorcycle show in Toronto, Canada, on January 9, 2016 (XINHUA)
No winner
If Trump continues his tariff game, then more businesses in the United States are likely to become caught in the crossfire of the ensuing trade conflicts. At a public hearing held by the Office of the U.S. Trade Representative on July 24 and 25, representatives from various industries spoke overwhelmingly against higher tariffs on $16 billion worth of goods imported from China. Yet only five out of the 284 original tariff lines were scrapped after the list was published.
Chinese exporters are also suffering in the face of mounting pressure since Trump started his trade war. China's exports to the United States amounted to almost $430 billion in 2017, making up nearly 20 percent of its total. Household spending in China is also set to rise as more retaliatory tariffs are imposed on imports from the United States. It is already clear that increasing trade tensions simply hurts both sides.
China, Canada and the EU have all warned that this trade war can yield no winner. Still, Trump has been persistent in unilateral moves to "protect" the United States from its closest trading partners. As a businessman, he must know that everything comes at a price, but he seems not to care whether it is American people or companies who foot the bill.
Joseph Brusuelas, chief economist at accounting firm RSM, compared tariff measures to killing a tsetse fly on a desk with an anvil: "You might kill the fly, but you usually end up totaling the desk and damaging the floor."
The author is a reporter for China Pictorial
Copyedited by Laurence Coulton
Comments to zhouxiaoyan@bjreview.com