A man scans a QR code to buy coffee through mobile payment technology in Kuala Lumpur, Malaysia. The technology is co-developed by local mobile payment service provider Touch'n Go and China's unicorn company Ant Financial (XINHUA)
No longer as rare as the term suggests, unicorns are booming and revolutionizing traditional business modes around the world. In the form of beer or bubbles, the growth of such companies is undoubtedly changing the innovation landscape of many countries.
A unicorn refers to a startup valued at over $1 billion. According to a report released in early July by CB Insights, a U.S. venture capital research institute, 46 more startups joined the worldwide unicorn team in 2018, and 70 percent of them are either in China or the United States. The two countries are now the main sources of unicorns, leaving other countries far behind.
The United States has long boasted the largest number of unicorns in the world, but China has seen the number of its unicorns increasing since 2014. Galloping to explore new markets, unicorns in both countries are taking different shapes. In this two-horse race, the two largest unicorn incubators have each become a mirror for the other.
Distinctive forms
Unicorns in China and the United States actually share some commonalities. For startups in both countries, cutthroat competition is a reality.
According to Gao Yuning, an associate professor with the School of Public Policy and Management at Tsinghua University, the U.S. patent pool aimed at promoting production may be abused by big companies to squeeze smaller ones out of the market through monopoly. Small startups in China also have to compete with traditional giants to blaze a new trail.
But a noticeable difference between the two groups of unicorns lies in respective business forms. U.S. unicorns mainly focus on business-to-business (B2B) models while their Chinese counterparts have a preference for business-to-consumer (B2C) models, providing life-related services, Gao pointed out.
Enjoying a favorable environment of complete legal systems, standard regulations and effective incentives, many U.S. unicorns have developed B2B business models by providing professional services in specific fields.
"The U.S. business environment encourages this kind of activity. It is very easy for them to register and apply for a patent to protect their business models and ideas," Gao told Beijing Review, adding that the U.S. Government keeps a close eye on the growth of domestic unicorns.
Chinese unicorns have been propelled by preferential policies including mass entrepreneurship and innovation as well as economic growth. However, some small startups are still facing problems arising from relations with local governments, banks and relevant organizations.
"On the Chinese side, if small businesses want to do B2B services or provide tailored services to big companies, the cost is relatively higher than that in the United States," Gao added.
Despite this fact, many consumer-oriented Chinese unicorns have found a way out through e-commerce services related to online shopping, transportation and even entertainment by serving the public's basic demands. As Gao pointed out, these unicorns are trying to meet various domestic demands as China is experiencing a consumption upgrading.
In the Chinese unicorn team, there are veterans such as online payment service provider Ant Financial and smartphone vendor Xiaomi, along with strong newcomers like Pinduoduo, an online discount shopping platform, which was listed on the Nasdaq in July. As shopping culture has shifted from urban to rural areas in China, Pinduoduo looked to satisfy the demands of more frugal consumers and has quickly developed into a giant unicorn, a typical example of how Chinese B2C unicorns tap into the domestic market and achieve rapid growth.
According to Gao, existing big platforms such as Taobao and WeChat also allow small businesses to enter the market at low costs and help them reach out to customers.
Consumers from different backgrounds have also influenced unicorns in the two countries. According to Yu Guangdong, co-founder of Alphax Partners, a Chinese venture capital firm, the Chinese B2C market is relatively larger than that in the United States, which allows unicorns to try out different product strategies and gradually find positions in the market.
In addition, compared to their U.S. counterparts, Chinese consumers are more likely to quickly accept new things. "For example, mobile payment is not that popular in other countries but is a hit in China," said Yu.
Different conceptions
Distinct entrepreneurship in China and the United States is another influential factor. "U.S. unicorns are good at exploring something new and Chinese ones are good at induction and deduction," said Yu. In his view, that is mainly due to cultural and educational differences in the two countries.
U.S. unicorns tend to explore new ways of thinking, since revolutionary changes are highly encouraged in their culture.
As a representative innovation-oriented unicorn, the leading electric car maker Tesla has developed an entirely new industrial chain, changing people's transportation habits around the world. Usually, manufacturing, sales and services are separated in traditional car industrial chains, but Tesla developed a complete ecosystem combining battery and car manufacturing, retail, charging and after-sales services. Thus, after deals are closed, buyers will continue to bring profits to the company by paying for services.
In contrast, Chinese enterprises good at finding commonalities can optimize themselves rapidly and mainly focus on local demands. Through enhancing efficiency, cutting costs and interacting with users, many Chinese unicorns have gained footholds in the domestic market where peer competition is fierce, Yu said.
However, it should be noted that there are some Chinese unicorns that are jumping out of the box and breaking up the stereotype.
DJI, a leading international drone maker from China, has grown rapidly in domestic and overseas markets due to its independent research and development and professional services. Another Chinese unicorn Contemporary Amperex Technology, specializing in new energy, has won global recognition and became a battery supplier for Germany's BMW this year.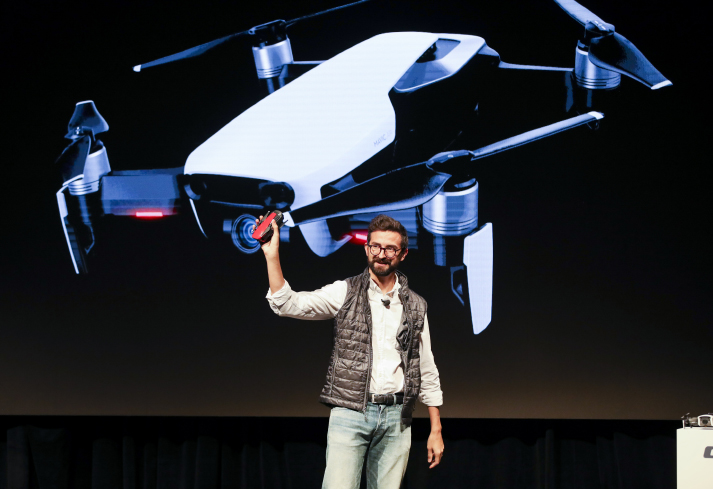 Mike Perry, director of strategic partnerships for DJI, presents the company's new drone Mavic Air in New York on January 23 (XINHUA)
According to Gao, China is good at turning ideas into reality because of its large talent pool. Statistics show that there are more than 1.2 million Chinese graduates majoring in engineering every year. Still, Chinese unicorns could also leap forward by developing more revolutionary ideas and making groundbreaking innovations, Yu said.
Racing ahead
In a globalized market, transnational cooperation on production is common, with some companies having design sectors in California and production bases in China.
For instance, despite China-U.S. trade tensions, Tesla announced in July the decision to set up a super factory in Shanghai, marking the city's biggest ever foreign-funded manufacturing project. According to the cooperation memorandum signed by the Shanghai Municipal Government and the company, the plant aims to produce 500,000 electric vehicles a year.
It is apparent that the two types of unicorns are both striving to go global. In Yu's view, many U.S. unicorns with an international vision and universal demand find it easy to go global because they only have to expand their services beyond people in the United States. In contrast, Chinese unicorns, mainly serving domestic consumers' practical demands, need to explore more access to a bigger market. According to a report comparing Chinese and U.S. unicorns issued by Deloitte in 2017, many Chinese unicorns are still inadequately globalized with low valuations.
Undeniably, there are also Chinese unicorns performing well on the global stage, such as Xiaomi, the largest mobile phone supplier in India, and Musical.ly, a video social network app that has gone viral among U.S. teens. Developed in Shanghai, the app has been acquired by the Chinese unicorn ByteDance and has been combined with its existing products.
In a bid to enter the global market, Chinese unicorns should learn more about local legal systems, business environments, cultures and consumer habits in other countries to provide localized products and services, Gao said.
In Yu's view, Chinese unicorns should also change their reality-oriented thinking patterns, make more revolutionary innovations and turn their eyes to global demands.
For U.S. unicorns mired in domestic competition, reaching a larger market and satisfying people's basic demands may also help expand their businesses. According to Gao, if U.S. unicorns intend to make their businesses grow, "They should serve the people of the world, not just elites in the United States."
Copyedited by Rebeca Toledo
Comments to lixiaoyang@bjreview.com