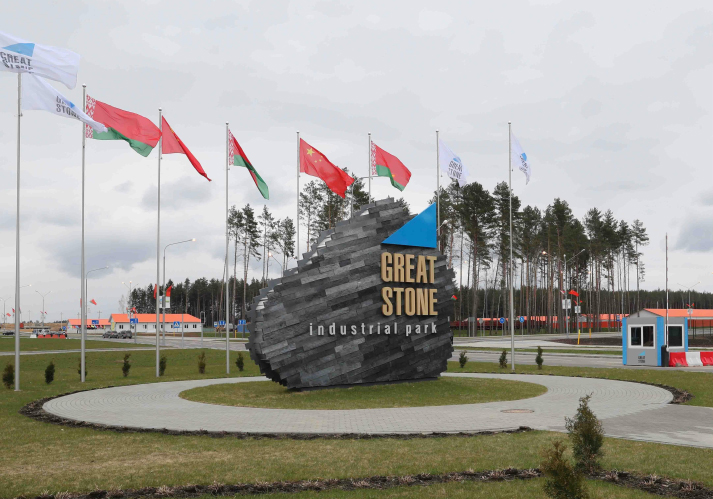 The Great Stone industrial park on the suburbs of Minsk, Belarus, is jointly built by China and Belarus (XINHUA)
With whistles cutting through the crisp coastal air, two China Railway Express trains pulled out of the railway station in Qingdao, east China's Shandong Province, on the morning and afternoon of June 8. They were destined for Almaty in Kazakhstan.
Among the train's freight was artificial turf produced by a company in Qingdao. After arriving in Kazakhstan 12 days later, the turf will be taken to Russia where it will be installed at a venue for an activity at the ongoing FIFA World Cup football tournament.
Qingdao's connection to Europe is more than just a railway line. It is the host city of the 18th Shanghai Cooperation Organization (SCO) Summit that opened on June 9, the first major meeting since the expansion of the organization's membership.
Qingdao, one of the first batch of coastal cities in China turning to embrace the world, is an important regional hub connecting the 21st-Century Maritime Silk Road with the Silk Road Economic Belt.
In ancient times, the Silk Road connected China with the civilizations of Central Asia and Europe over land, while the Maritime Silk Road linked Chinese cities to the cultures of Southeast Asia, Africa and Europe via sea. These trading routes promoted the exchange of commodities and culture among the peoples along them.
In 2013, Chinese President Xi Jinping proposed that these countries work together to build a Silk Road Economic Belt and a 21st-Century Maritime Silk Road. The proposals together are known as the Belt and Road Initiative.
Historically, the values that made exchange along the Silk Road possible were those of peace and cooperation, openness and inclusiveness, mutual learning and mutual benefit. The Belt and Road Initiative aims to carry on these principles.
The SCO Summit held in Qingdao promised new opportunities for the city. The SCO is known for its core tenets of reciprocal trust, mutual benefit, equality, consultation, respect for diverse civilizations and pursuit of common development known as the Shanghai Spirit.
The Belt and Road Initiative and the SCO Qingdao Summit have brought new cooperation opportunities for China and other parts of the world, and present new development possibilities for Shandong Province as a whole.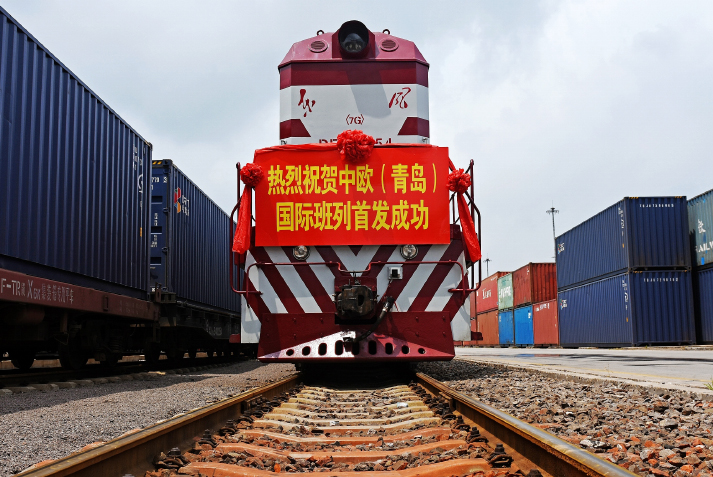 A China Railway Express train departs from Qingdao in Shandong Province on June 24, 2017. This is the first freight train running between the city and Europe (XINHUA)
Eurasia and the Pacific
In 2015, Qingdao and the SCO China Business Council signed a memorandum on building the Qingdao Eurasian Economic and Trade Cooperation Industrial Park. In 2018, the city's role as host of this year's SCO Summit gave new meaning to the industrial park, which is being built into China's first demonstration area for China-SCO regional trade and economic cooperation.
Wei Huaxiang, Deputy Secretary General and spokesperson for the Shandong Provincial Government, said that according to the plan for the demonstration area, Qingdao will serve as an outlet for goods from SCO member states to enter the Asia-Pacific market, and an important platform for commodities from Asia-Pacific countries such as Japan and South Korea to access Central Asia, as well as Eastern and Western Europe.
"In the next stage we will continue to create new models of in-depth cooperation in logistics to build an international trade logistics channel throughout Eurasia. Shandong will play an important role in the Belt and Road Initiative and gain new advantages through opening up," Wei said.
Shandong is located at the confluence of China's east coast and the lower reaches of the Yellow River, and is across the sea from Japan and South Korea. It is this strategic position which makes it an important area connecting the Silk Road Economic Belt with the 21st-Century Maritime Silk Road. It is reported that the two trains that departed Qingdao for Central Asia on June 8 were carrying 50 containers of goods such as lubricants, copper products, plastic articles, furniture and tires. Most of the goods came from Japan and South Korea. After arriving at Qingdao, those goods were loaded onto freight trains bound for Central Asia.
"The railway has a total length of more than 4,000 km. It can cut transit times by 30 days compared with shipping, greatly improving efficiency. For every container, about $2,000 can be saved in costs," said Wei Xuelun, Executive Vice General Manager of the Qingdao Central Station of China Railway Container Transport Corp.
Regional economic cooperation
Enterprises in Shandong have been actively engaged in cooperation with countries along the Belt and Road. In 2015, Belarus became an SCO observer state and along with China established a joint industrial park in the eastern suburbs of Minsk, the capital of the country. The park is home to more than 30 enterprises from several countries, including a joint venture between Weichai Co. Ltd., a diesel engine manufacturer headquartered in Shandong, and MAZ, a Belarusian state-run automotive manufacturing association. The joint venture is the industrial park's flagship project.
MAZ, also known as the Minsk Automobile Plant, is one of the largest truck production enterprises in Belarus. Though a time-honored brand, the enterprise faces a chronic bottleneck in that it does not independently develop any engines. In September 2017, Weichai and MAZ formed a joint venture to build a factory in the industrial park to co-produce engines. In April 2018, ground was broken on the new plant, which is expected to be among the first batch of projects put into operation in the park this year.
According to Hu Haihua, General Manager of the Weichai-MAZ joint venture, the new factory will cover an area of around 33,000 square meters, with a designed annual capacity of 20,000 engines. At present, work is being carried out to ensure that the plant will be operational by November. "Some engine parts will be purchased locally, so that we can bring in some partners in Belarus and the Eurasian Economic Union," he said.
In the past decade, the Haier group, a well-known enterprise based in Qingdao, has grown its business in several SCO countries. It has not only profited itself, but has also promoted the local upgrading of consumption.
In Pakistan, summer temperatures can reach up to 50 degrees Celsius, and refrigerators need to quickly chill foods and beverages to keep them fresh. To this end, Haier has developed a series of turbo products that can prevent frozen items from thawing within 100 hours. Such refrigerators can not only refrigerate 20 percent faster than ordinary models, but also reduce electricity consumption by 30 percent, and have thus become extremely popular among local residents.
In addition, the hot Pakistani summer pushes up power consumption, leading to frequent electrical brownouts. In response to this, Haier has developed a UPS air conditioner that is battery-powered for the local market, allowing locals to use air conditioners even when power is out during the summer months.
Haier also established a refrigerator factory in Russia in 2015, promoting local economic development. According to statistics, the establishment of the factory has already created 500 jobs directly and another 1,500 indirectly.
Cultural exchanges
As the hometown of Confucius and Mencius and the birthplace of Confucianism, Shandong has a rich cultural heritage. Mutual respect for culture and cultural exchanges and reciprocal learning are not only at the core of the Silk Road principles, but also an important part of the Shanghai Spirit. They are also in line with the aspects of Confucianist thought that advocate harmony.
Chinese President Xi Jinping said in his remarks at the welcoming banquet of the SCO Qingdao Summit on the evening of June 9 that the Confucian notion of harmony has many similarities with the Shanghai Spirit. An integral part of Chinese civilization, Confucianism dictates that "a just cause should be pursued for the common good" and champions harmony, unity and a shared community for all people, echoing the Shanghai Spirit's focus on seeking common ground while setting aside differences and pursuing mutually beneficial cooperation which has won widespread international endorsement.
On June 13-17, Qingdao hosted the first SCO film festival. The 50 plus films from SCO nations screened at the festival offered not only entertainment but an opportunity for countries to get closer and learn about each other's culture. Yuan Meilin, Deputy Director of the Lingshan Bay Film and Television Bureau in Qingdao which is responsible for preparing for the film festival, said, "The SCO film festival is the first international film event hosted by Qingdao since UNESCO named it the City of Films. The festival reflected Qingdao's distinct characteristics and glamor."
Film has become an important means through which people in SCO countries are able to better understand each other. For instance, the success of Indian films such as Dangal, Secret Superstar and Hindi Medium in China was not limited to the box office, but also opened a window through which Chinese viewers could understand India.
During the Qingdao Summit, a cultural exhibition area was set up at the media center. Artists in traditional Chinese costume played music with a blend of Chinese and Western styles. Various other elements of traditional Shandong culture such as paper-cutting, Heze flour statues and Laoshan tea art were on display, offering cultural relief to foreign journalists covering the summit.
Over the past 17 years, the SCO has set an example for the harmonious coexistence of countries with diverse cultures. It has proved that humans live in a community with a shared future, and that human history has always progressed amid encounters between different nationalities and peoples.
(Reporting from Qingdao)
Copyedited by Laurence Coulton
Comments to xubei@bjreview.com