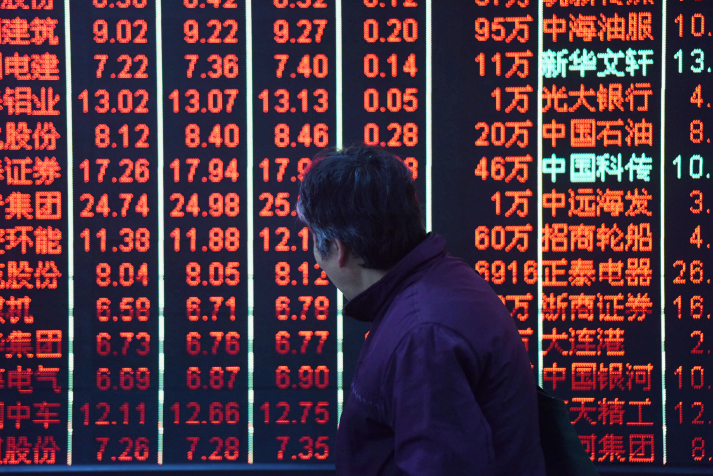 A stock trader observes the electronic screen at a securities firm in Hangzhou, capital of east China's Zhejiang Province, on January 2, 2018 (XINHUA)
With the inclusion of China A-shares on a key global index, a step has been made for more foreign investors to increase exposure to China's capital market and share its growth dividends.
Global index compiler MSCI included 226 China large-cap A-shares on its MSCI Emerging Markets Index at the close of trading on May 31.
These stocks, at a partial inclusion factor of 2.5 percent, have an aggregate weighting of 0.4 percent in the index. In the second step of the inclusion in September, the factor and weighting will increase to 5 percent and 0.79 percent respectively.
MSCI indices are tracked by global funds at an estimated $3.7 trillion.
"International institutional investors are devoting more time and resources to learning how to navigate Chinese markets," said Chin Ping Chia, head of research for MSCI in Asia.
In May, the net inflow of funds from Hong Kong to the Shanghai and Shenzhen stock exchanges reached 45.1 billion yuan ($7.04 billion), the highest for a single month since December 2016.
While A-shares are now only partially included, increased weighting in the future will bring more foreign investment to the market.
"If the Chinese market continues to liberalize to the point of warranting full inclusion in the future, Chinese stocks—A-shares and other share classes—could comprise more than 40 percent of the MSCI Emerging Markets Index," Chia said.
"Additionally, should China mid-cap A-shares ever be added to the index, Chinese companies would represent nearly one out of every two investment opportunities available to emerging market investors," he added.
A steady Chinese economy with a positive outlook means the mainland stock market will only become more attractive in the future.
"Global institutional investors are currently underweighted in Chinese assets. As the importance of China's economy and currency increases, adding positions on these assets will become the norm for foreign funds," said Fang Xinghai, Vice Chairman of the China Securities Regulatory Commission.
Sun Yu, a researcher from securities joint venture HSBC Qianhai, estimates that the two-step inclusion will lead to inflows of over $22 billion, and that in the coming five to 10 years this amount will exceed $600 billion.
"The A-share market and China's capital market and financial sector at large are accelerating the pace of opening up," Sun said. "The more open a market becomes, the more efficient in pricing and the more regulated it is."
While the MSCI inclusion is recognition of China's past achievements in the development and openness of its financial markets, the government is taking more steps forward, including expanding the daily quotas for mainland-Hong Kong stock connect programs and relaxing foreign ownership restrictions on financial companies.
"In the short term, immediate foreign fund inflows will not have a major impact, given the large size and transaction volume of the A-share market," said Gao Ting, a UBS Securities analyst.
In the long term, more profound changes are expected.
"The A-share market is becoming more and more aligned with international markets. This will bring a lot of changes to market practices, including improvements in corporate governance, information disclosure and regulation," Gao said.
This is an edited excerpt of an article originally published by Xinhua News Agency
Copyedited by Laurence Coulton
Comments to zhouxiaoyan@bjreview.com