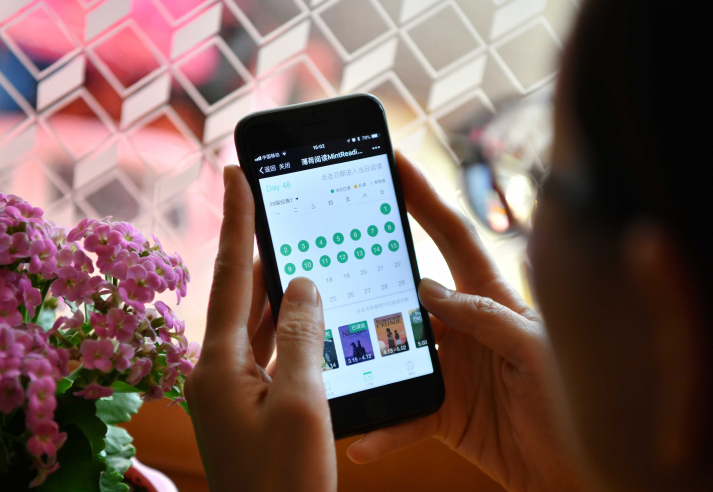 A Beijing resident reads with MintReading (LI XIN)
Worries about her declining English language proficiency have been rattling around in Liang Rui's head since she graduated from the University of Huddersfield in Britain three years ago. Working at a private company in her hometown of Taiyuan, capital of north China's Shanxi Province, the 26-year-old has such a tight daily schedule that she has no time for her hobby of reading English classics.
Her quandary has now been resolved thanks to a mobile reading app called MintReading. She starts her day with breakfast and a browse of MintReading to enjoy her newly purchased English e-book How to Stop Worrying and Start Living, an exact reflection of her recent transformation.
"The app assigns the task of reading for 10 minutes a day and elaborates on the discourse so that readers can really learn something from reading. It's convenient and efficient," Liang said. She paid 139 yuan ($22) for a 100-day reading program and is satisfied with her progress. "It helps utilize my fragmented time, and I have finished two original English works without even noticing," she added.
Seeing the value
Liang is one of many Chinese people eager to continue their studies so as to stand out in a highly competitive country, but are too busy with daily work and trivial matters. Many of them are resorting to online courses, which are proliferating thanks to current advances in technology, leading them, unconsciously, to become consumers of the fledging pay-for-knowledge industry.
A recent report by iiMedia Research, a Chinese Internet investment analytics firm, revealed that the industry generated revenue of 4.91 billion yuan ($772 million) in 2016, a three-fold increase year on year. By 2020, the market value is expected to amount to 23.5 billion yuan ($3.7 billion). The basis of the pay-for-knowledge industry is tapping into the commercial potential of knowledge and converting it into profitable products and services.
2016 was an epochal year for the pay-for-knowledge industry. Chinese question-and- answer site Zhihu, mobile learning apps like iGet, and Ximalaya FM, an audio-sharing platform, seeing a surge in subscribers and products that year.
Yang Fan, an analyst with Forward Industry Research Institute, attributes the explosion of the market to convenient online payment and mature Internet technologies. "These make it possible to purchase and tip instantly with mobile devices, and also attract content providers to offer and share knowledge on the platforms," he said.
Tian Yimiao is one of those who benefits from sharing knowledge on these platforms. An associate professor of musical composition at the Shanghai Conservatory of Music, Tian is passionate about classical music and hopes to spread the genre to a wider audience. Ximalaya FM is helping her dream come true. By the end of May, her daily exclusive paid courses had had an accumulated audience of 13.45 million. Classical music enthusiasts pay 199 yuan ($31.2) to learn from her daily 10-minute class on the platform. For listeners, it only takes a short period of time while eating breakfast or during the walk from the subway station to the office; but for Tian, she usually spends three hours or more to prepare for the 10-minute class. In the process of realizing her dream, Tian has become wealthy: the courses have brought her around 10 million yuan ($1.57 million) in revenue.
Besides academics like Tian, writers, entrepreneurs and experts from all walks of life are jumping on the bandwagon to reap the fruits of their knowledge. More and more subscribers are also ready to pay and learn. According to iiMedia Research, the number of people who are willing to pay for knowledge products and services on mobile apps is expected to reach 292 million in 2018, over 20 percent of China's entire population, and that figure is expected to grow in the future.
Convenient and efficient
With the proliferation of smart phones and rapid development of the Internet, people are overwhelmed by information on a daily basis. Most of the time, fragmented information alone is confusing. These mobile learning apps restructure fragmented content to make it systematic and help subscribers build relatively complete knowledge systems over a short period of time. "We offer solutions to cure people's anxiety of knowledge scarcity," said Wu Qing, founder of Keting App, which specializes in providing business insight and courses.
Pay-for-knowledge platforms are also a product that fits people's fast-paced lifestyle. With smart phones as their medium, the apps satisfy users' demand for fully utilizing their fragmented free time. "The apps see users' hunger for knowledge as business opportunities and tailor products and services for their fragmented time," said Wu.
Li Xiang is a stay-at-home mom in Beijing. She spends most of her day taking care of her 4-year-old son and tending to the household chores. Despite being so busy, she felt lacking in mental and spiritual stimulation and was afraid of being left behind by a rapidly developing society. Her anxiety began to ease as courses from mobile apps filled the void. "The paid programs are suitable for people like me," she said.
In addition to restructured courses, users can purchase answers to tricky questions from pay-for-knowledge platforms. AskAboutAfrica, the first question-and-answer site focusing on African issues in China, brings together successful business people, experts on African issues and startup entrepreneurs to provide insight and advice on business ventures in Africa. By tipping, users receive quick answers to their questions. Hui Honglin, founder of the site, said the platform is to help small and medium-sized enterprises gain a foothold in Africa by making experience and expertise easily attainable.
Pay-for-knowledge platforms have been well received by some users, but their popularity has also aroused public debate on whether they are actually exploiting people's anxiety. If you don't want to be left behind, the only way is to keep pace with the times by learning new things quickly and efficiently is a mantra that becoming popular among many.
Staying sober
Public anxiety reached its peak in April, when an article entitled Your Peers Are Abandoning You went viral. It cited the case of Hu Weiwei, the 36-year-old founder of Mobike, one of China's popular shared bicycle apps, who cashed out her business for 1.5 billion yuan ($238 million). This stood in stark contrast to the majority of her peers who are still struggling to earn a monthly salary of less than 10,000 yuan ($1,568).
Han Han, a young and popular Chinese writer, has criticized such articles and the practice of exploiting the public's anxiety, especially for commercial gain. "Being successful does not necessarily mean being rich or powerful. Our behavior should be guided by fair conscience, not commercial hype," said Han.
In addition, some subscribers think that pay-for-knowledge has struggled to meet their expectations. "During the course, I felt that the content was inspirational, but had no real impact on my growth," said Wang Mingfeng, who runs a we-media account on social networking app WeChat, having paid some 5,000 yuan ($787.9) for courses on mobile apps.
"The platforms should be accountable for screening content to ensure a competitive service quality and maintain market order," suggested Chen Liteng, an analyst who follows e-commerce trends. He added that consumers should also ask themselves if they really need these services to improve their lives before purchasing them.
Copyedited by Francisco Little
Comments to zhouxiaoyan@bjreview.com